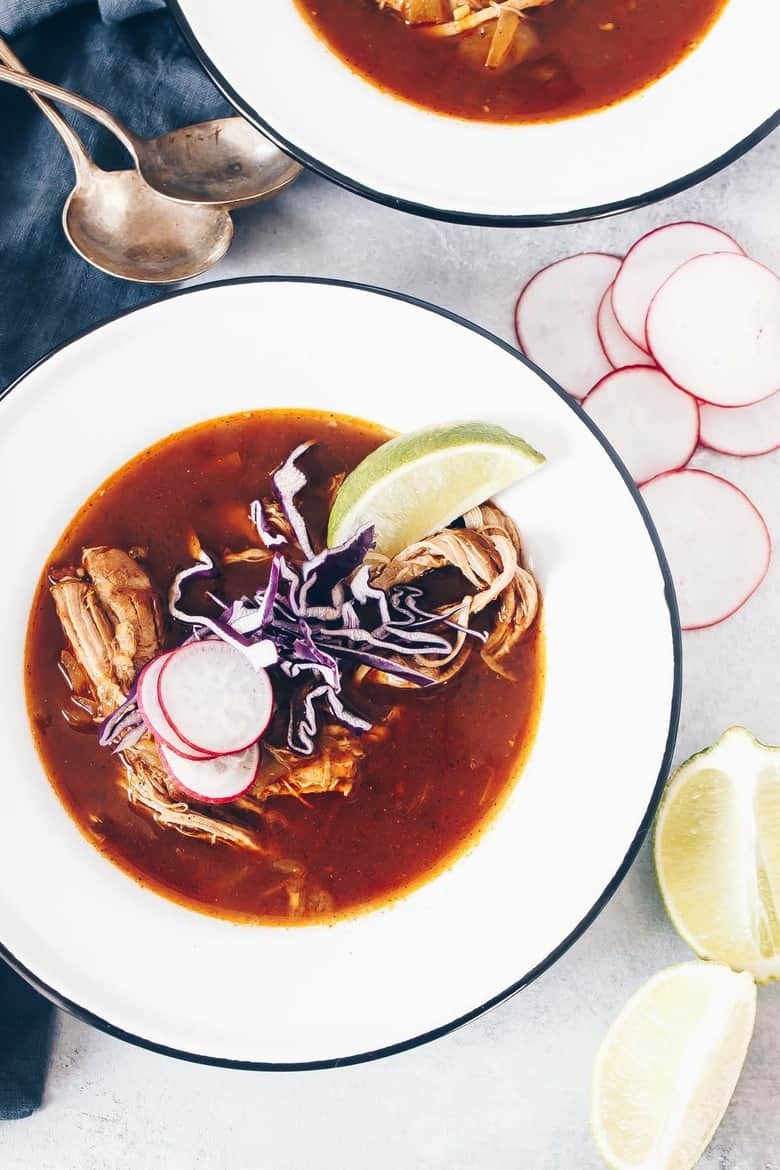 This Paleo Posole, read: posole without hominy, is comforting and made in a slow cooker or Instant Pot for a mess free meal!
One of my favorite restaurants serves a Posole soup with tender pieces of hominy in a thick and luscious tomato broth with tender bites of pork which I can NEVER get enough of. For this recipe though I wanted to keep it paleo friendly and skip the hominy. I have to say that it's still totally delicious even if it's not 100% authentic.
Since I used my Instant Pot I started by browning the pork on all sides for a few minutes just to give it a nice golden brown crust. I then added in some garlic and onion and let that saute just for a moment before adding in the rest of the ingredients and letting the Instant Pot do its thing.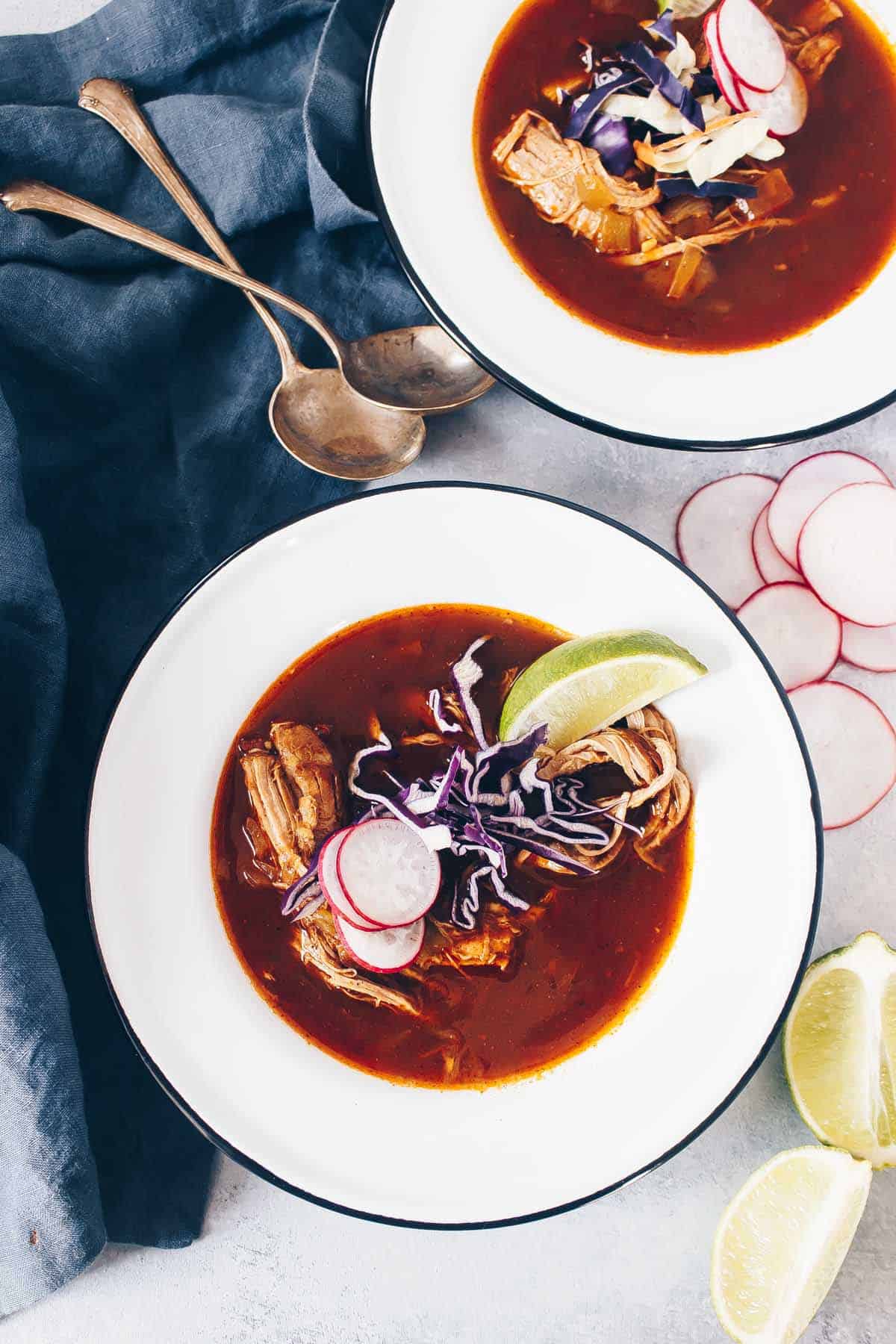 I opted for 60 minutes on high pressure and let the pressure naturally release after if was done so all in all this is about a hour and a half in the making. Of course, most of that is totally hands off and allows you to go do whatever you need to do instead of standing in front of the stove for an hour or more.
Usually I'll serve this paleo posole with some avocado, lime wedges, cabbage, and radish which is perfect but recently I was a little hungrier than just soup so I added some roasted and mashed sweet potato to the bottom of the bowl before ladling in the soup…HOT DAMN. While not authentic AT ALL is was killer, like I can't stop thinking about it and have made it constantly since then. It's weird but my favorite is to have both white and orange sweet potatoes in the bowl, it creates this ridiculous flavor combo that is simply just amazing.
SO, if you need some extra carbs along with the soup just know that you can throw in some sweet potato and it will be glorious.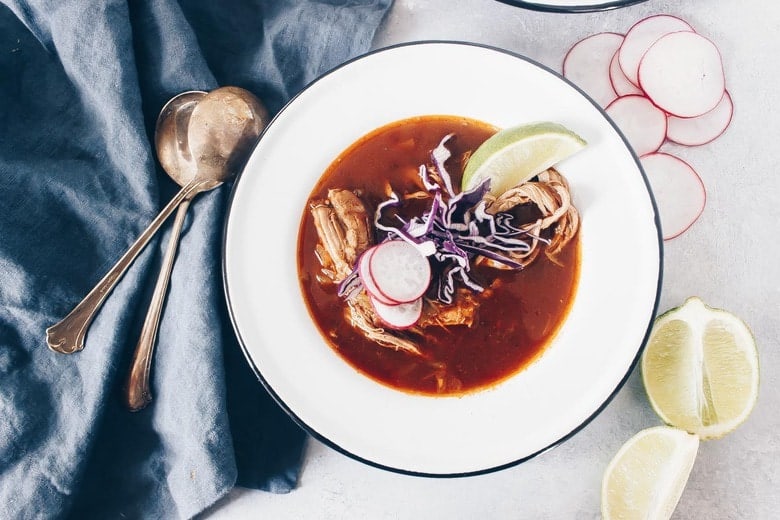 Paleo Posole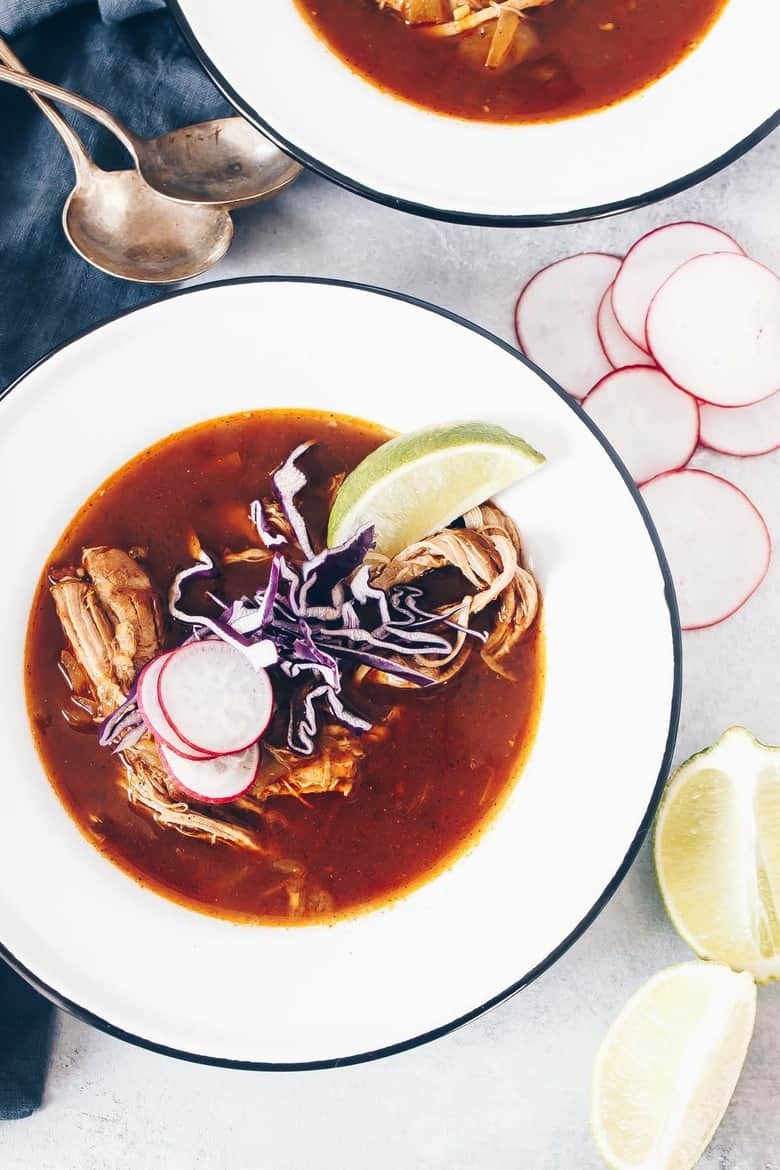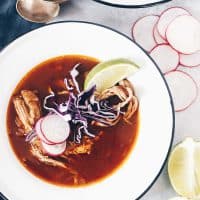 Ingredients
2

tablespoons coconut oil

1

lb pork loin

1

white onion, diced

4

cloves garlic, minced

2

tablespoons chili powder

1/2

teaspoon cumin

1/2

teaspoon salt

1

(4oz) can diced green chilis

4

cups vegetable broth

1

cup water
Toppings
Sliced avocado

Thinly sliced cabbage

Lime

Sliced radishes

Sliced jalapeño
Instructions
Turn the Instant Pot to the saute mode. Place the oil in the bottom. Season the pork with salt and pepper and sear 3-4 minutes per side until a nice crust forms.
Add in the onion and garlic and saute for 2-3 minutes. Add in the remaining spices and cook a minute longer.
Pour in the green chiles, broth, and water. Cover and set to high pressure for 60 minutes. Make sure the venting level is closed.
When the 60 minutes is up let the pressure come down naturally. Shred the pork with a fork and add it back to the soup. Divide between 4 bowls and top with desired toppings.
by Lauren