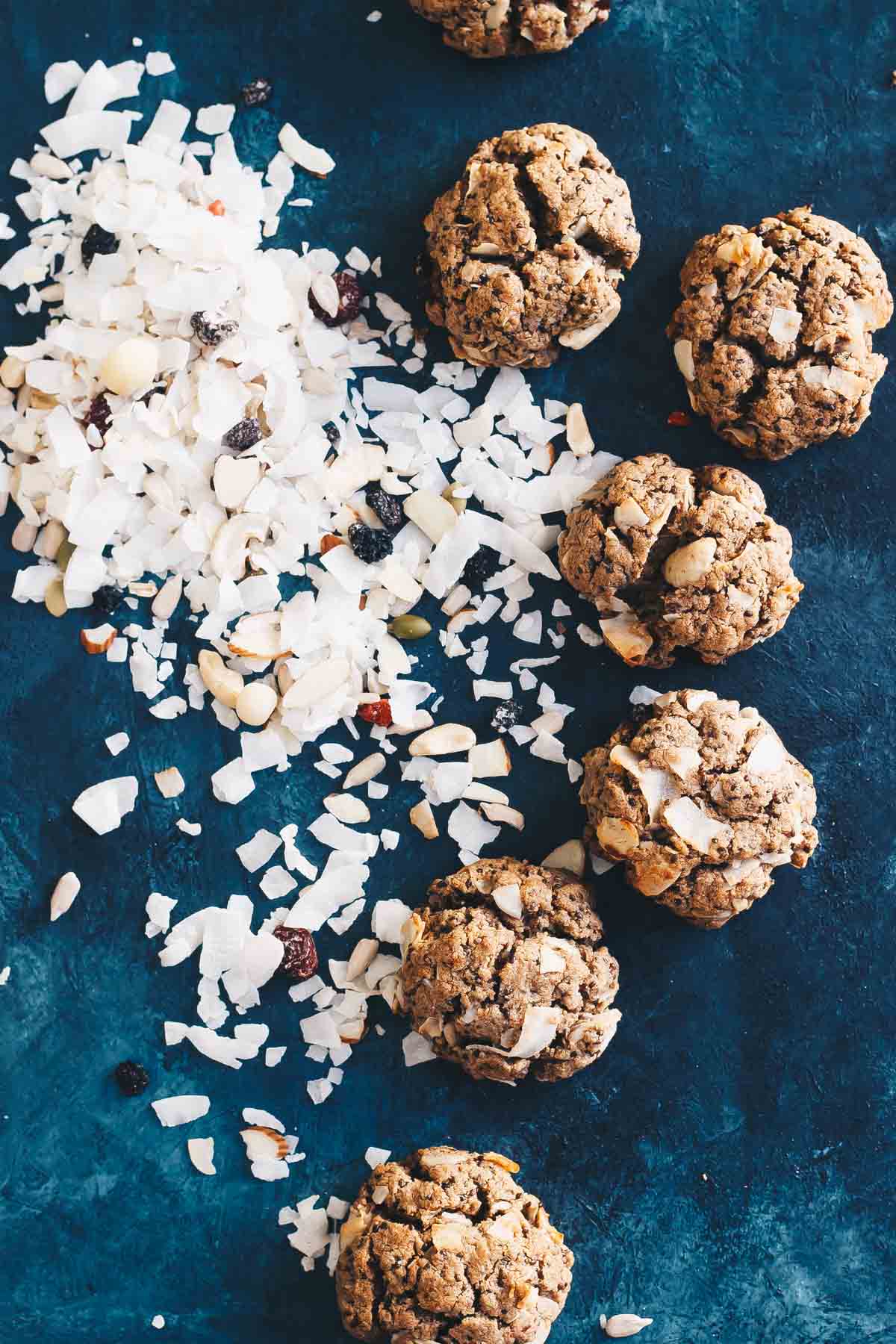 Aren't cookies like the greatest comfort food EVER? Between the dough, the warm baked cookies fresh out of the oven, and day old cookies dunked in milk you just can't go wrong. You may remember that we partnered with Bob's Red Mill last year for some amazing recipes like these killer cauliflower burgers (my favorite veggie burger EVER), chocolate banana creme brulee muffins, hemp fudge skillet brownies, and paleo blueberry chocolate scones! We're thrilled to be teaming up again for what is sure to be a great year of delicious recipes. First up, these Paleo Muesli Cookies!
So yeah, I know that Muesli is supposed to be eaten as a cold cereal but I was tempted to transform the mix into something a little more portable that's still perfect for breakfast or as a little sweet treat throughout the day as well. Enter cookies. I also tried using the mix in a blondie recipe and while it was good these cookies are so.much.better. They're crunchy and crinkled on the outside and soft and chewy in the middle, cookie perfection if you ask me.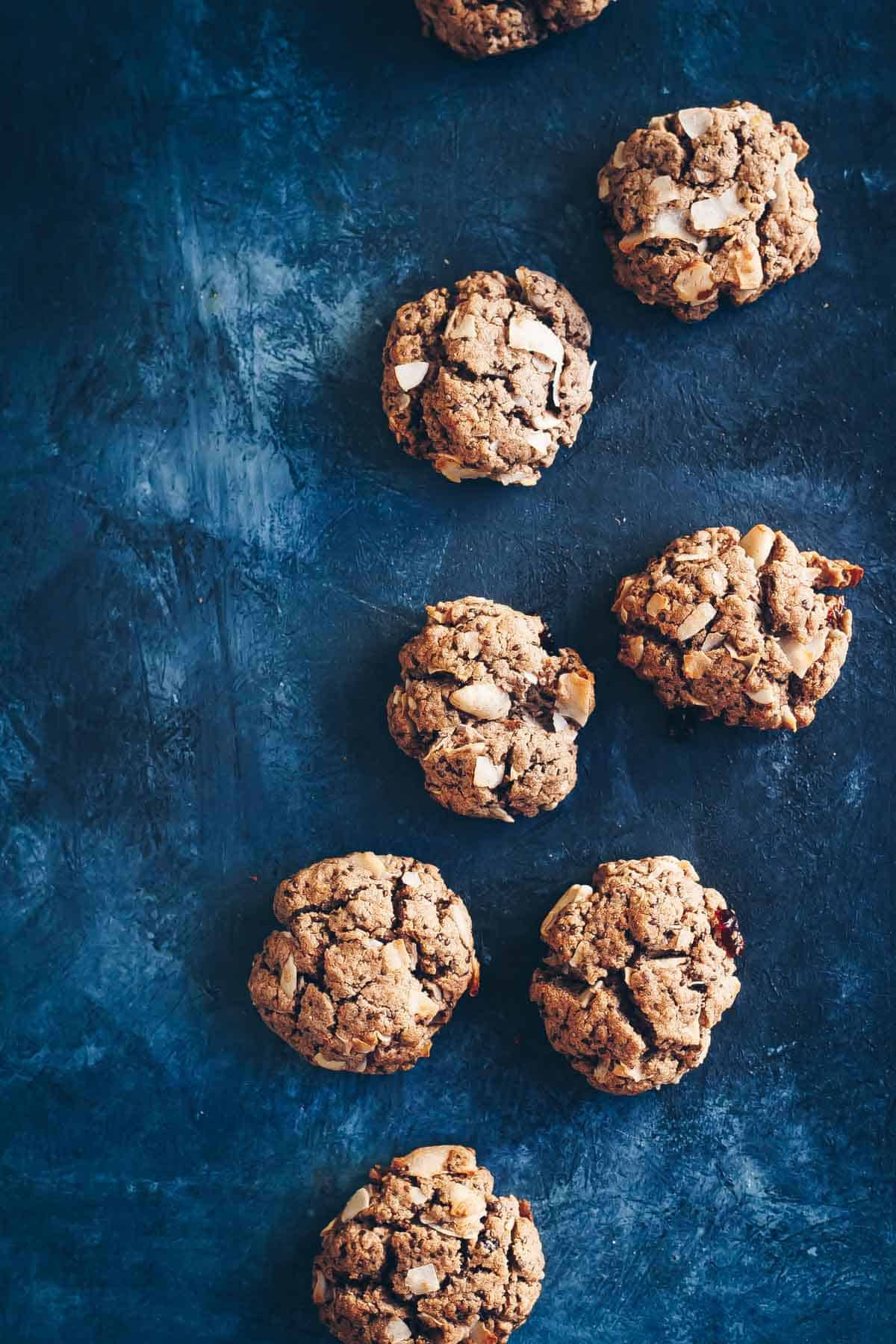 Just one bowl is all you need to mix up the dough. Less dishes = more happiness (and a happier husband).
I'm loving the Paleo Muesli mix from Bob's Red Mill in these cookies as it reminds me of an "everything cookie" that I used to eat before going paleo/gluten-free. This mix has coconut flakes, sunflower seeds, cashews, sliced almonds, currants, pumpkin seeds, macadamia nuts, cranberries, blueberries, and freeze-dried strawberry pieces. I have to admit that I've also just been shoving handfuls into my face each time I walk past my pantry. It also makes a great hiking + camping snack!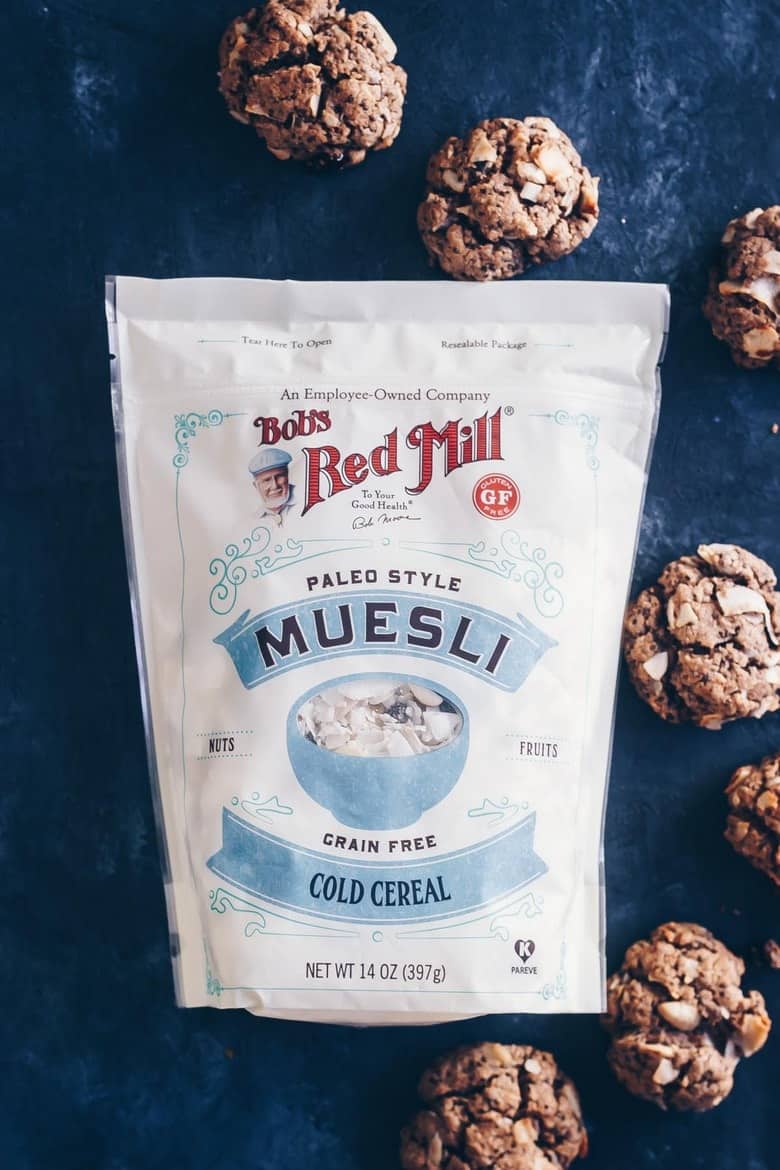 I love the chewy pieces of fruit which adds a nice contrasting texture to the cookies. Funny thing, when I was testing the recipe I had gotten to the point of rolling out the balls and placing them on the baking sheet then realized that I didn't sweeten the dough at all! Complete facepalm. I tasted the dough and it was already a bit sweet so I ended up only using one tablespoon of maple syrup, for 9 cookies! That's like the perfect paleo dessert. They're sweet enough to feel like a treat but not sweet enough to send you into a sugar coma for the entire day. Win.
One note about the type of almond butter that I used in this recipe…I used a unsweetened almond butter + chia blend. You may be able to find that in your store but if you you can just add 1 teaspoon of chia seeds to your normal almond butter. Easy as that!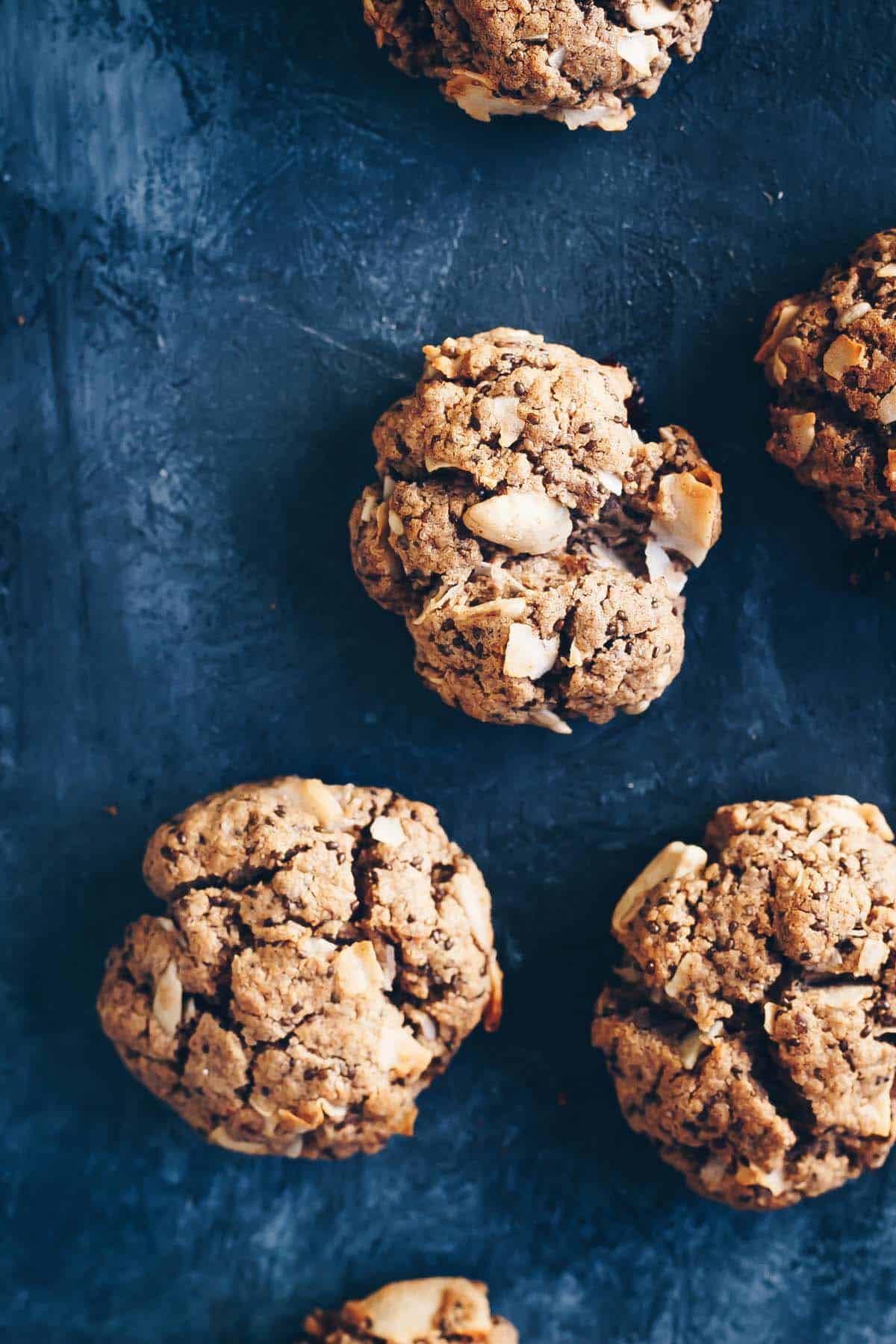 Paleo Muesli Cookies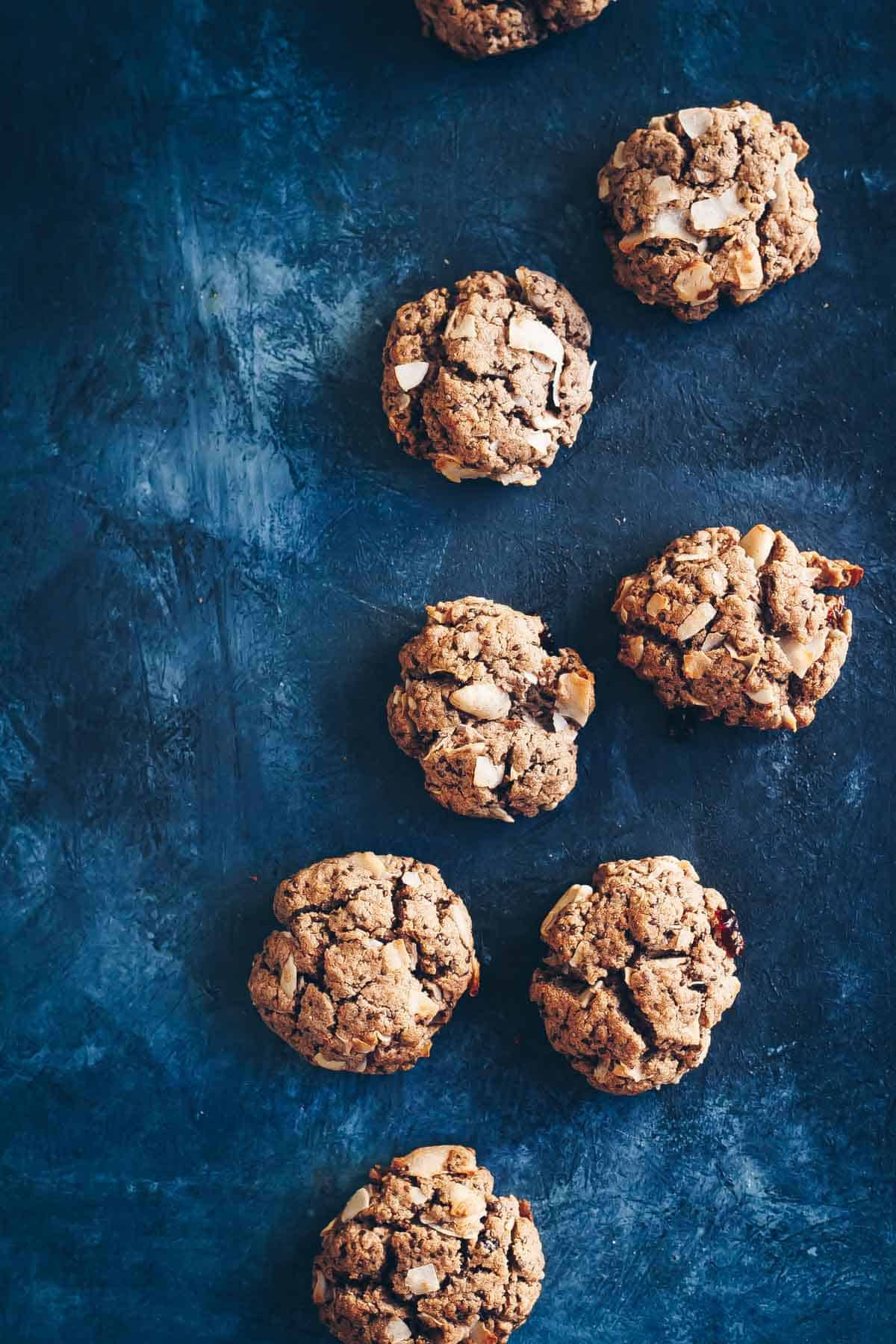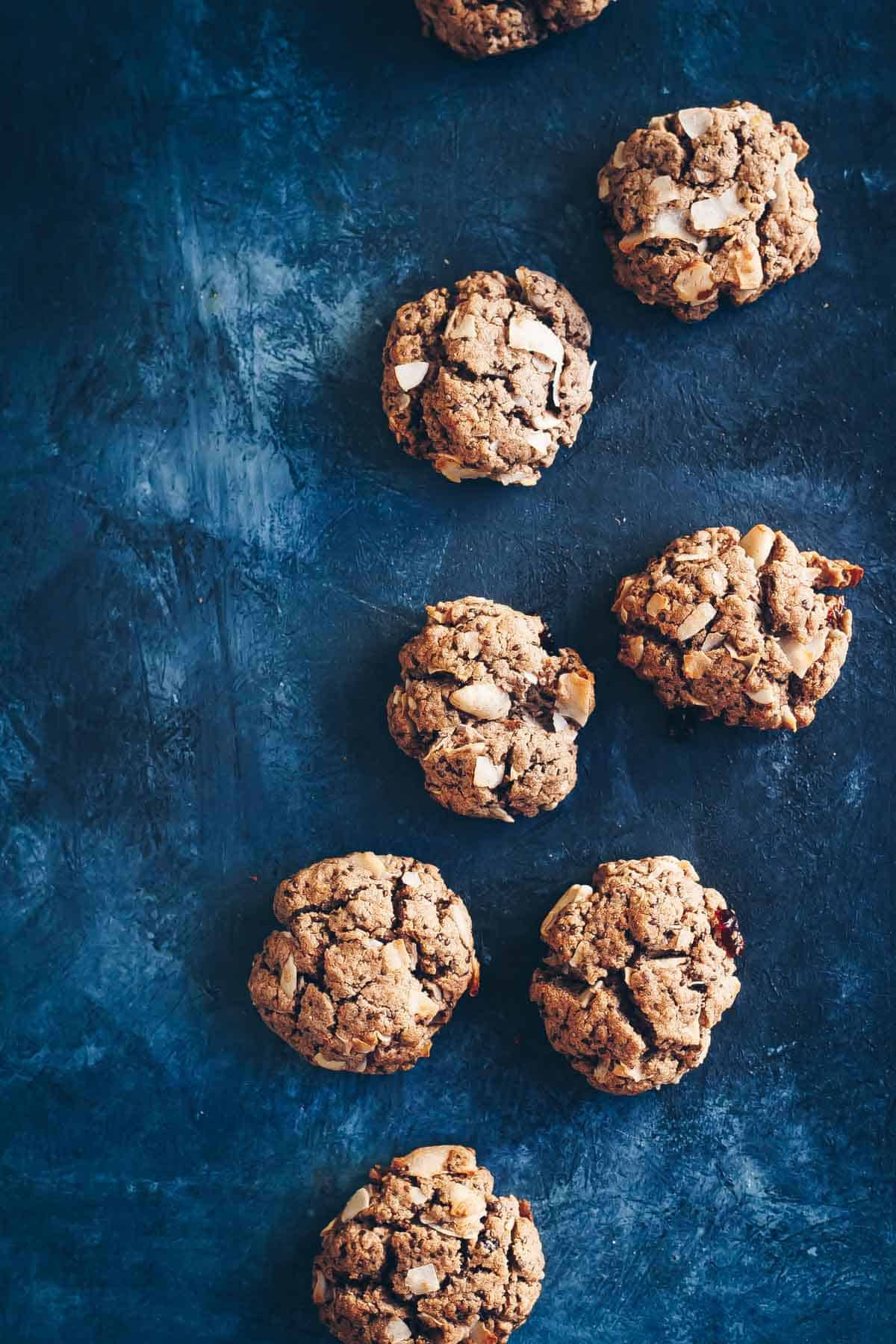 Ingredients
1

flax egg (1 tablespoon Bob's Red Mill Flax Meal + 3 tablespoons hot water)

1/2

cup unsweetened almond chia butter (or 1/2 cup almond butter + 1 teaspoon chia seeds)

1

tablespoon coconut oil, NOT melted

1

tablespoon maple syrup

1

teaspoon vanilla extract

2

tablespoons coconut flour

1/4

teaspoon baking soda

Pinch of salt

1/3

cup Bob's Red Mill Paleo Muesli
Instructions
Preheat oven to 350° F. Line a baking sheet with parchment paper.
In a medium bowl whisk together the flax egg and let stand 5 minutes. Add in the almond chia butter, coconut oil, maple syrup, and vanilla. Stir to combine.
Add in the remaining dry ingredients and stir until a dough forms. Let the dough stand for 5 minutes.
Roll the dough into 9 balls and slightly flatten. Bake for 10 minutes. Remove from oven and let stand for 15 minutes so they will harden slightly.
by Lauren
Recipe Notes
Cookies will keep on the counter for 3-4 days.
Thank you Bob's Red Mill for sponsoring this post! Check out more delicious healthy recipes, snag coupons and find stores near you at BobsRedMill.com!