These classic Paleo Mexican Churros are deliciously crunchy and sweet. The perfect dessert for Cinco de Mayo!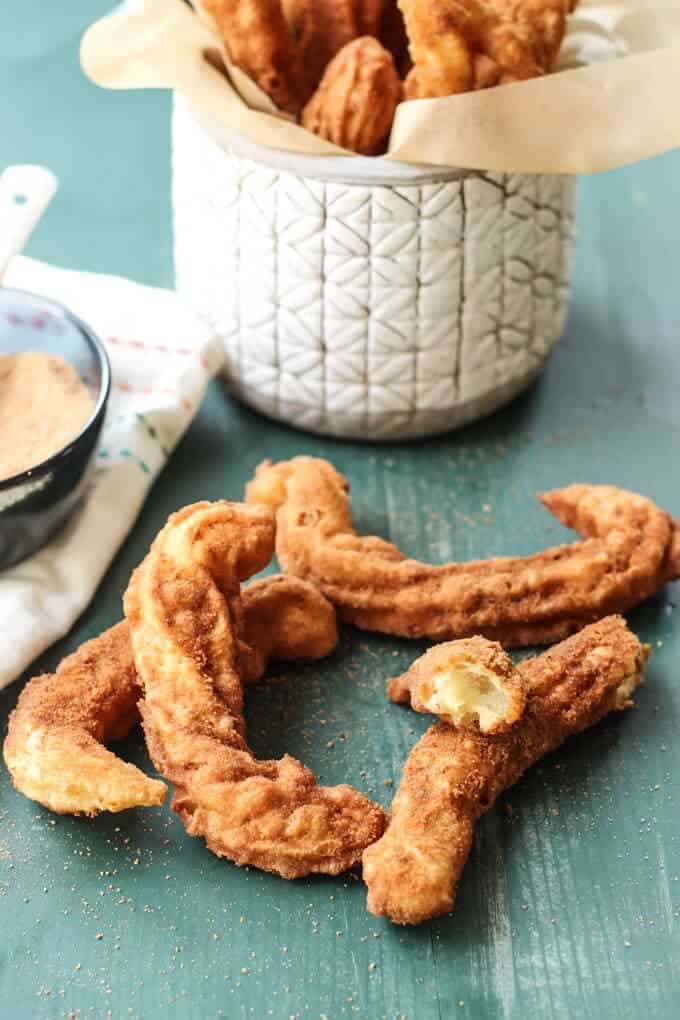 I'm just going to go ahead and apologize for all the Mexican recipe that are coming your way. Out of the next few weeks I think they're maybe 3 recipes that aren't Mexican. Cinco de Mayo here we come. Hopefully you love Mexican food as much as I do in which case you'll be pretty happy in the coming weeks.
When I set out to make Churros I was worried about the consistency of the dough. Paleo bread doesn't really give you that crunchy outside but soft chewy middle. I experimented with a few different ratios of flour and believe I've come up with the perfect blend for these Paleo Churros. They've got that classic crunch and the middle is soft chewy and overall what dreams are made of.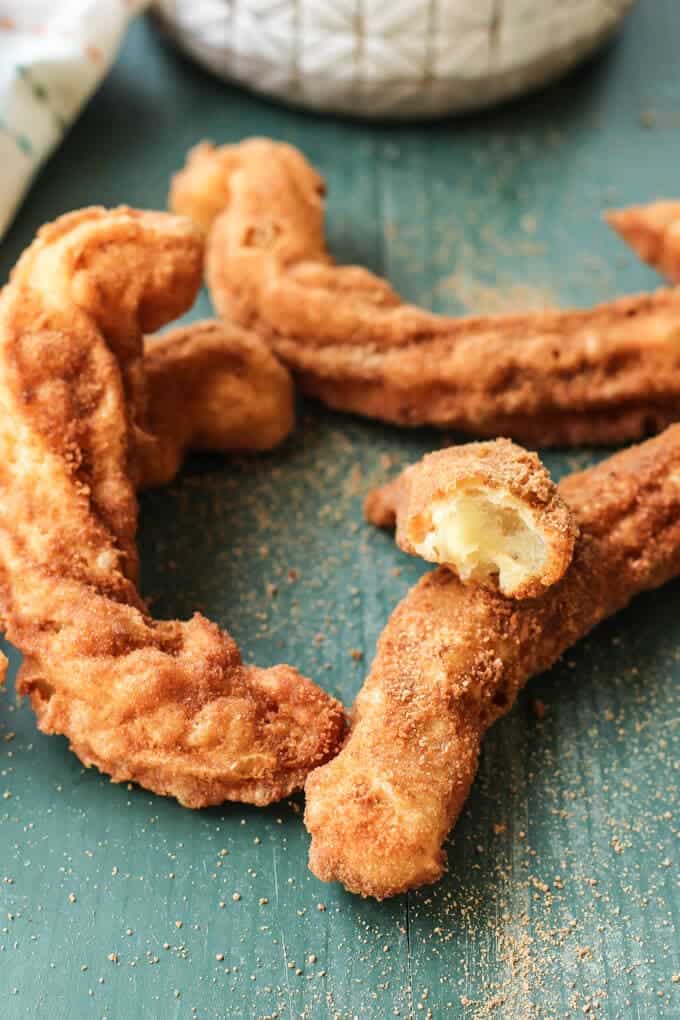 When I was done taking pictures I took a plate of them outside to Alex who had been working in the yard all day. He has a major sweet tooth so sweets don't last long in our house. Remember when he at the whole batch of 30 Earl Grey Truffles in less than 1 full day? Yeah, so when he saw the Churros and said he only wanted one I couldn't believe it. One bite though and his eyes lit up and he kept grabbing for more. 5 minutes later and we're out of a whole batch of Churros. I guess when you swim a few miles per week and bike 10 miles 3 days a week you can do that sort of thing. Maybe I need to enlist him as my personal trainer!
After frying up the Churros I tossed them in a coconut sugar cinnamon mixture. They would also be fantastic dipped in chocolate or served with my Ancho Chili Chocolate Ice Cream.
Paleo Mexican Churros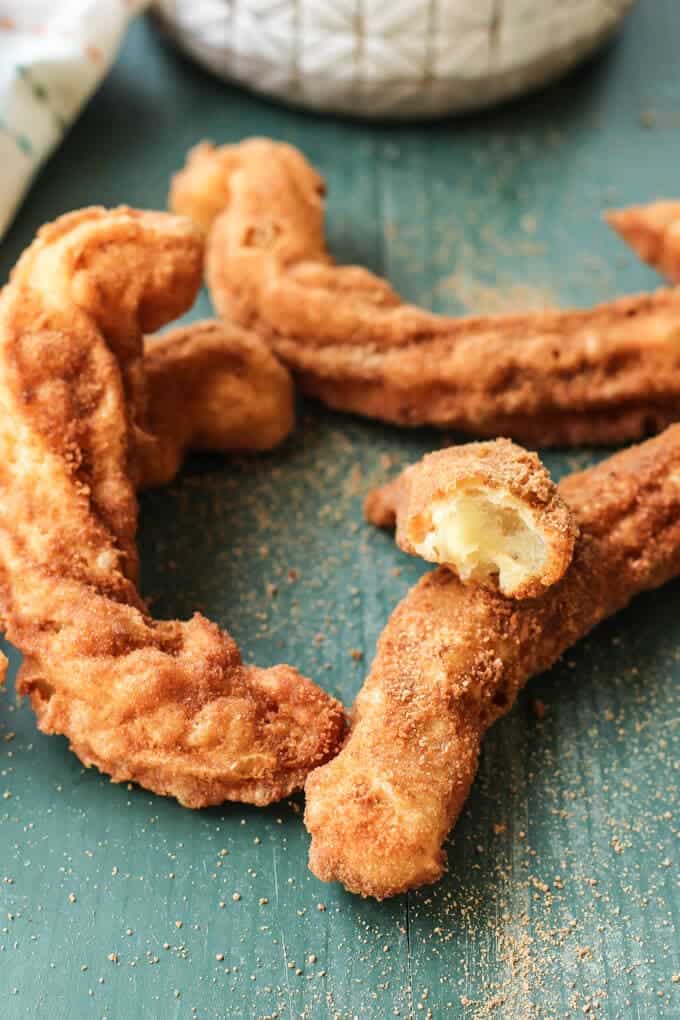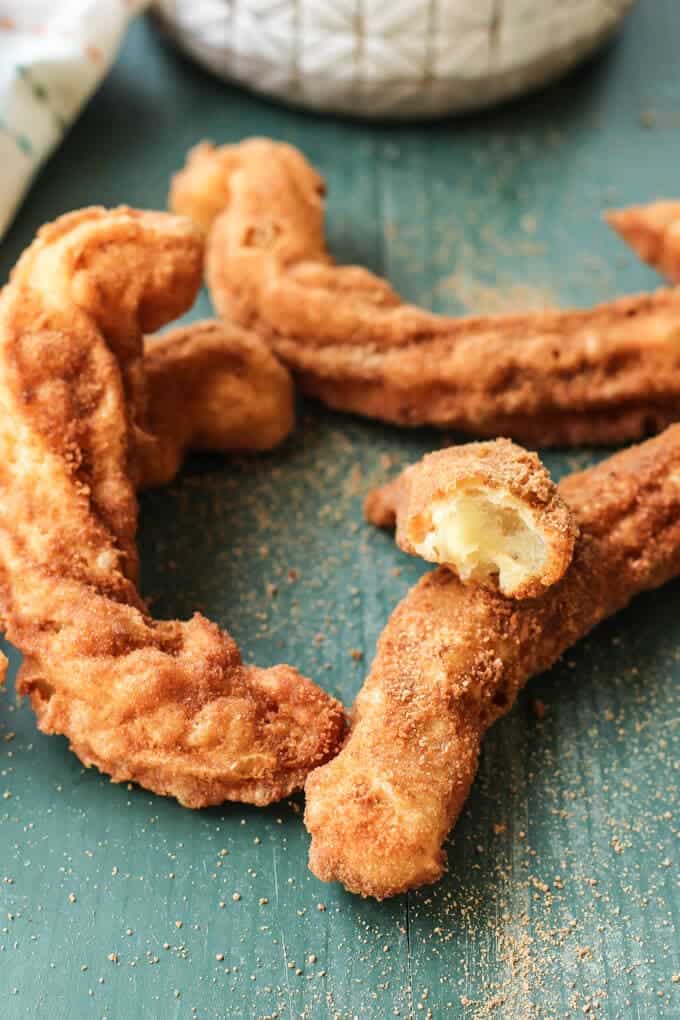 Ingredients
8

tablespoons unsalted butter

1

cup water

Pinch of salt

1

cup almond flour

3/4

cup tapioca flour

1/2

teaspoon baking powder

3

large eggs, beaten

Lard or coconut oil for frying

1

cup coconut sugar

1

tablespoon ground cinnamon
Instructions
In a large pan over medium heat bring the butter and water to a boil. Right when the butter has melted and the water is boiling remove from heat and add in the almond flour, tapioca flour, and baking powder. Mix with a wooden spoon until the batter is smooth and has formed a ball of dough. Let cool.
In a stand mixer beat the eggs on medium until fluffy. Not enough to form peak but just enough to lighten them up a bit. Fitted with the paddle attachment add the dough to the eggs in increments. When the batter is thick and shiny cover the bowl and let it rest 30 minutes.
In a large deep pot (I use my dutch oven) heat the oil to 375.
While the oil is heating give the coconut sugar and cinnamon a whirl in your food processor to ground up the sugar a bit. You want it to be very fine.
Fill a pastry bag with a 1/2 inch star tip with the batter. Add the churros to the oil a few at a time. You want them to be about the length of a finger or a little longer. Don't overcrowd the pan.
Fry for about 45 seconds on each side or until golden. Remove and drain on paper towels. Dust with the cinnamon sugar and serve.
by Lauren