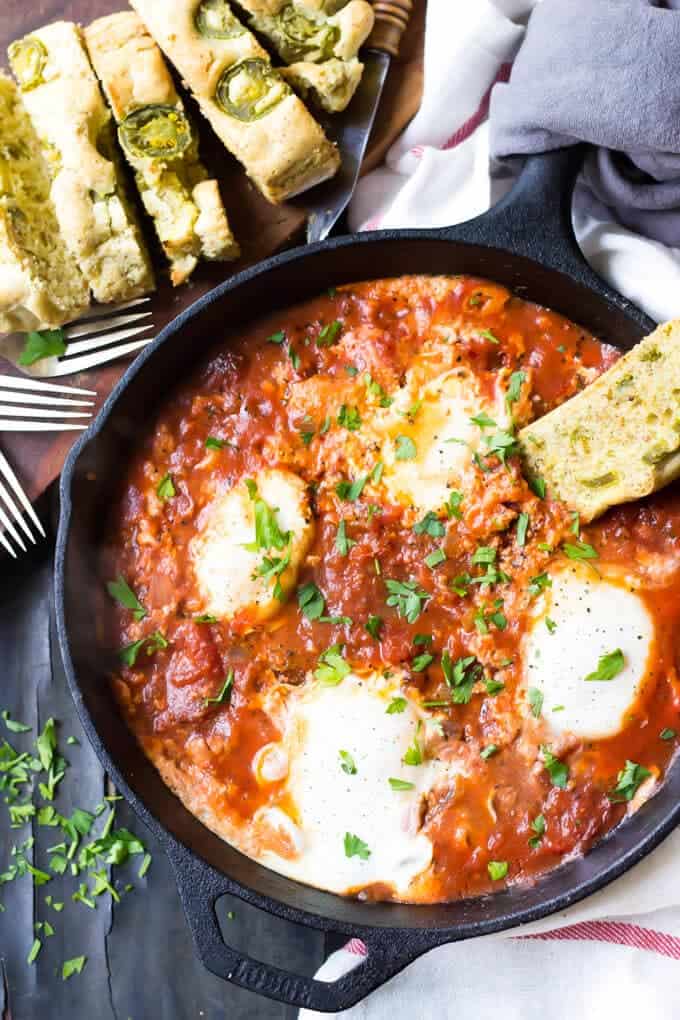 I'm all for inexpensive easy dinners and I bet you are too. As someone who eats and shops almost all organic and grass-fed I need multiple meals a week that aren't going to break the bank. Enter Paleo Eggs in Hell.
This dish is literally the EASIEST and TASTIEST meal you can make in just a few short minutes. There are a billion and one versions of Eggs in Hell floating around the internet world but a lot of them require a ton of ingredients and long simmering times. My version is the bare bones of the dish but it's still incredibly flavorful and filling.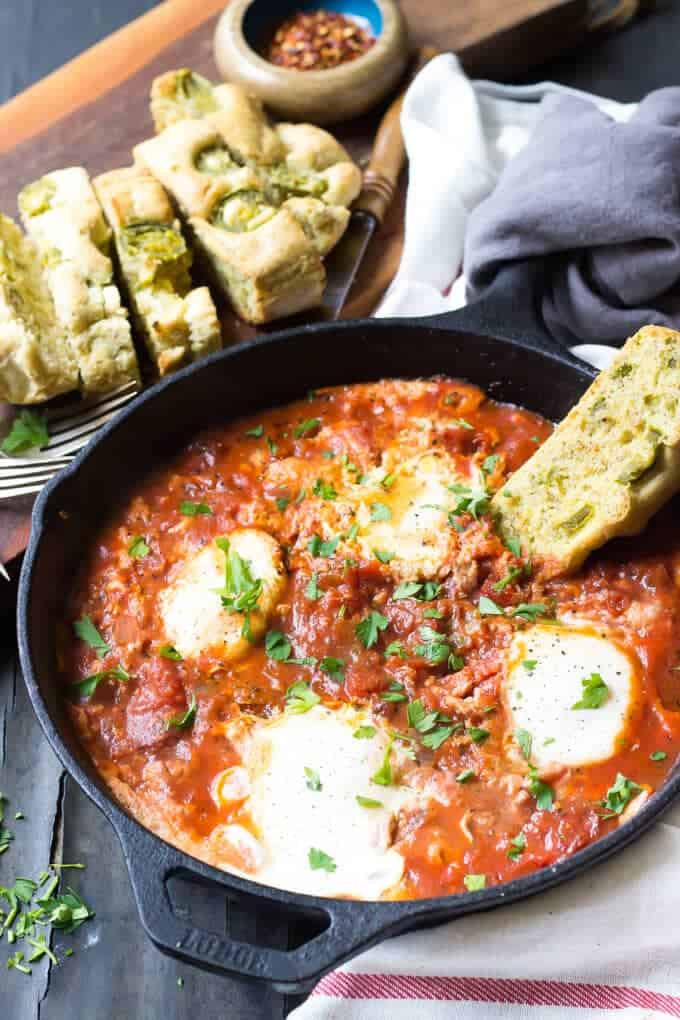 If you want to make it even better you can whip up a batch of my Paleo Jalapeño "Cornbread" Muffins. That's the bread you're seeing in the pictures I've just baked it in a loaf pan instead of a muffin tray. They're super easy too and are ready in about 30 minutes from start to finish.
Since this is a bare bones recipe you do have the option of adding more ingredients in if you want. You could do some fresh jalapeños, garlic, fresh herbs, or even some bell peppers sautéed along with the onion. Whatever you add is just going to give the dish more bulk making it even more filling. Feel free to keep it as written though since it's just as delicious!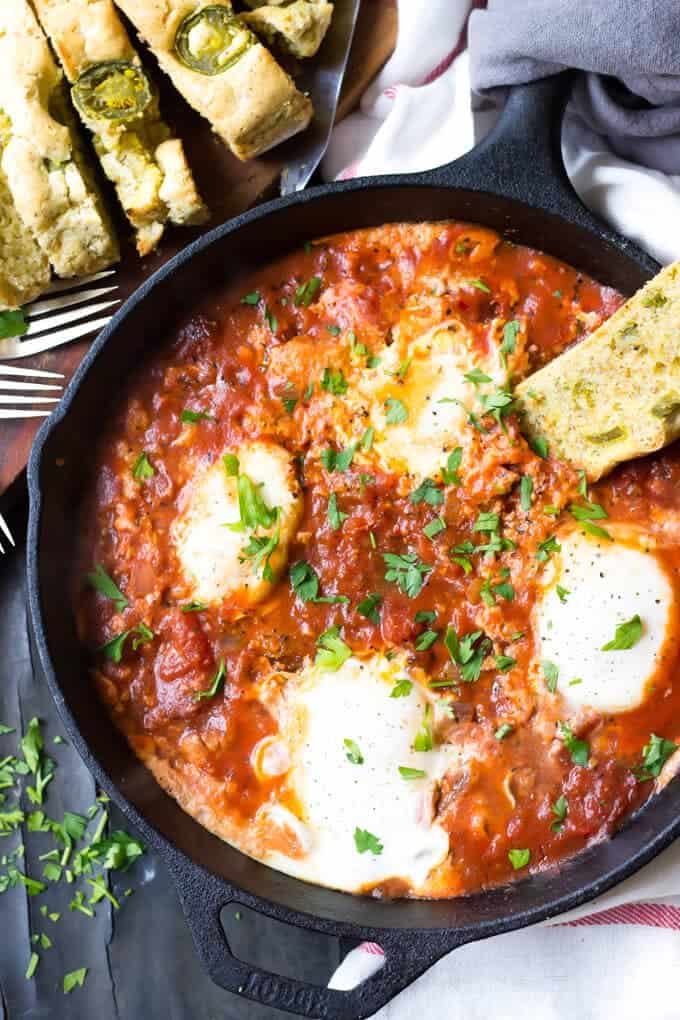 Paleo Eggs in Hell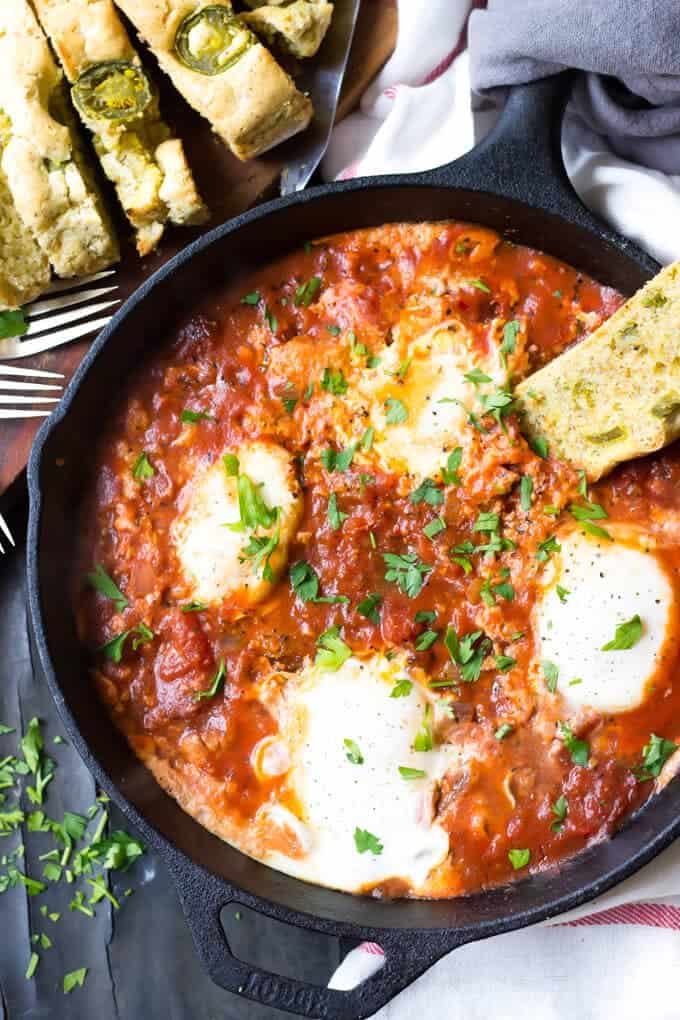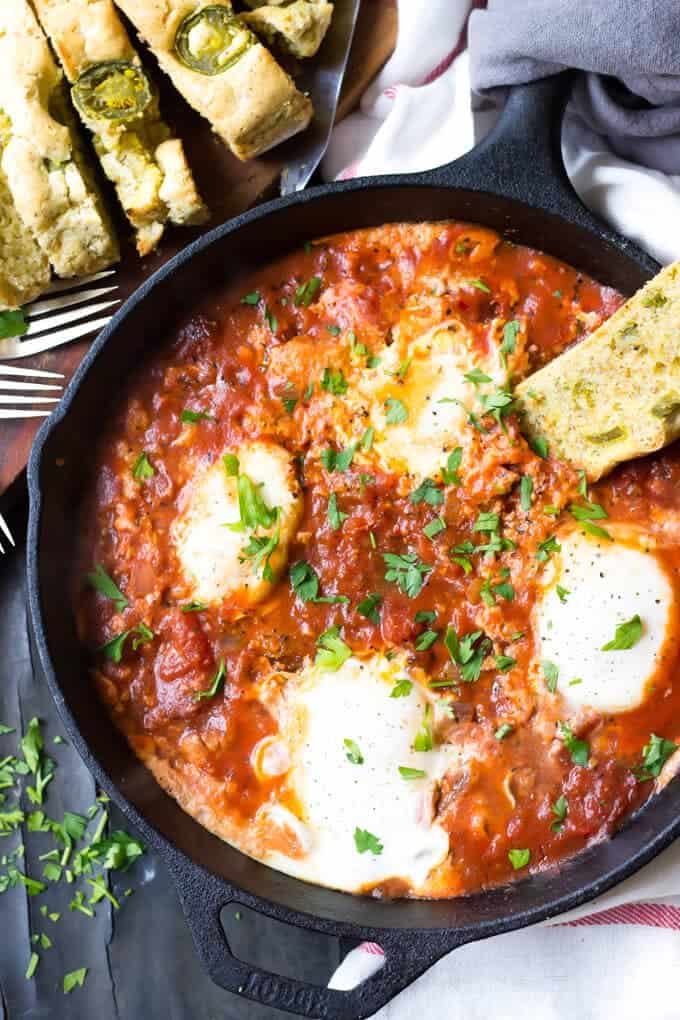 Ingredients
1

(28 oz) can diced tomatoes

1

tablespoon olive oil

1/2

white onion, diced

2

teaspoons red pepper flakes

1

tablespoon Italian seasoning

1/2

teaspoon salt

4

eggs

Parsley, for serving (optional)
Instructions
in a large cast iron skillet or dutch oven heat 1 tablespoon of olive oil over medium high heat. Sauté the onion until soft about 4 minutes. Stir in the red pepper flakes, salt, and Italian seasoning and stir until fragrant, about 1 minute.
Pour in the tomatoes and bring to a simmer for about 5 minutes. Make 4 divots in the sauce and crack an egg in each. Reduce the heat to low and cover. Cook for 3-5 minutes until the egg whites are set but the yolk is still runny. Sprinkle with parsley and serve.
by Lauren