This Paleo Caesar Salad uses a classic dressing and is topped with easy Cajun Shrimp for a dinner that's ready in less than 30!

I remember falling head over heels in love with caesar salad at about 10 years old at a restaurant on vacation. It was the type where the waiter prepares the salad table side with the raw egg, salty anchovies, and the luscious olive oil. Delicious.
Let me start out by saying that not all caesar dressings are created equal. Not at all. Every time I see a recipe that calls for mayonnaise I cringe. I go the classic route as with my Grilled Caesar Salad with Oyster Croutons. It takes a split second to throw together and is a classic as it gets.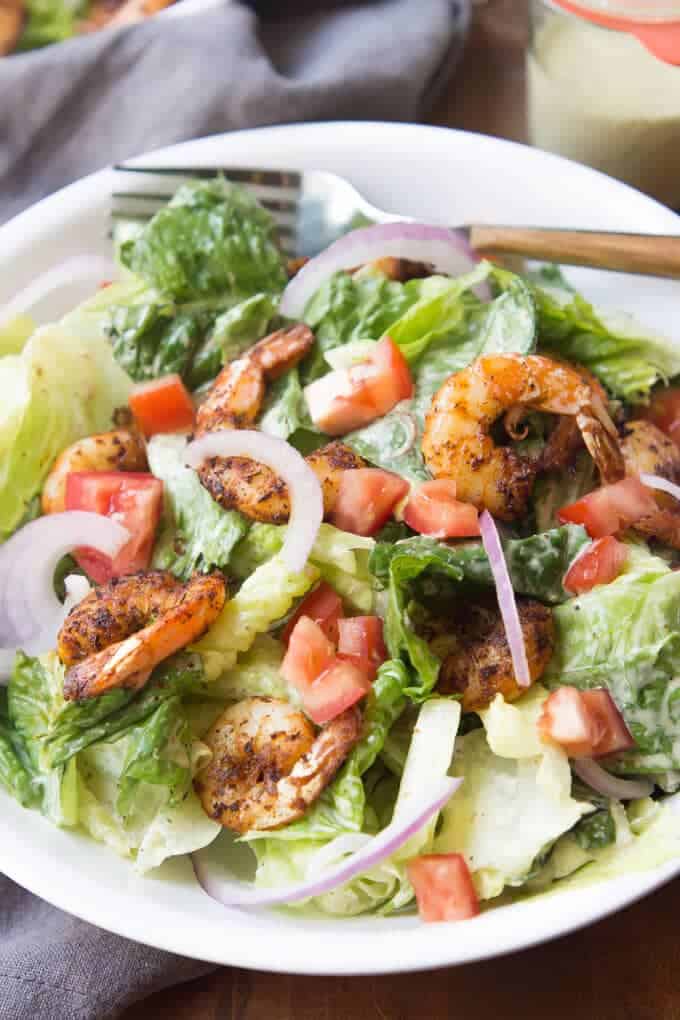 So while the dressing isn't particularly new to the site the shrimp recipe is! A few simple spices and literally 2-3 minutes in a skillet is all you need to make these spicy, smoky Cajun shrimp.
Since this meal literally takes just minutes to throw together it's one of our favorites. I tend to mix it up a bit with the toppings though. Here's a list of some of my favorites with this particular salad:
Diced Tomato




Sliced Red Onion




Avocado




Toasted Pumpkin Seeds




Kalamata Olives

Paleo Caesar Salad with Cajun Shrimp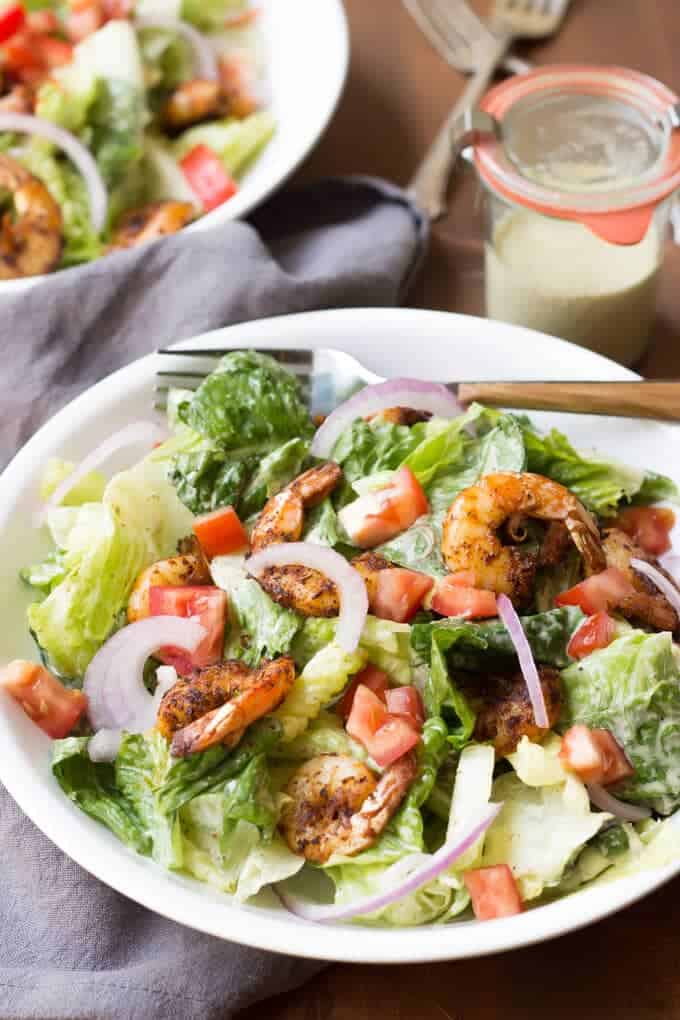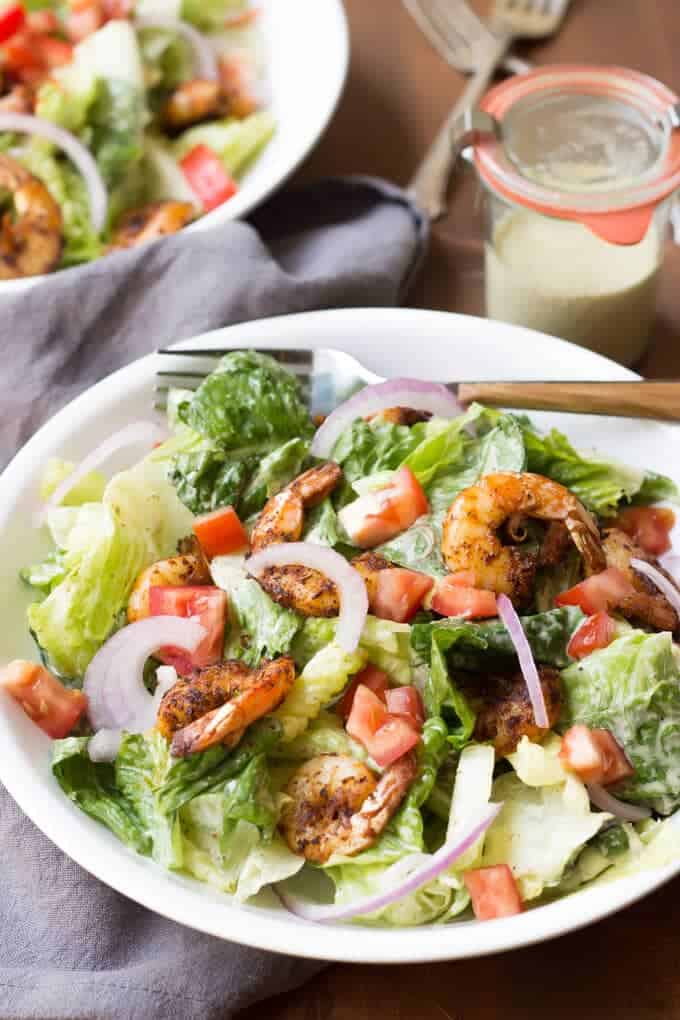 Ingredients
2

large heads romaine lettuce (about 10-12 cups)

1

large garlic clove, minced

4

anchovy fillets or heaping 1/2 teaspoon anchovy paste

1

egg

Juice of one lemon

1

tablespoon Whole Grain Dijon mustard

1/4

teaspoon worcestershire sauce (optional)

1/2

cup olive oil

Salt and freshly cracked black pepper
Cajun Shrimp
1

pound shrimp, peeled and deveined

1

teaspoon smoked paprika

1

teaspoon thyme

1/2

teaspoon garlic powder

1/2

teaspoon cayenne pepper

Pinch of salt

3

tablespoons olive oil
Optional Toppings
Diced tomato

Avocado

Toasted pumpkin seeds

Sliced red onion

Olives
Instructions
Make the Dressing: In a blender combine all ingredients except for the oil. (I use an immersion blender). Once combined pour in the oil, while blending, in a slow steady stream until emulsified. Season with salt and pepper and any additional lemon if needed. Set aside.
Make the Cajun Shrimp: In a medium bowl combine all of the spices. Peel and devein the shrimp and pat them dry. Toss the shrimp with the spices. Heat 3 tablespoons of olive oil in a large skillet over medium-high heat. Place the shrimp in the skillet in a single layer. Sear for 1 minutes until they begin to blacken. Flip and sear another minute or so until the are cooked through.
Assemble the Salad: In a large bowl toss the chopped romaine with the dressing. Divide between 4 plates and top with shrimp and chosen toppings. Serve with an extra crack of black pepper.
by Lauren