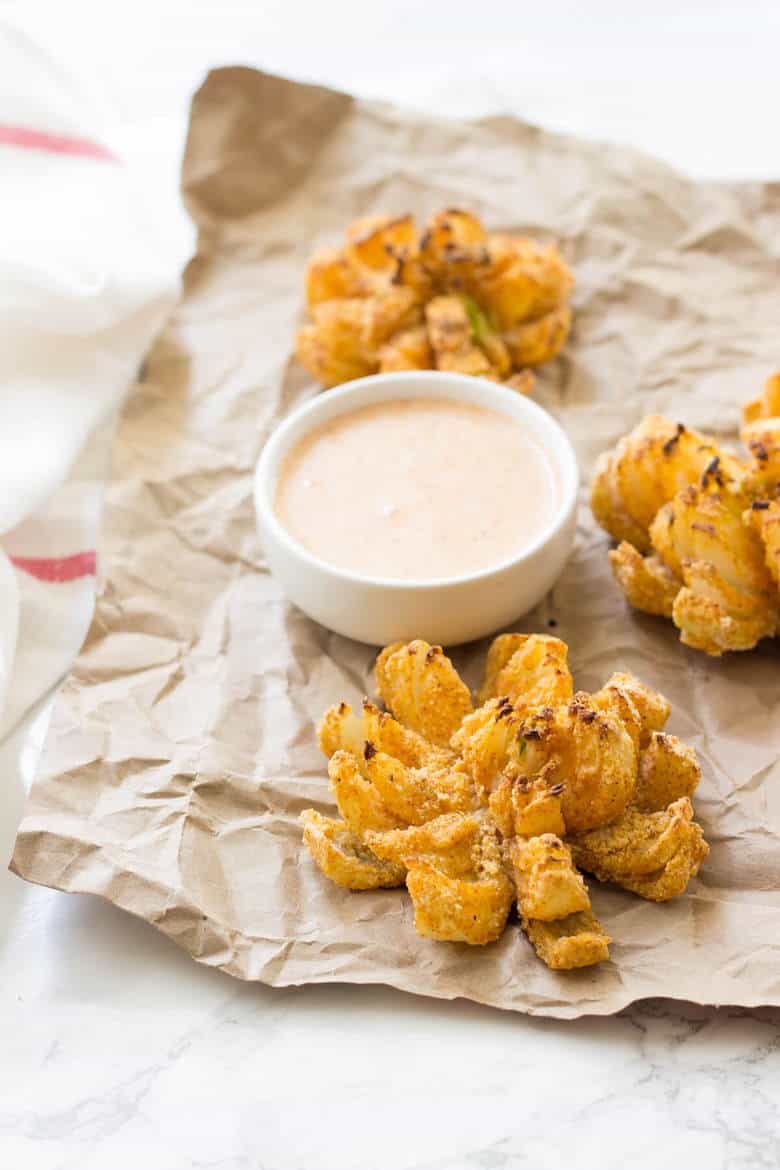 Ah bar food at it's finest friends. These Baked Blooming (Bloomin'??) Onions are sinfully delicious all while using wholesome + healthy ingredients. Perfect for game-days this appetizer is sure to please just about everyone!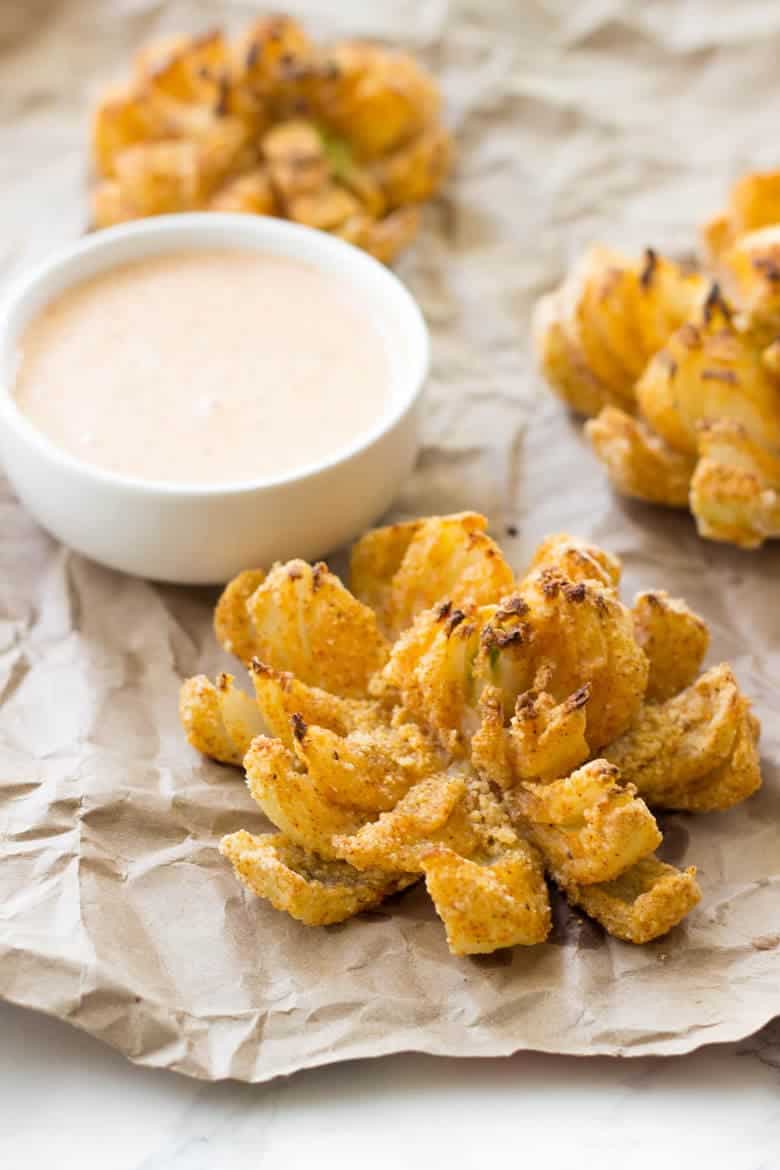 So these onions taste exactly like you would expect a blooming onion to taste like. Perfectly golden and crunchy and smothered in a horseradish dipping sauce that has just enough bite to make you keep going back for more.
I didn't try to reinvent the wheel with this recipe so it's really straightforward. Honestly, if you served this to someone who had no idea what Paleo or gluten free is they couldn't tell a bit of difference. It's that classic.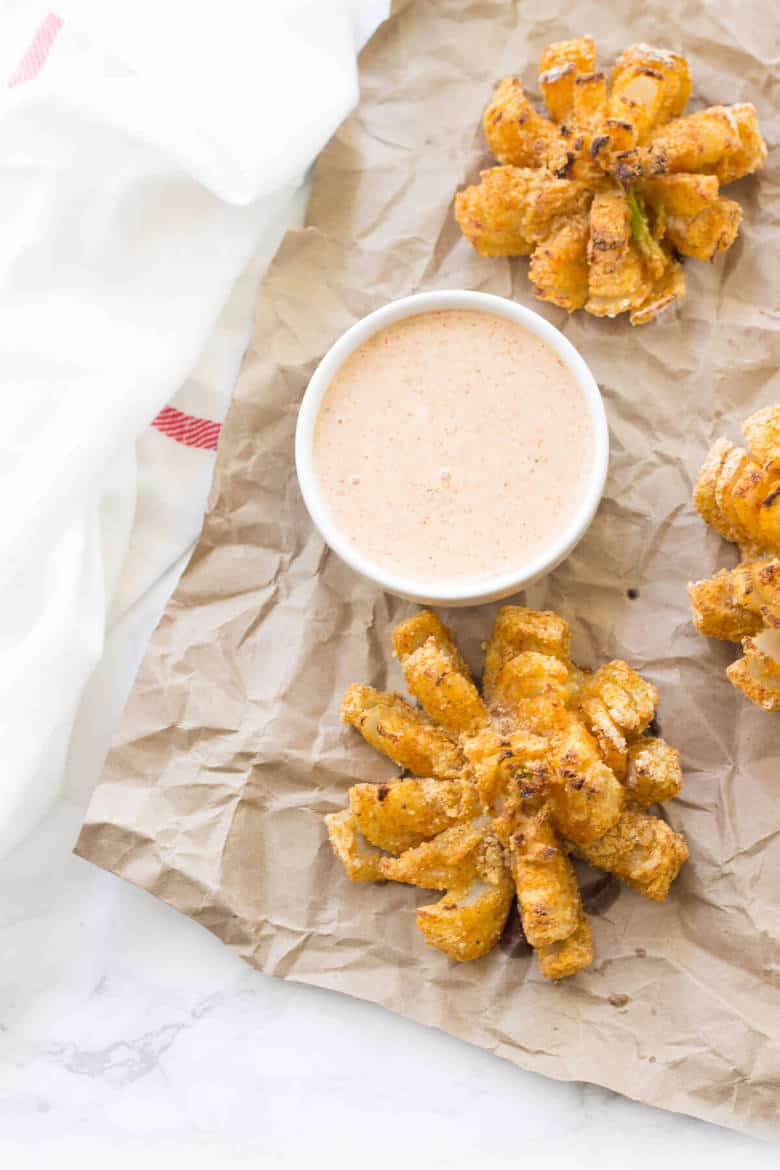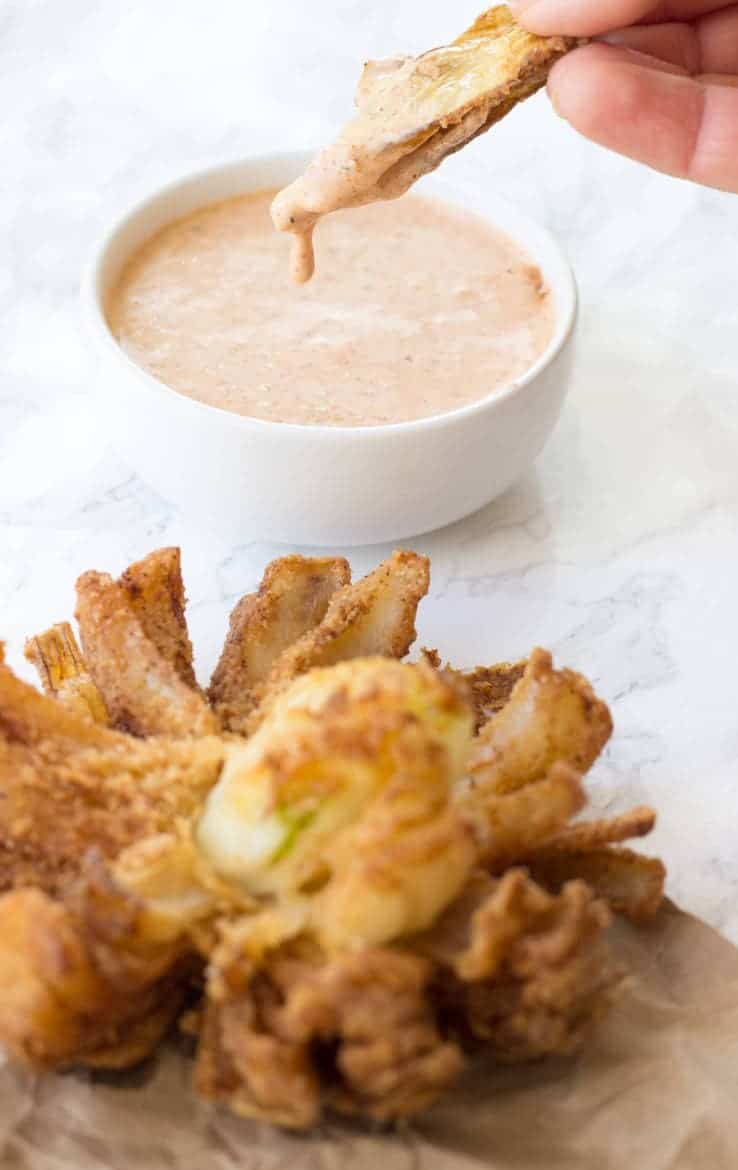 I simply cut the onion, dipped in egg, dredged through a mixture of almond flour, tapioca, and spices and baked in the oven until crisp. I ended up baking them for 15 minutes and then brushing with a bit of coconut oil, baking for another 15 and broiling for 5. Depending on the size of your onions you may need to adjust the time a bit.
I intentionally used small onions since these were supposed to be mini versions which are perfect for game-day appetizers. They look pretty large in the pictures but I think they are the perfect individual size. This recipe can be made with any size onion though. As written the dredge will coat about 5 baseball size onions.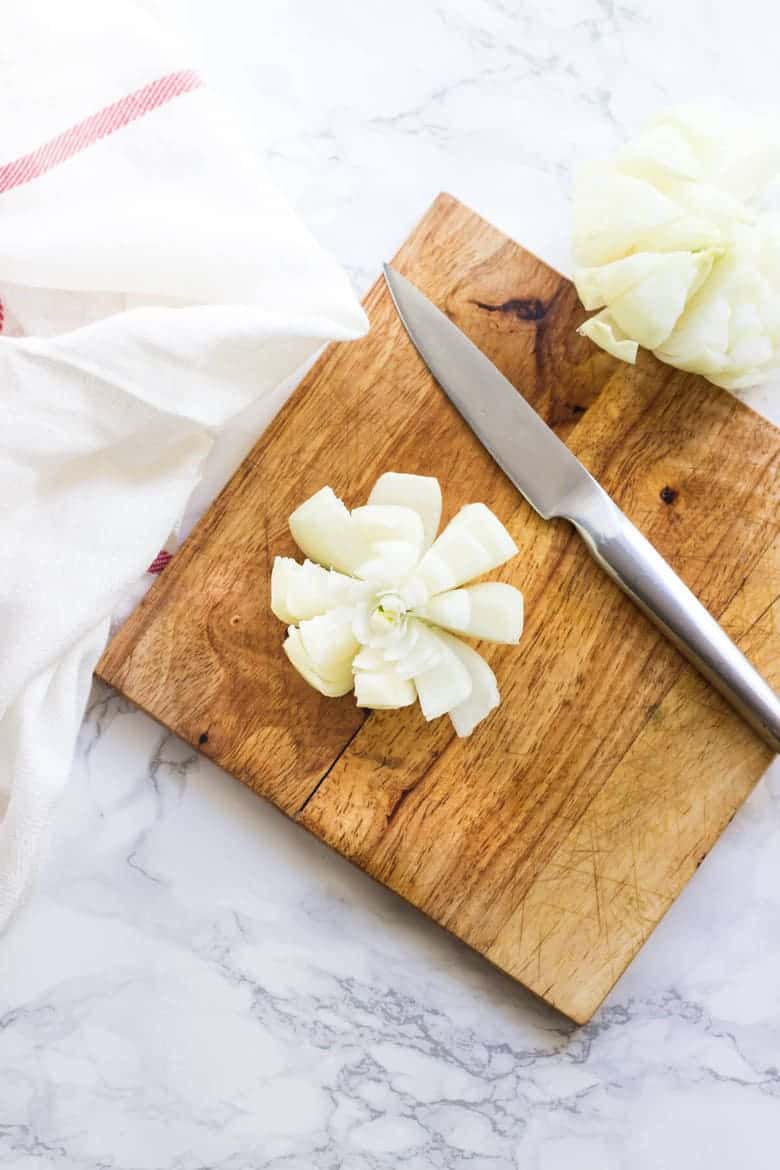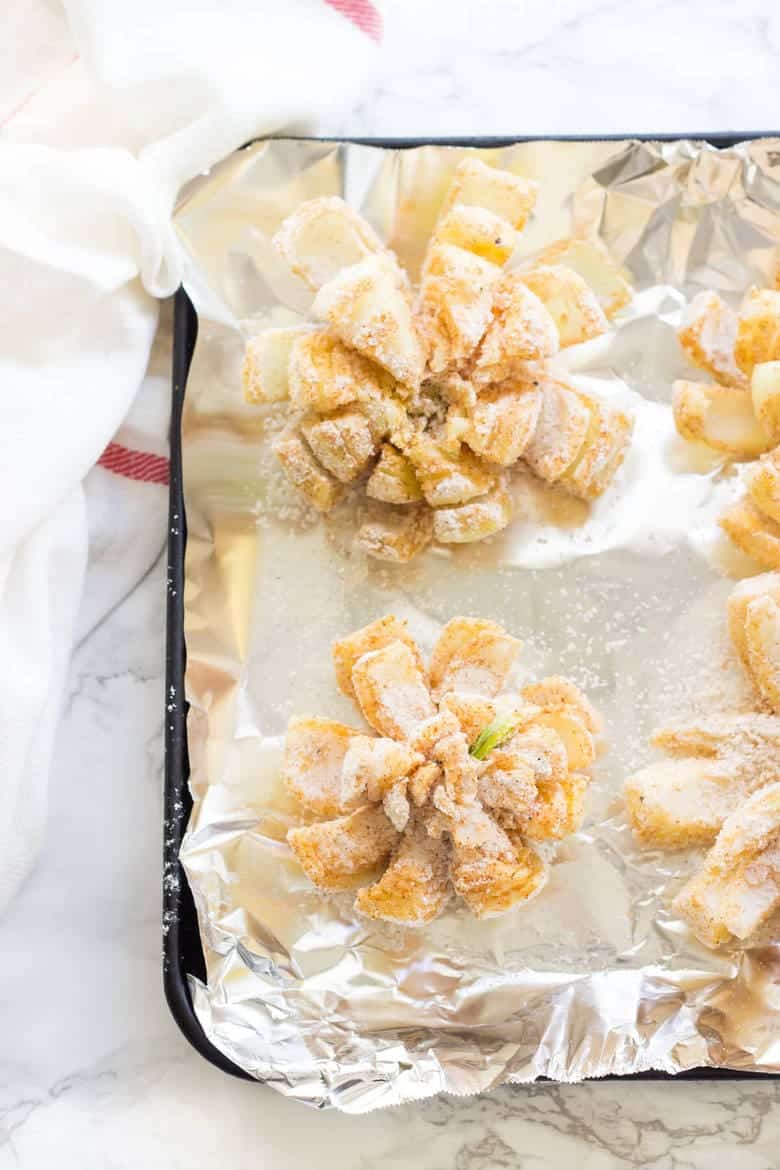 I also tried frying one to tell the difference and honestly, I prefer the baked version better. They're just as crisp and don't have an overwhelming oil flavor.
Plus if you were to fry all of them it would take a ton of oil. I don't fry with anything but coconut or lard and coconut oil isn't cheap my friends. Baking is totally the way to go. Happy eating!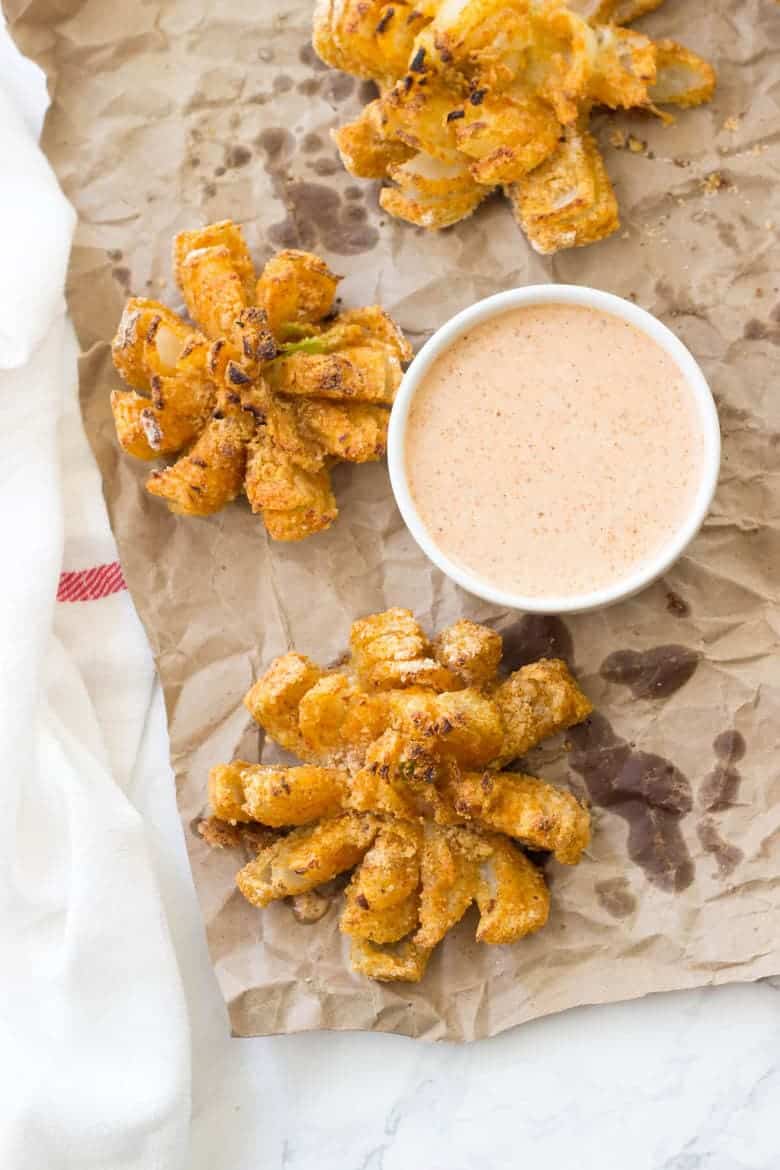 Paleo Baked Blooming Onions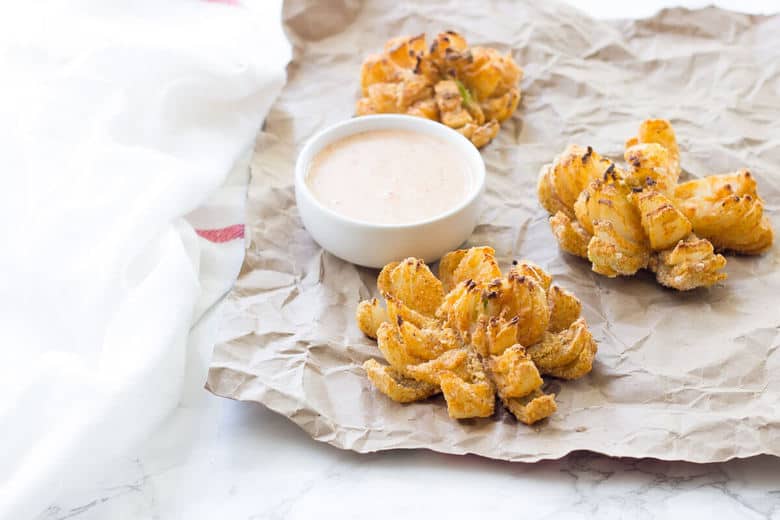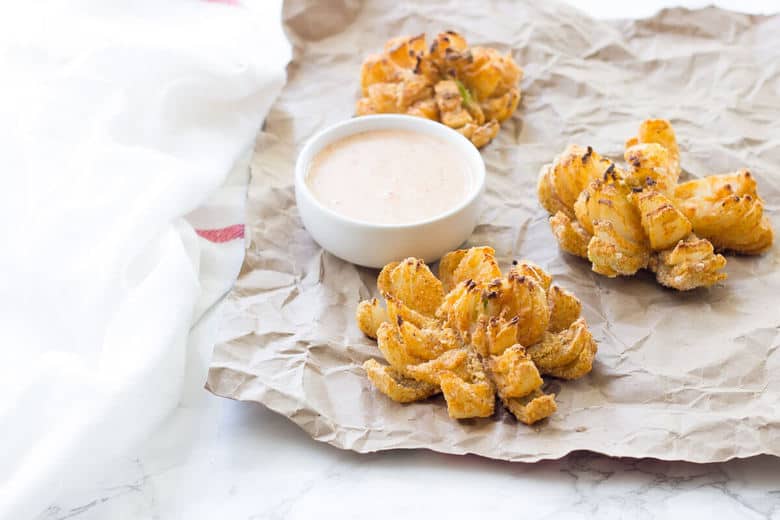 Ingredients
5

small onions

1

egg

1/2

cup almond flour

1/2

cup tapioca starch

1

tablespoon paprika

1/2

teaspoon salt

1/4

teaspoon cayenne

2

tablespoons melted coconut oil
Horseradish Dipping Sauce
1/4

cup mayonnaise

1/2

tablespoon ketchup

1 1/2

tablespoons prepared horseradish (the ingredients being horseradish, vinegar, and salt)

3/4

teaspoon cayenne

1/2

teaspoon paprika

1/8

teaspoon salt

Freshly ground black pepper, to taste
Instructions
Cut the Onions: Start but cutting off a half inch of the pointy side of the onion, peel. Lay the onion with the cut side down. Start a half inch away from the top and cut straight down through the onion making 4 slits around. Repeat between the cuts until you have between 8-12 cuts. Flip the onion over and gently fluff out the petals.
Make the Sauce: Mix all ingredients together and store in the refrigerator until ready to use.
Dredge Preheat oven to 400° F and line a baking sheet with parchment or aluminum foil. In a small bowl whisk one egg, in another bowl combine the flours and spices. Dip an onion into the egg making sure to coat every petal inside and out. Let the excess fall off and gently toss in the flour mixture. I simply lay the onion in it and use a spoon to get the flour in every petal. Gently shake the excess off and place on the pan. Repeat until all onions have been coated.
Bake: Cover onions with foil and bake for 7 minutes, remove foil and continue to bake for 8 more minutes. Using a basting brush gently coat the onions with a bit of melted coconut oil. Return to oven for another 15 minutes. Check the color and see if they are crisp, if not broil under high heat for 5 minutes. Serve with the horseradish dipping sauce.
by Lauren