These Paleo Bang Bang Shrimp Tacos taste just like the real thing! Crunchy, spicy, and all around perfect!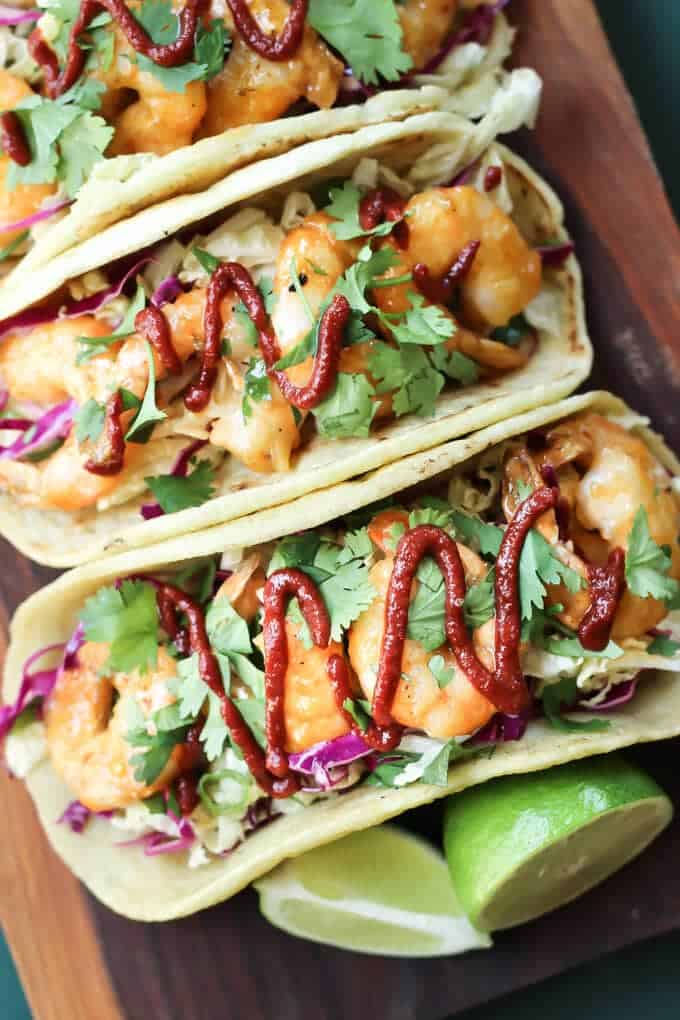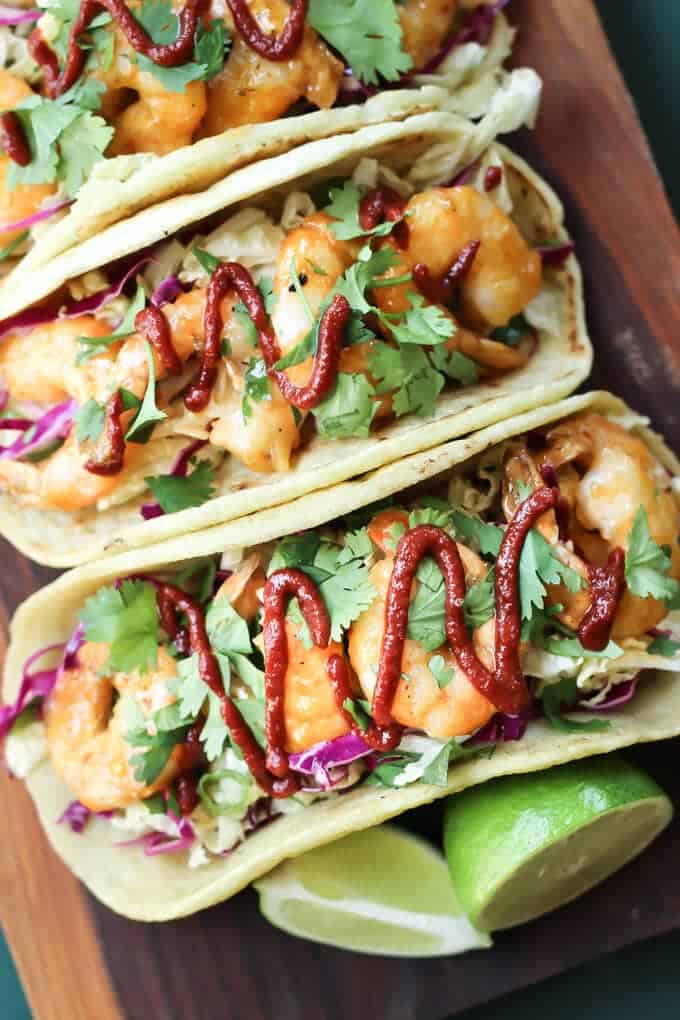 You guys already know that I'm head over heals in love with tacos but these, THESE, are what taco dreams are made of. Crispy shrimp doused in Bang Bang style sauce tucked into a pillowy flour-like tortilla with some tangy crunchy slaw is just about perfect in my opinion.
Bang Bang shrimp (or sometimes called firecracker shrimp) used to be one of my favorite appetizers. Well I'm happy to say that my version, while Paleo, tastes exactly like the real thing! The shrimp are dusted in tapioca starch and flash fried then drenched in the spicy sweet sauce that I could eat with a spoon. I promise I didn't though, OK maybe I did, but it's SO good!
The slaw is perfectly crunchy and tangy. The recipe is inspired by one I saw in the Skinnytaste Cookbook while browsing cookbooks at Barnes and Noble a few months back. I don't remember exactly what was in the slaw but I did remember the cabbage and the dressing was vinegar and honey. Anyways, it adds a nice bright crunch to the tacos. Add an extra drizzle of Sriracha and you're ready to party.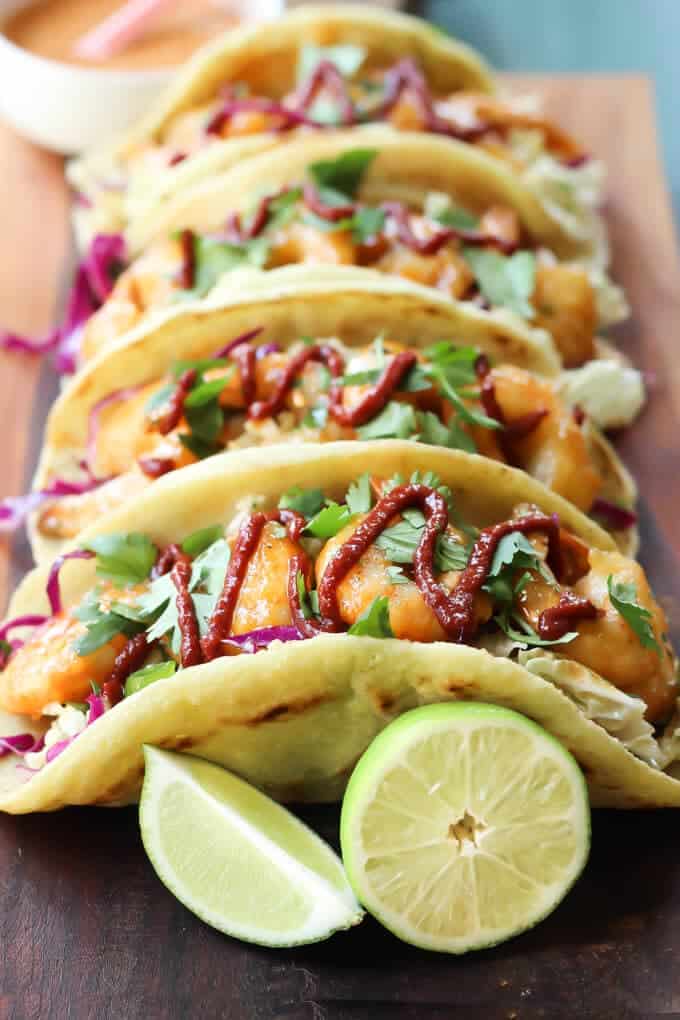 While the recipe may look a tad daunting I promise everything comes together in a cinch making it perfect for an easy weeknight dinner. The sauce can even be made ahead of time and stored in the refrigerator until you're ready to use it. Also, while these flour-like tortillas are always a hit I also love this recipe with my One-Ingredient Paleo Tortillas or even without tortillas eaten as a salad instead!
The recipe makes 5 tacos and since I just made this for Alex and I we had a little disagreement on who was going to get the last one. We ended up splitting it. Compromise is the root of marriage. Ha! Seriously though, these have become a household favorite and I'm positive you're going to love them.
Looking for a refreshing margarita to pair with these tacos? I've got you covered! Check out all of my margarita concoctions here!
Paleo Bang Bang Shrimp Tacos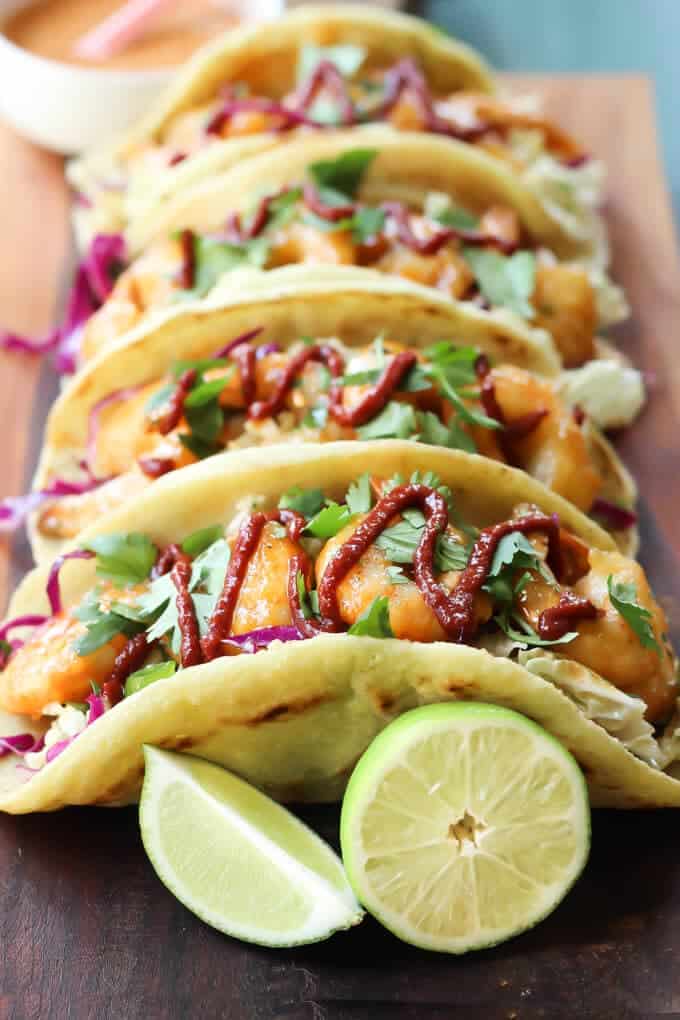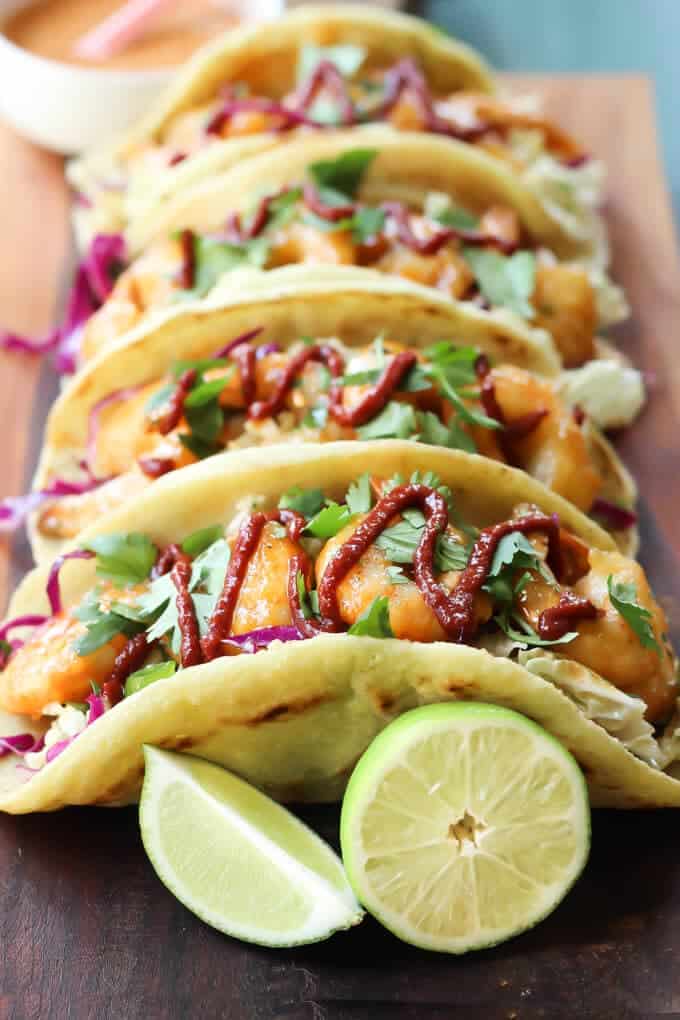 Ingredients
Bang Bang Sauce
1/3

cup mayonnaise, Primal Kitchen or homemade

2

tablespoons sweet chili sauce (recipe below)

2

tablespoons Sriracha
Sweet Chili Sauce
3.5

tablespoons white wine vinegar

2

tablespoons water

1.5

tablespoons honey

1

clove garlic, minced

1

teaspoon chili flakes

1/2

teaspoon minced ginger

1/8

teaspoon cayenne

Pinch of salt
Tortillas
Tacos
1

lb shrimp, peeled

2

tablespoons tapioca flour

1/3

cup coconut oil, for frying

1

cup nappa cabbage, shredded

1/2

cup red cabbage, shredded

1/2

cup minced cilantro

2

green onions, sliced

2

tablespoons olive oil

1

tablespoon white wine vinegar

1/2

tablespoon honey

Pinch of salt
Instructions
To make the sweet chili sauce combine all ingredients in a small saucepan over medium heat. Bring to a boil and reduce to a simmer until thickened. Let cool then mix with the mayonnaise and Sriracha.
In a large bowl combine the shredded Napa cabbage, shredded red cabbage, minced cilantro, and green onions. Toss with the 2 tablespoons olive oil, 1 tablespoon white wine vinegar, 1/2 tablespoon honey and a pinch of salt. Set aside.
To make the tortillas combine all ingredients in a medium mixing bowl and whisk until smooth. Heat a cast iron skillet over high heat and add a bit of coconut oil or butter to the pan. Pour in 1/5 of the batter at a time and spread out into about a 6" circle. Allow to cook 1-2 minutes then flip and cook another 1-2 minutes. The tortillas should be soft and foldable but golden brown. Repeat until you have 5 tortillas and set aside.
Heat a large skillet over high heat and melt the coconut oil. Toss shrimp with tapioca until covered and place in skillet. Fry 2 minutes until golden, flip and fry another 2-3 minutes until cooked through and crispy. Toss with Bang Bang sauce.
To assemble place slaw in tortilla and top with shrimp and a drizzle of Sriracha if desired.
by Lauren
Looking for more shrimp recipes? Right this way…