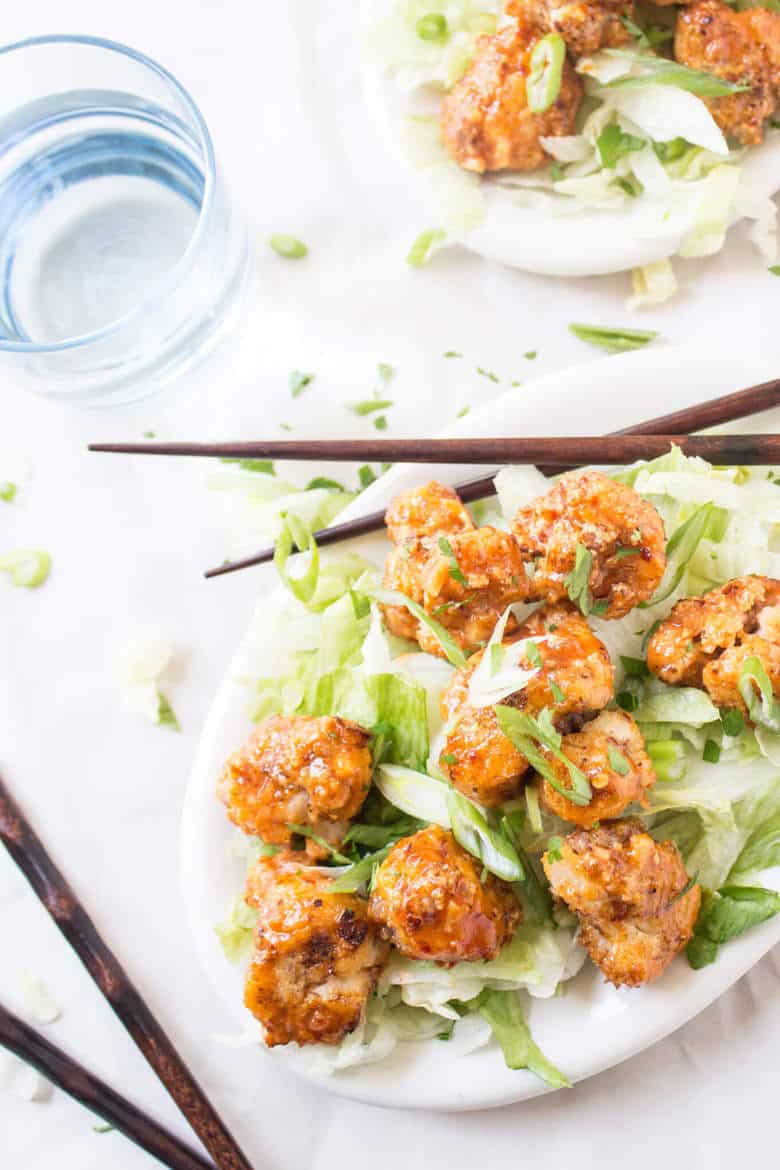 Bang Bang Shrimp vegetarian style! This recipe for Bang Bang Cauliflower is totally based on my most popular recipe here on WS, my Paleo Bang Bang Shrimp Tacos. This recipe is just a little more appetizer(ish) and perfect for the vegetarians in your life or a way to add a flavorful veggie based meal to your routine.
I'm no stranger to using cauliflower as a meat replacement and as someone who used to HATE cauliflower (and still does when it's raw) this is telling of the versatility of the ingredient. Everyone knows you can make cauliflower rice but it's also great to make wings, pizza bites, burgers, sesame chicken style cauliflower, "grits", and tons of other goodness.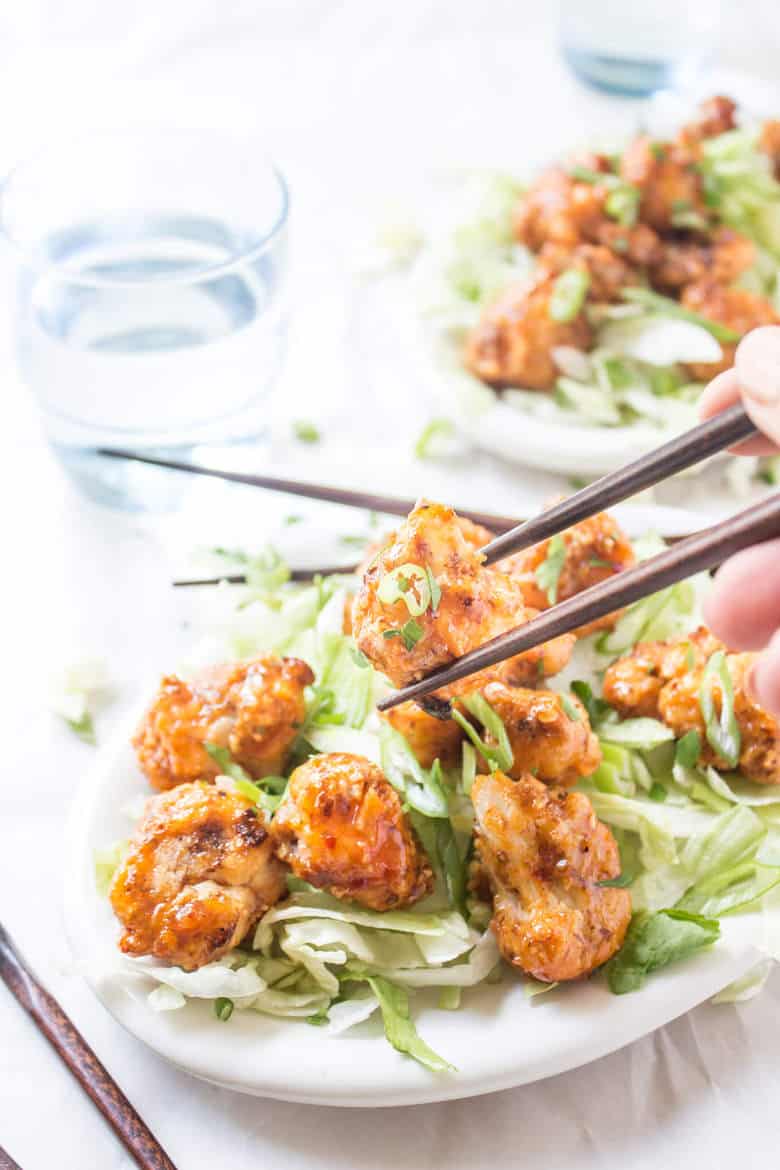 You could totally make this a main meal as well by using my Bang Bang Shrimp Taco recipe and just subbing the cauliflower for shrimp. It's a great way to reduce costs and tuck some extra veggies into your diet.
By tossing the florets in a chunky batter you end up with a crispy exterior just like any fried food but without all the oil required to fry. Just a few minutes in the oven, easy! I vere away from frying whenever I can even if it's with a quality oil. One, because it get's expensive and wasteful when you fry with coconut oil or avocado oil, and two, I've ended up in the ER from exploding oil before so I guess I'm still a bit traumatized from that experience. Anytime I can bake instead of fry is not only healthier, it's safer ha!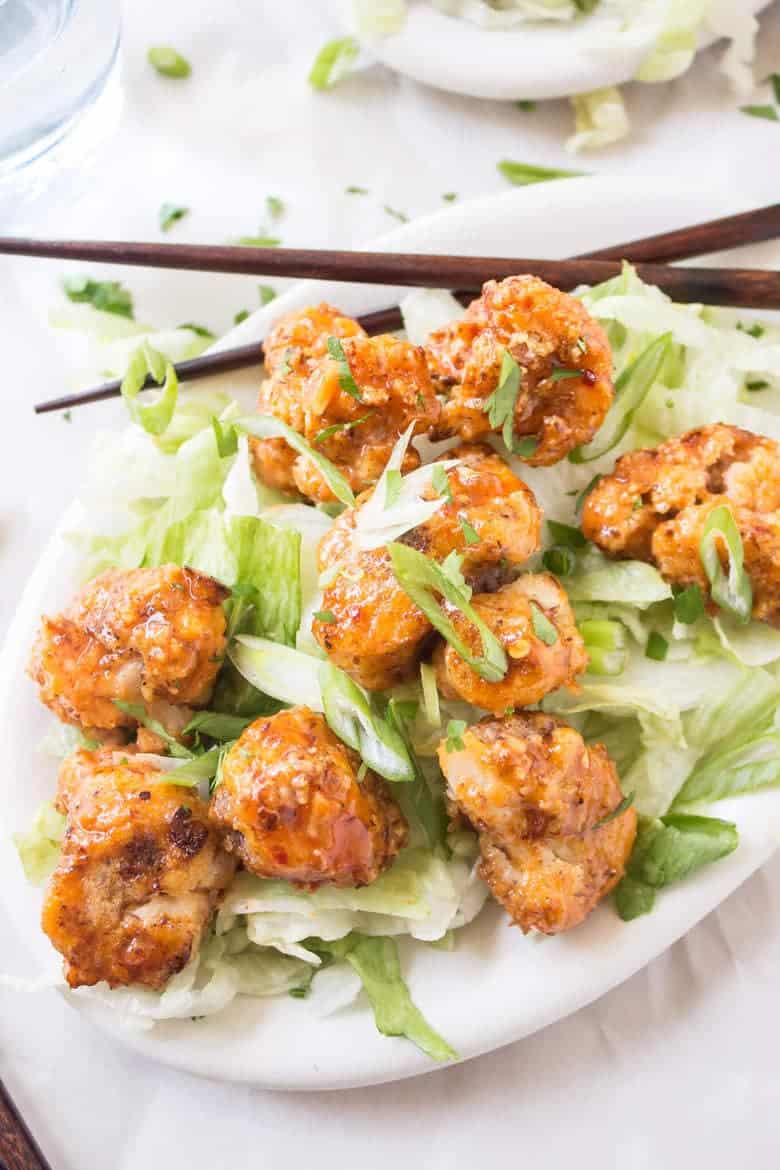 Bang Bang Cauliflower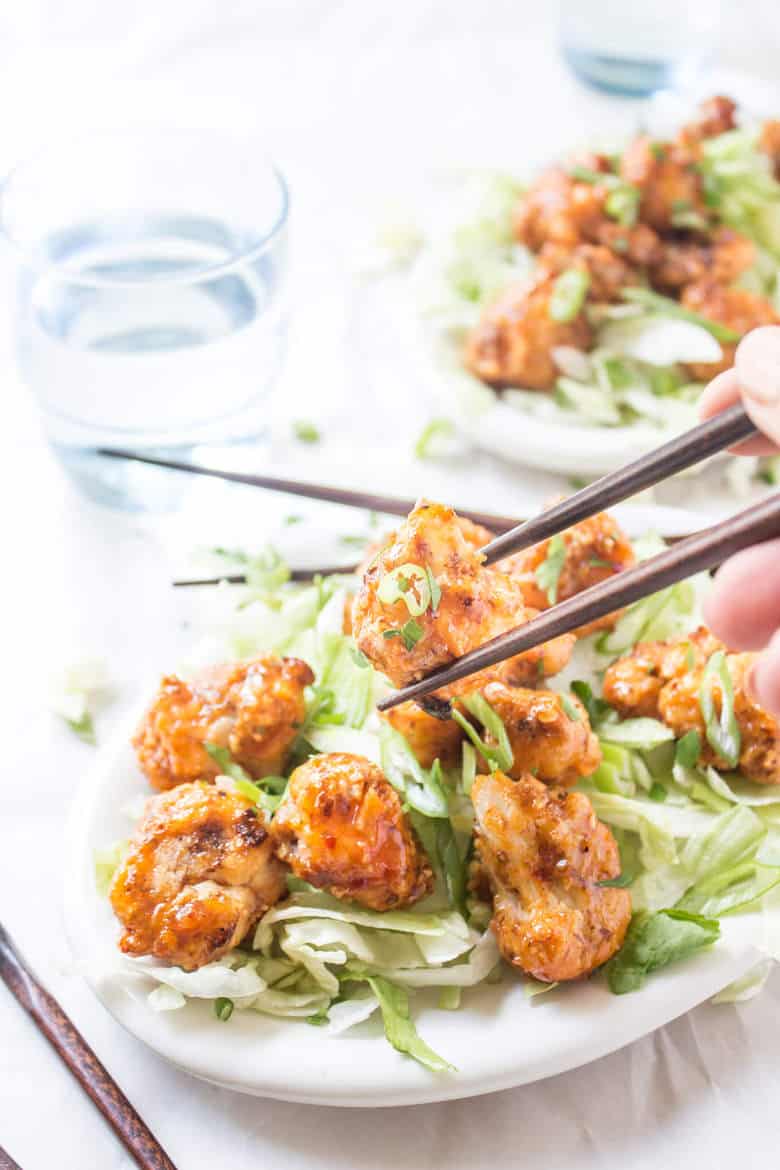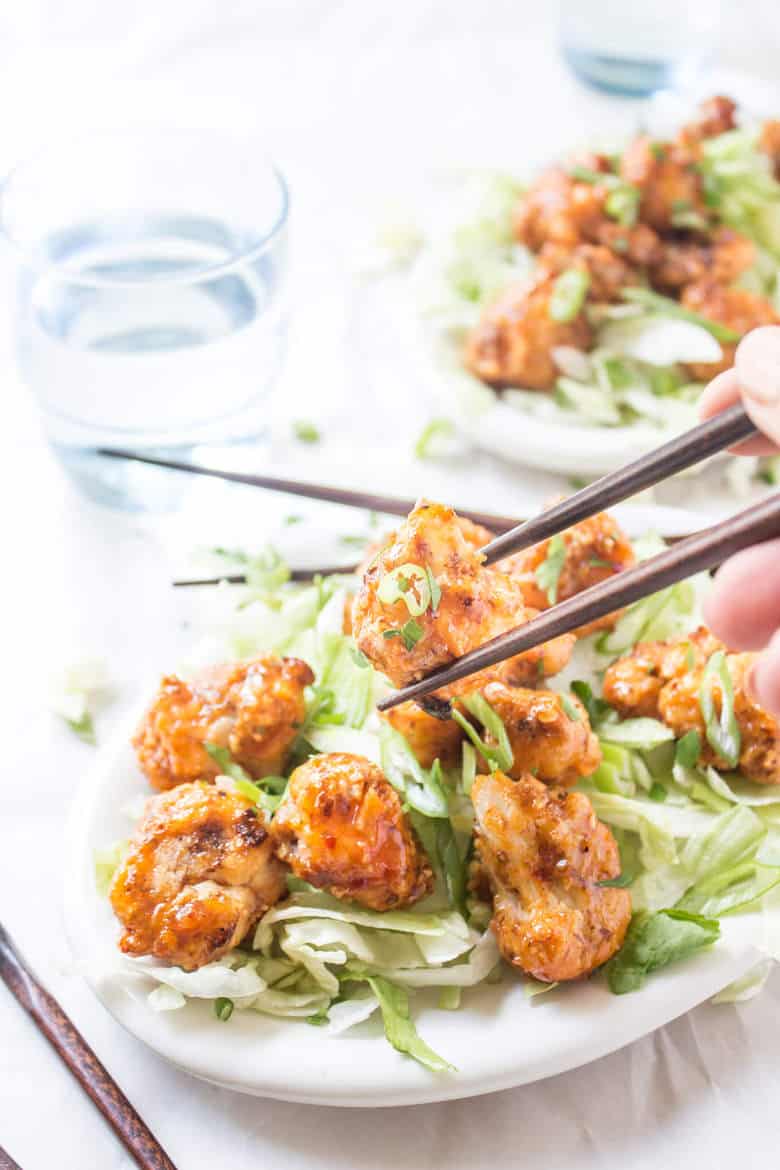 Serves 6-8 as an appetizer
Ingredients
Cauliflower
1

large head cauliflower

1/2

cup almond meal

1/2

cup tapioca starch (or arrowroot)

2

tablespoons coconut flour

1/2

teaspoon paprika

1/2

teaspoon salt

1

cup sparkling water

Shredded lettuce, for serving

Green onions, sliced, for serving
Bang Bang Sauce
7

tablespoons white wine vinegar

1/4

cup water

2

garlic cloves, minced

1

teaspoon fresh ginger, minced

1/4

cup honey

2

teaspoons red pepper flakes

1/4

teaspoon cayenne pepper

2/3

cup mayonnaise

3-4

tablespoons Sriracha
Instructions
Preheat oven to 450° F and line a large baking sheet with parchment paper.
Cut the cauliflower into small bite sized pieces. In a large bowl whisk together the almond meal, tapioca, coconut flour, water, salt, and paprika. Place the cauliflower into the bowl and toss until each piece is coated. Arrange pieces on the baking sheet in a single layer.
Bake for 25 minutes flipping once halfway through.
While the cauliflower is baking make the sauce. In a small pot over medium high heat whisk together all ingredients except for the mayo and sriracha. Bring to a boil for 2-3 minutes then reduce to a simmer. Allow to cook until thickened about 5 minutes. Remove from heat and allow to cool. Once cool mix with the mayo and Sriracha.
Toss the cauliflower with the bang bang sauce. To serve top the shredded lettuce with the cauliflower and sprinkle with sliced green onions.
by Lauren