I'm totally thrilled to have Jessica from Paleo Scaleo sharing this perfect summertime recipe with WS today! Let me turn it over to Jessica!….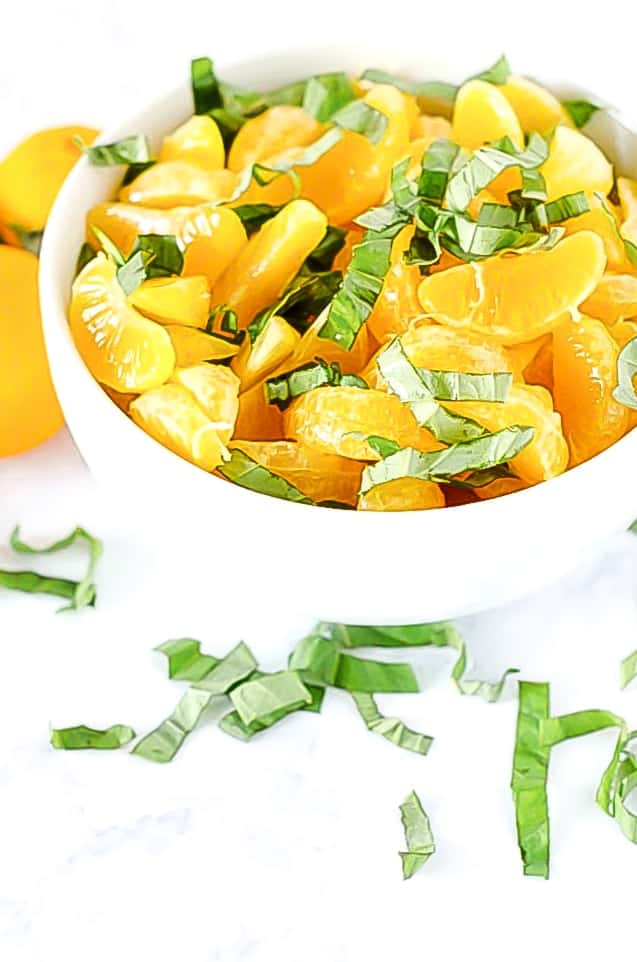 You know how some people can pinpoint the minute they fell in love? Well, I can pinpoint the minute I fell in love with Wicked Spatula. It was the moment right after my first taste of Lauren's edible chocolate chip cookie dough passed my lips. Our relationship was toxic for a minute, me and that cookie dough. It was so easy to make, I always had all the ingredients on hand, and it had the ability to make any day the best day. Eventually I came to the realization that I should probably cut back on my butter consumption, grass-fed or no, and save the edible cookie dough for special occasions. (And no, "Tuesday" is not a special occasion!)
I've been hard at work on some healthy, fresh summertime recipes over on my blog, and I'm so excited to share this orange basil salad with you! The heat index where I live has been over 100 degrees for almost two weeks now, and when dinner rolls around I can't bring myself to think about turning on the oven and heating up the kitchen. I've been creating cold salads & chilled dishes ahead of time that I can pull out and serve without so much as a pot or pan. This orange basil salad is bright, fresh, requires zero cooking, and is ready in 10 minutes or less – everything I want and need in a summertime dish.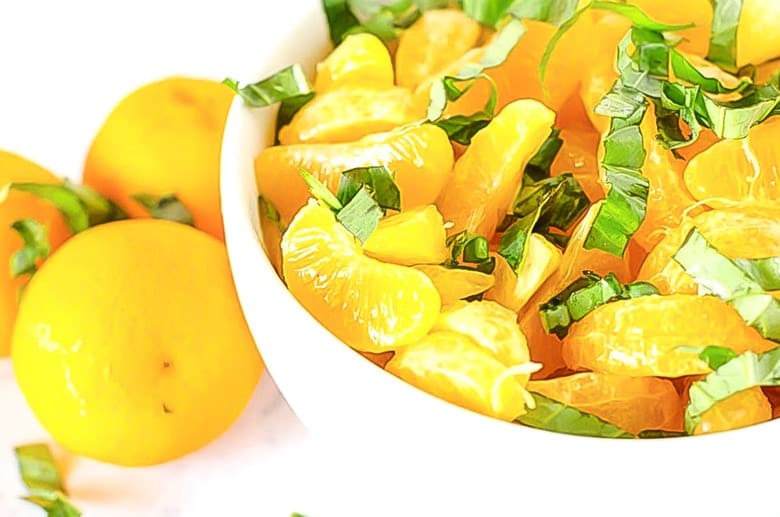 The basil contrasts the sweet oranges with a delicious and unexpected savory herb flavor, and the vinegar in the dressing adds it a bit of tang to balance it all out. The end result is an easy, fresh salad that's the perfect side for any summer cookout. Seriously, I put this orange basil salad out for our 4th of July celebration, and it was gone in minutes!
If you do have any leftovers, they will keep in the fridge in an airtight container for 2-3 days, and pulled out anytime the thought of cooking is just too much to handle!
Orange Basil Salad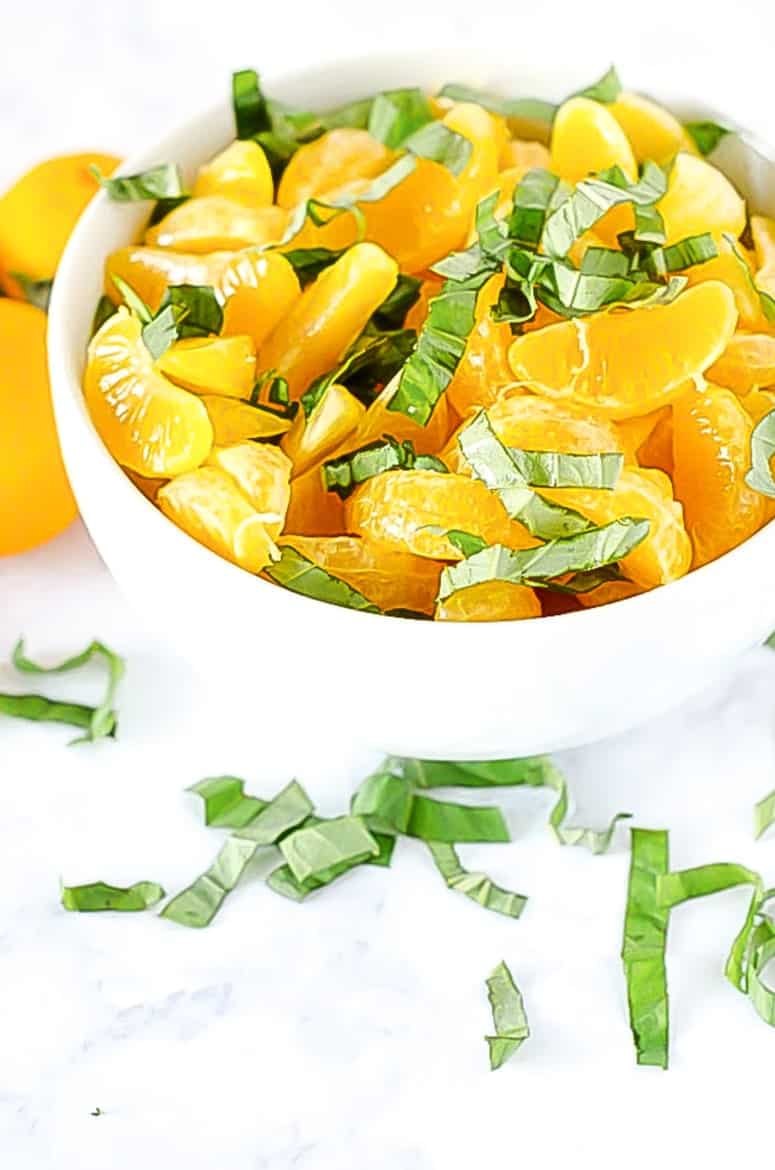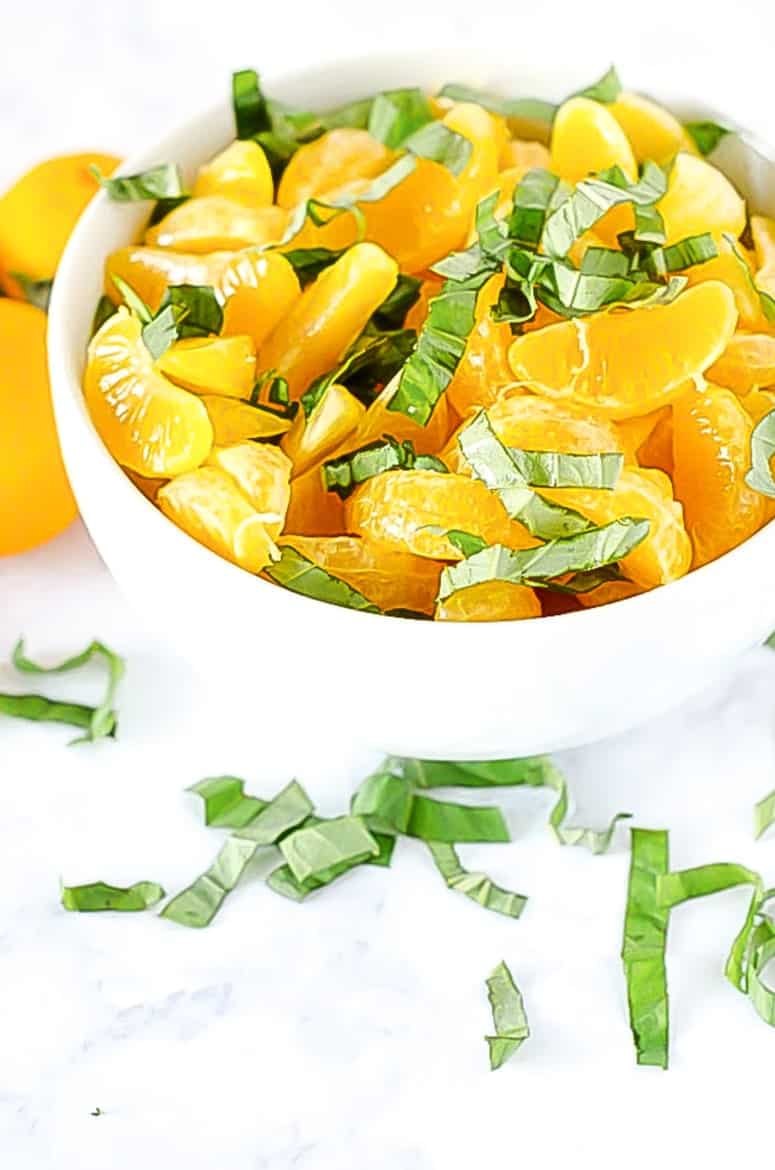 Ingredients
Salad
10-12

mandarin oranges, peeled and sectioned (about 1 lb)

1/2 cup packed basil leaves, cut into ribbons
Dressing
2

tablespoons olive oil

2

teaspoons white wine vinegar

1

teaspoon honey

Pinch of salt
Instructions
Place orange sections in a bowl and set aside.

In a small bowl, add all dressing ingredients and whisk until combined.

Pour dressing over orange sections and toss well to coat.

Reserving a few pinches for garnish on top, add chopped basil ribbons and toss once or twice gently, to coat.

Sprinkle reserved garnish basil ribbons on top and serve immediately.
by Jessica Scully
Jessica Scully is an avid cooker, eater, and the blogger at www.paleoscaleo.com. When she's not blogging, cooking or eating, she spends her time coaching CrossFit and running her wedding planning business. Finding the paleo way of eating changed the way she looked at food, and she hopes it will do the same for you!

Jessica believes that paleo is a framework, a jumping off point of figuring out what works for you and your body to achieve optimal health and performance to live a long, happy life. If you're curious about the paleo way of eating, and want to learn more, check her out over at www.paleoscaleo.com. She even has a FREE library of paleo tips, tricks, and information to get you started!
Latest posts by Jessica Scully (see all)