Paleo Peach Cobbler for two! Satisfy your sweet tooth with this mini dessert!

I'll admit, I'm more of a chocolate dessert lover myself but if there's one dessert my husband loves it's pies and cobblers. Summer isn't complete without at least one peach cobbler and I do have to say that I was feeling a little uninspired looking for Paleo Peach Cobbler recipes around the web.
They all had some sort of crumble topping instead of the classic fluffy pastry that we all know true cobbler to have. I pride myself on being able to turn any recipe into a Paleo version without sacrificing flavor, looks, and texture so I was up for the cobbler challenge!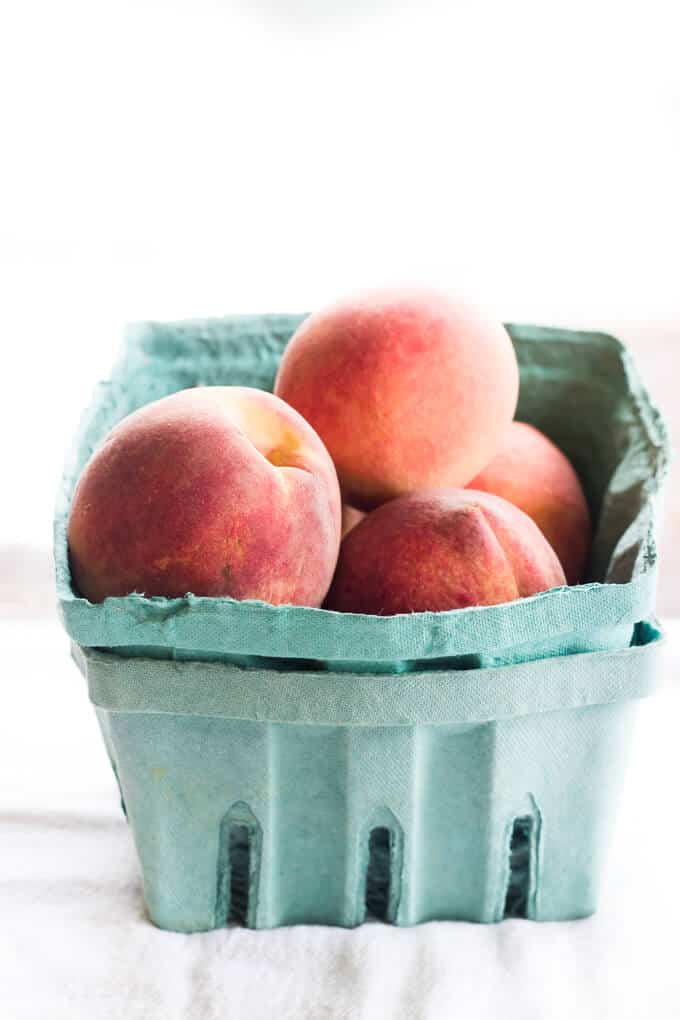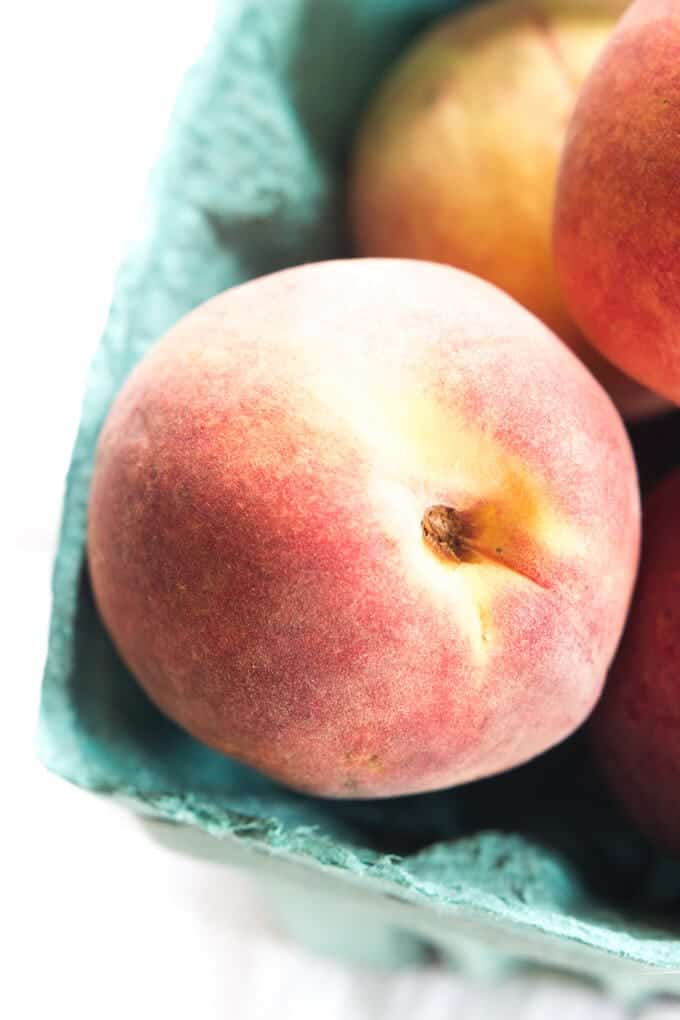 People always ask me what I miss eating most and honestly my answer is nothing. I don't have to miss anything. Besides the ability to walk into a restaurant and order whatever I want without worrying about it containing gluten I honestly can't think of one thing I want that I can't make. Eating Paleo, gluten-free, all-natural, dairy free, or whatever doesn't have to be restrictive. You just have to morph your old favorites into new versions of themselves.
So with a little tweaking I think I created the perfect Paleo cobbler with a fluffy pastry topping that no one will ever guess is gluten free. It's super uncomplicated too. Just mix a few ingredients together and spoon over the peaches. That's the joy of cobbler and if we were going to have a true cobbler it had to be easy.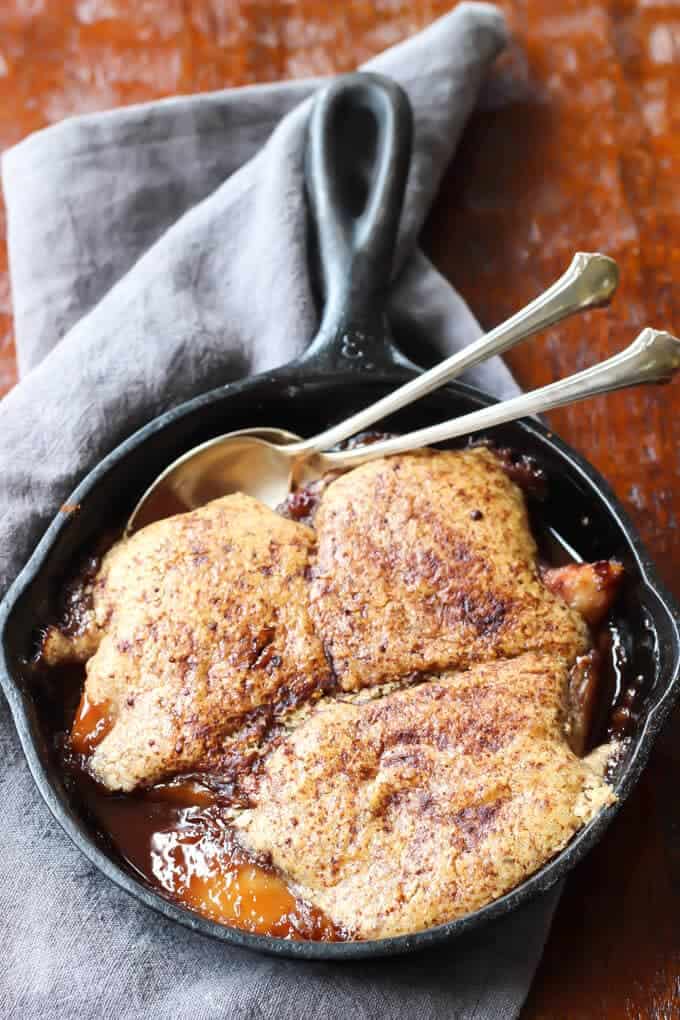 One note though. Since we tend to eat less sugar I only used one tablespoon of coconut sugar in the syrup mix. While that was plenty sweet for me Alex said it needed just a bit more to give it that decadent dessert taste. SO, if you want it a bit sweeter simply add an extra tablespoon. Regardless of wether you use one or two it's still less than most standard desserts.
My favorite part is how the syrup becomes almost caramel like and just a bit sticky around the edges of the pan. Absolutely divine.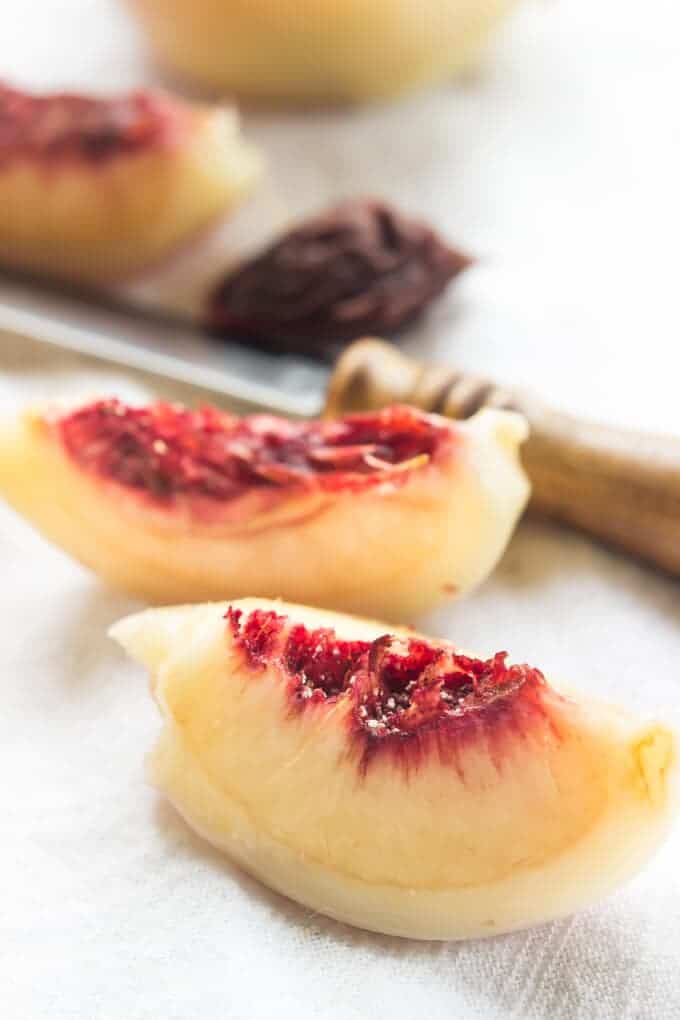 I used a 5 1/2 inch skillet but a small baking dish will work just as good. I was just lucky to find this beauty in a storage unit of Alex's grandmother's belongings.
It was seasoned perfectly and screaming to be put to good use again. Even though I never had the chance to meet her I think she'd be happy.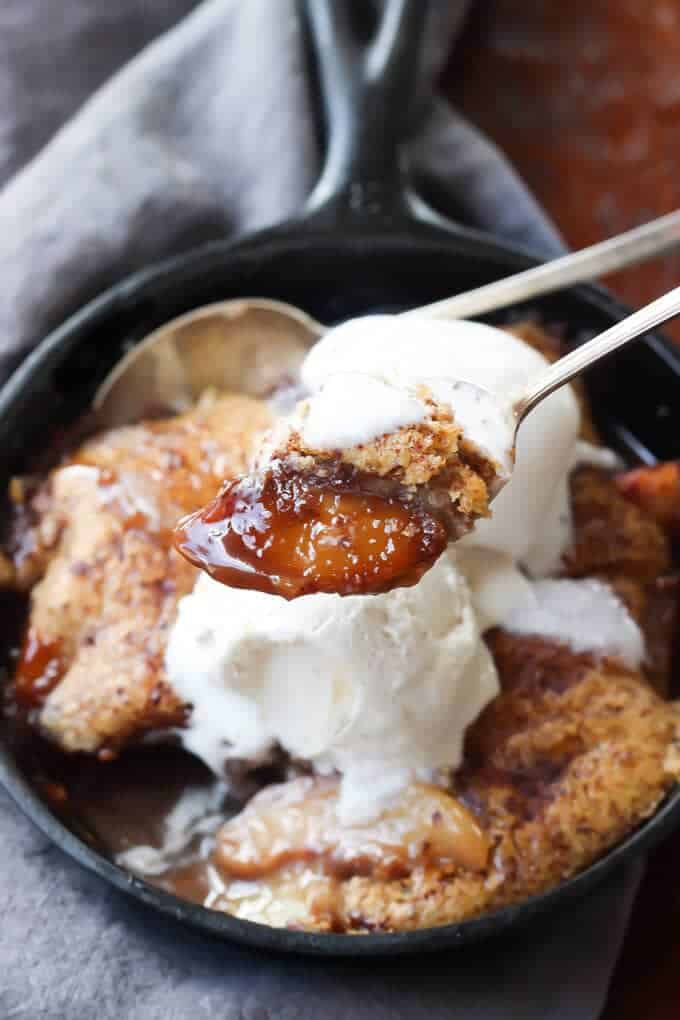 I've been having a hard time resisting the urge to cook all sort of fall goodness but this cobbler makes me want it to stay summer for awhile.
I mean come on…Just look at how gorgeous those peaches are. I could eat a pound a day and not grow tired of them. Just maybe not a pound in cobbler form or I think someone would revoke my Paleo status. 😉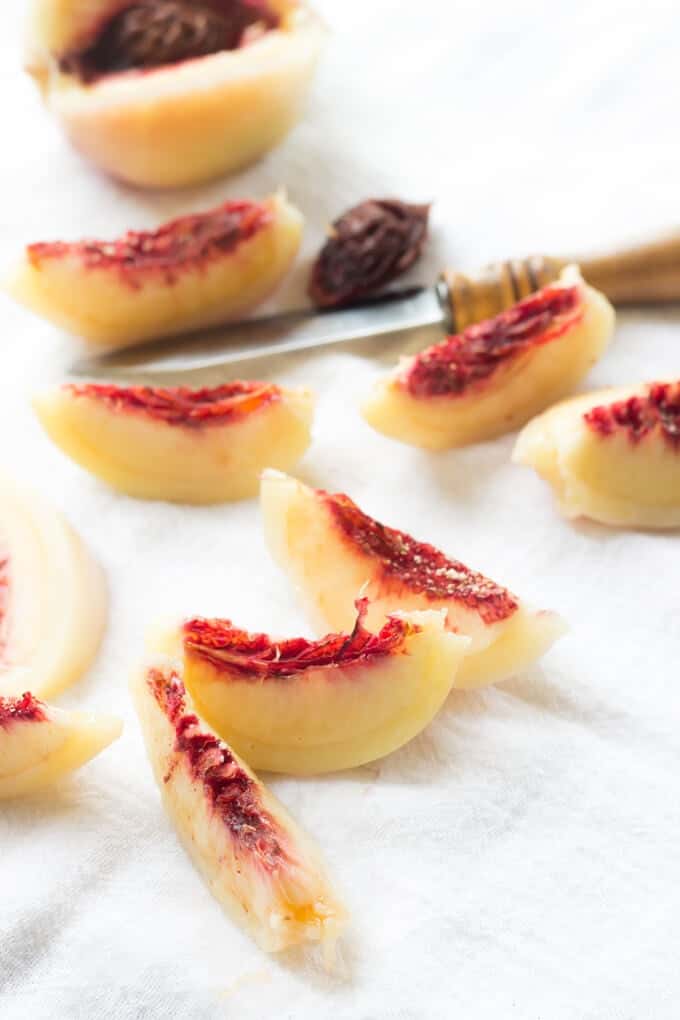 Mini Paleo Peach Cobbler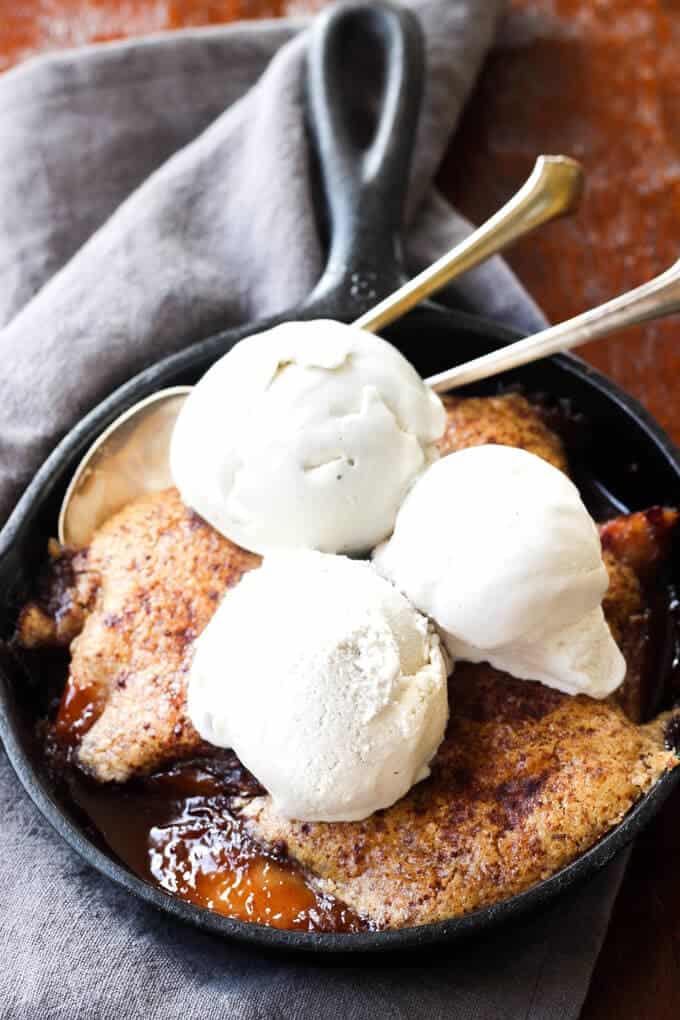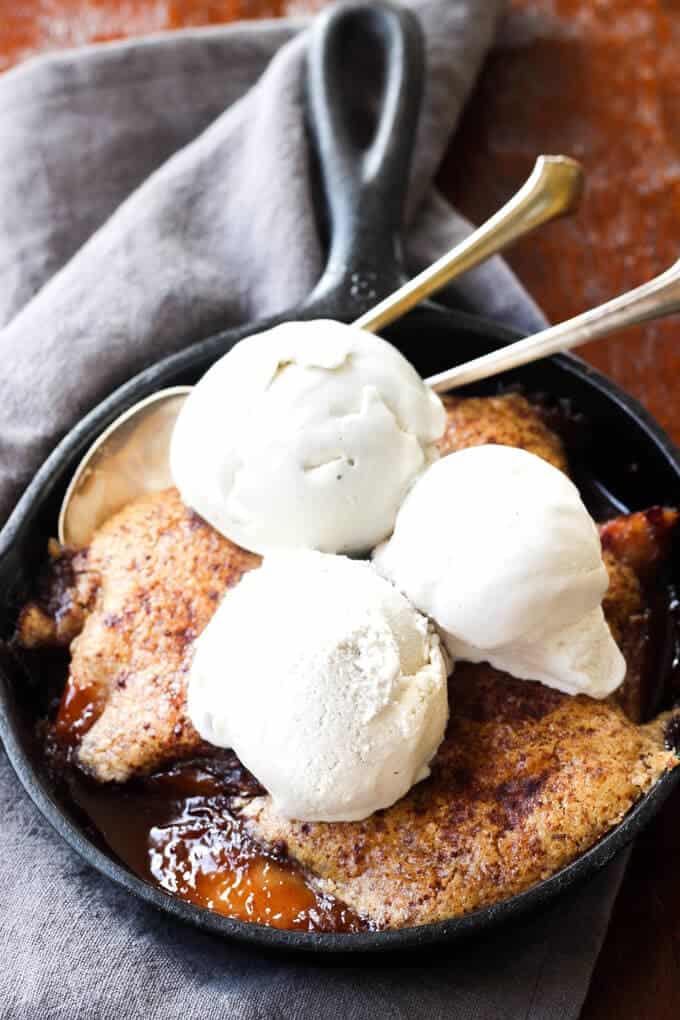 Ingredients
Filling
2

peaches

1-2

tablespoons coconut sugar

1 1/2

tablespoons water

Pinch of salt
Pastry Topping
1/4

cup almond flour

1/4

cup tapioca starch

1

teaspoon baking powder

2

tablespoons coconut milk

2

tablespoons butter, melted

1/2

teaspoon vanilla

1/2

tablespoon plus 1 teaspoon coconut sugar, divided

1/2

tablespoon cinnamon
Instructions
Preheat oven to 400°.
Bring a pot of water to a boil and slice an X into the bottoms of the peaches. Boil 30-60 seconds until you start to see the flesh peeling away at the X's. Remove and rinse with cold water. Peel the peaches and cut into segments.
Place the peaches in a medium size pot with the water and coconut sugar *(I use 1 tablespoon but this may not be sweet enough for some. To have it taste more decadent use 2 tablespoons) Place the pot over medium heat and stir gently until it starts to bubble. Allow the sugar water to turn syrupy and thick.
Place the peach mixture into a un-greased 5 1/2 inch skillet or small baking dish. Sprinkle with a generous pinch of salt.
In a small bowl combine the almond flour, tapioca, baking powder, melted butter, coconut milk, vanilla, and 1 teaspoon coconut sugar. Mix until smooth and place three dollops of batter on the peaches.
Combine the remaining 1/2 tablespoon coconut sugar with the cinnamon and sprinkle over the batter.
Bake for 20 - 25 minutes until a toothpick inserted into the pastry comes out clean. Serve with coconut vanilla ice cream!
by Lauren