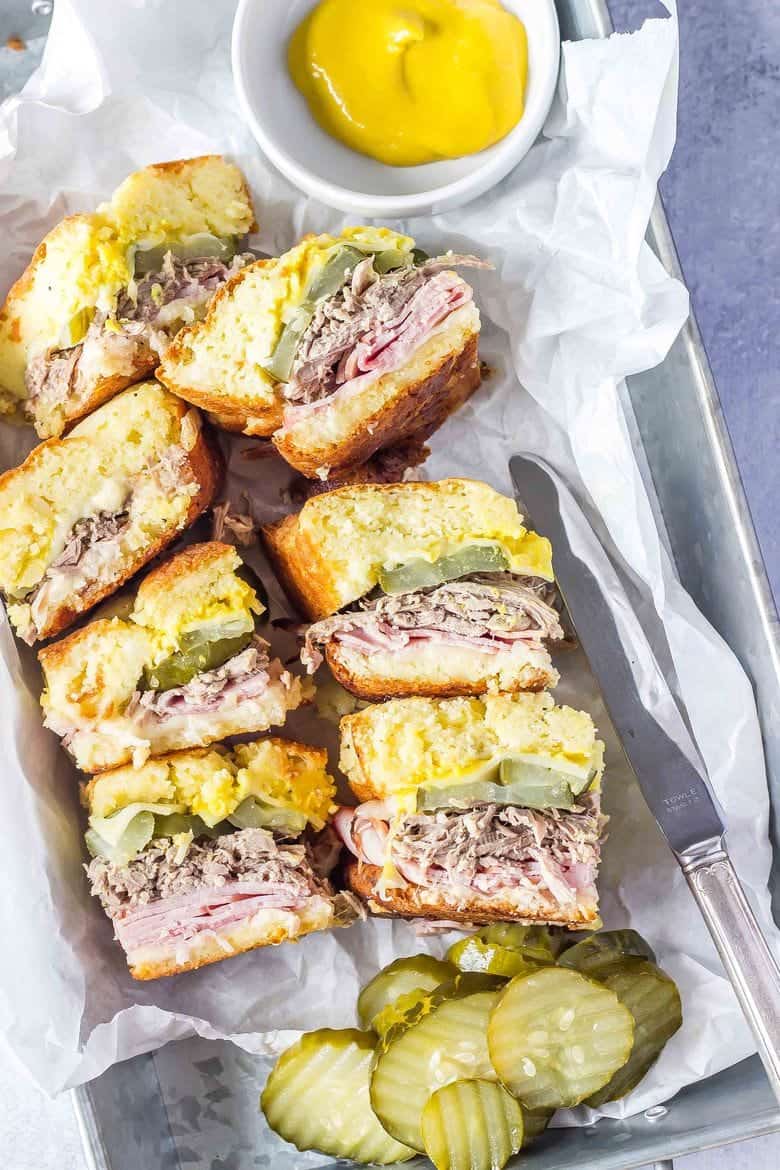 I'm THRILLED to be introducing the new Keto website Cast Iron Keto today! CIK is my husband, Alex's, new website that's fully dedicated to delicious keto recipes. Cast Iron Keto is a resource for folks who want to live their best life through low-carb, high-fat recipes that fuel epic adventures.
Alex has a love for cast iron cooking and is always whipping up delicious meals that I think are totally blog worthy so instead of me getting all the credit (although I AM doing the photography, you don't want Alex behind a camera quite yet HA!) I've nudged him to start a site of his own. Our hope is that this new resource will inspire those of you who love keto/low carb recipes while keeping Wicked Spatula an all-around healthy paleo/gluten-free/sometimes vegan website 😉
OK, OK….back to the freakin' Keto Cuban Sliders. HOT DAMN you guys. These are amazing! Like, did you know that you could make KETO SLIDERS?! Yeah, he started out with a pan of keto friendly rolls and I believe struck freaking gold. They're SO good, soft, and pillowy…everything a roll should be.
Cast Iron Keto is launching with 20 recipes so be sure to check them all out! Going forward his goal is to publish 3 times a week but with a full-time job and me demanding attention when he's home that may be closer to 1 or 2, we shall see.
Some of my favorites that are live on the site NOW are Classic Poppy Ham Sliders (a childhood favorite), spicy pork belly collard greens, White Chocolate Keto Blondie, Charred Cabbage Salad, and well all of them really. You can sign up for the newsletter here, and be sure to follow him on Instagram too!
Thanks so much for letting me pop in here and share this amazing site with you guys, I'm sure you'll love him just as much as I do…well not as much, that would be totally weird.