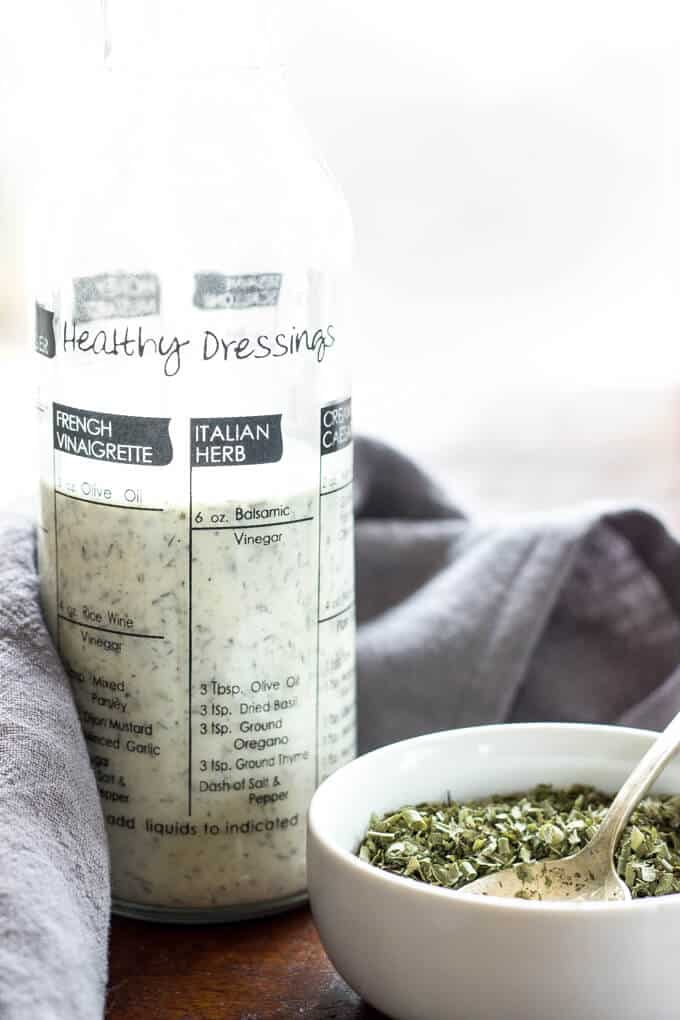 This is the BEST homemade ranch seasoning you'll ever have made without milk powder, preservatives, MSG, or any other junk manufacturers like to toss in for good measure. I use this seasoning on literally EVERYTHING. Let's take a look:
Dressing…Duh, the #1 reason for keeping a large jar of this seasoning on hand at all times is for a never ending supply of ranch dressing. Surely I'm not the only one who puts it on anything and everything??
All you need to do is mix 2/3 cup mayo (I like Primal Kitchen!) with the juice of half a lemon and one batch of the mix recipe. If you make a large batch like I do just add enough to where you want the taste to be. One batch = about 3 tablespoons. Whisk that together then add a bit of water to think to the consistency you desire.
All-Purpose Seasoning…The options are endless folks. I use it as a french fry seasoning, mix it in with chicken and potatoes for an easy sheet pan dinner, mix it in with shredded chicken, peppers, and buffalo sauce for these stuffed peppers, and even use it in my Buffalo Chicken Pizza Poppers and Buffalo Chicken Casserole!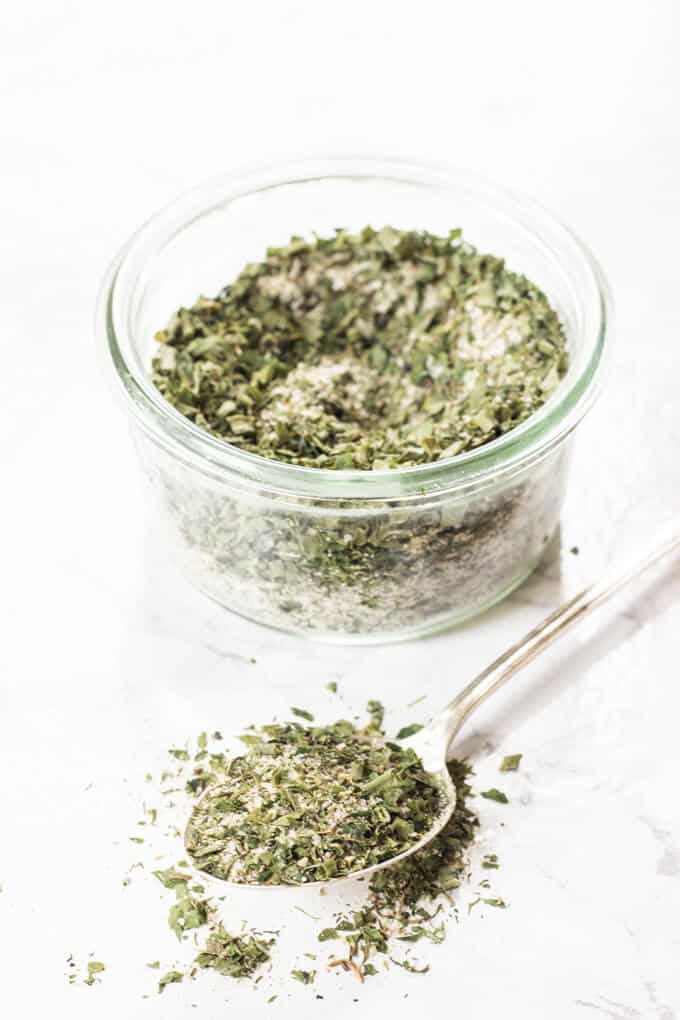 Basically anywhere that calls for a ranch seasoning packet you can use this healthy version instead. I played around with the ratio a lot until I found the perfect taste that resembled the packet ranch without the junk. I simply whip up a big batch once a week or so and store it in a Weck jar so it's air-tight. Then I just scoop out however much I need. Easy as that.
How do you plan on using this all-purpose homemade ranch seasoning?

Homemade Ranch Seasoning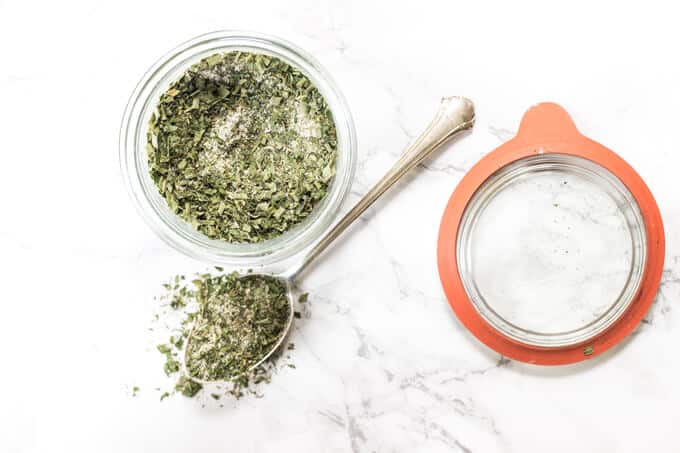 This recipe makes enough for 1 cup of dressing or 3 tablespoons worth of all-purpose seasoning. You can multiply the amounts by any number to make a large batch to keep on hand.
Ingredients
1

tablespoon dried parsley

1

teaspoon garlic powder

1

teaspoon onion granules

1

teaspoon dried dill

1

teaspoon dried chives

1/2

teaspoon freshly cracked black pepper

1/2

teaspoon himalayan pink salt
FOR DRESSING
1

batch all-purpose mix

2/3

cup mayo

Juice of 1/2 lemon

Water, to thin
Instructions
Place all spices in a jar and shake to mix together.
For dressing mix one batch of the all-purpose seasoning with the mayo, lemon, and just enough water to thin out.
by Lauren