This Grilled Paleo Pizza will fulfill all your pizza cravings!

I think Mondays should become pizza days. I know Friday currently holds that title but Mondays need a little more fun in them and this pizza is all around fun. It's super customizable as all pizza is…just throw on whatever toppings you want or whatever is left in your fridge after the weekend (which in my case is literally nothing but prosciutto (because let's face it I'm always stocked with prosciutto) and mustard. Not much to make a meal out of except then I remember we have a garden and suddenly there's grilled pizza on our plate and we're happy campers.
It's so incredibly exciting just to step outside and pick almost all of the produce we need for a meal. It makes me feel rebellious for some reason! Rebelling against the grocery store and all their overpriced $4 tomatoes. Now if I could just grow avocados I'd be in great shape!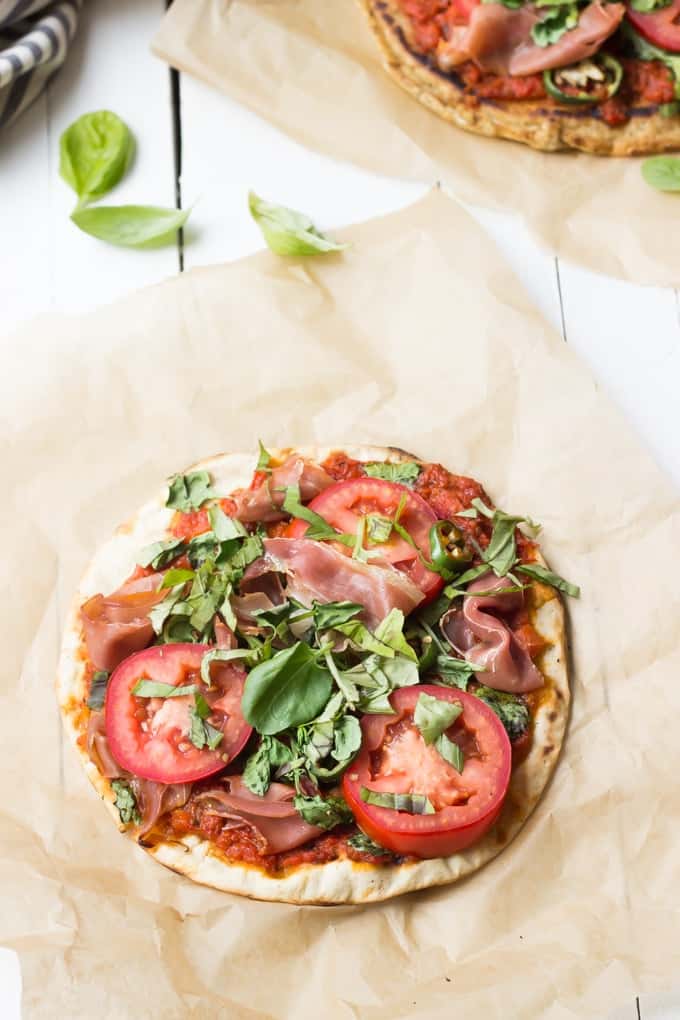 This pizza was sort of a fluke. I have been making tortillas out of a recipe based on Paleo Porn's tortilla recipe but one day I left the "tortilla" cooking a bit too long and it turned crisp. JACKPOT! As soon as I saw what had happened our taco night became pizza night and we haven't looked back.
We used to grill pizzas like crazy before "going" Paleo but the only Paleo pizza I make has a cauliflower crust which I'm guessing wouldn't hold up on the grill too well. Enter this flatbread, tortilla, pizza crust…I can't decide on a name, it's too multipurpose. It cooks up crisp on the outside and soft in the center just like a good thin crust pizza. You *may* have to use a fork to eat it though if you follow in my footsteps and turn your pizza toppings into a full blown salad but that's OK. So the next time you're craving pizza skip the cauliflower crust and try this one instead, I'm sure you'll love it!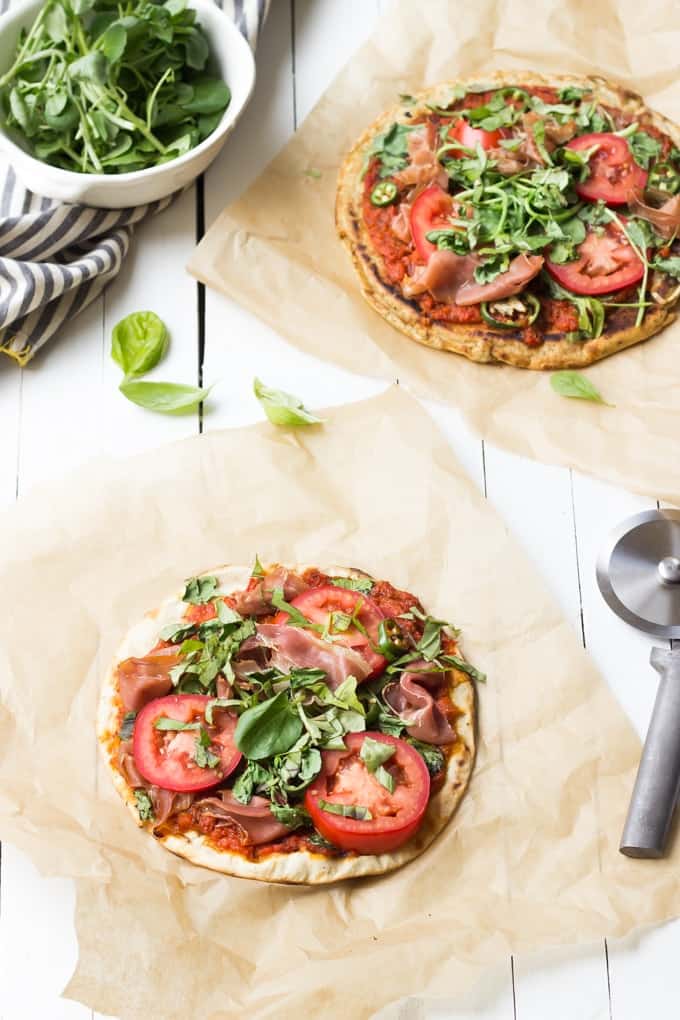 Grilled Paleo Pizza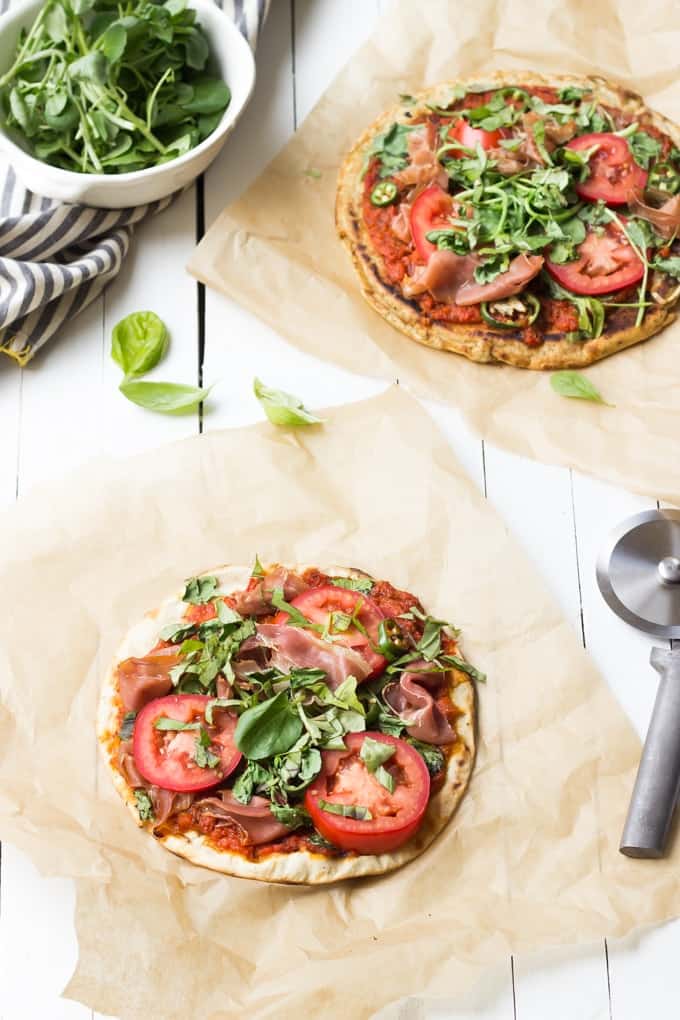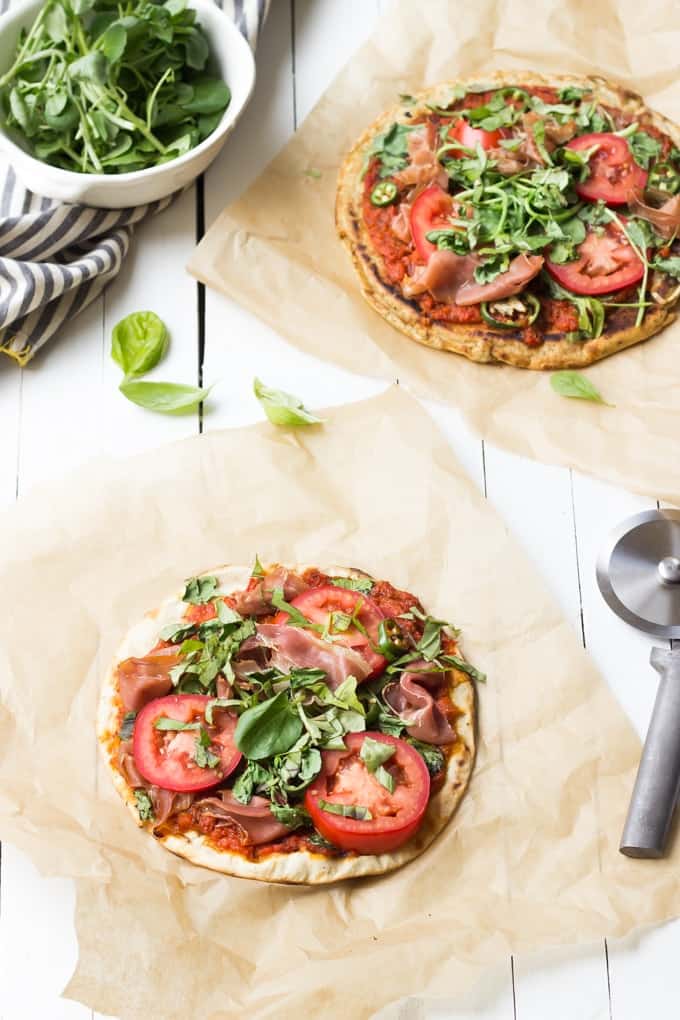 Ingredients
Crust
1

cup tapioca starch

1/4

cup coconut flour

2

eggs

1

cup water

Pinch of salt
Toppings
Your favorite sauce (or simply throw some Italian spices (garlic, rosemary, basil, sage, marjoram) in with a bit of olive oil over medium heat and then puree in some crushed tomatoes. Season with salt!)

Prosciutto

Fresh Tomatoes

Jalapeños

Watercress or spinach

Onion

Peppers

Fresh Basil

**Or whatever your heart desires
Instructions
Mix the ingredients together for the crust until smooth.
Preheat your grill to high.
Heat a large cast iron skillet over high heat until very hot. Pour in just a tiny bit of olive oil to grease the skillet unless it's seasoned perfectly. Pour in half the crust mixture and allow to cook until the top begins to set and bubble. Flip and allow to cook until it begins to crisp up. It should be golden brown and crisp on the outside. Transfer to a plate and top with desired toppings. Repeat with remaining batter.
Carefully transfer pizzas to the grill (the crusts are probably still a little pliable) and allow to cook about 6-7 minutes or until the crust is firm but not burnt. Keep a close eye on them!
by Lauren