Can we just talk about wings for a second? Do any of you eat wings on a normal non game-day/sports bar night? It seems that when people think of wings they just think of them as an appetizer type food. I'm going to change that with these grilled cilantro lime wings.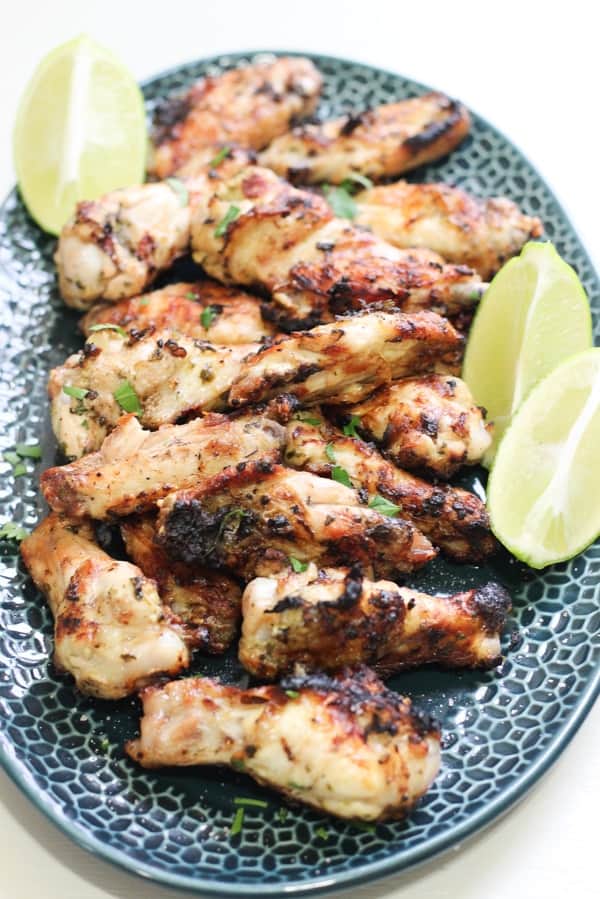 Alex and I used to have a tradition in college. Every Monday night we would head to this little wing and sandwich shop near campus that had their wings on sale for .25 cents each. Not only were they cheap but they were the most delicious wings I've ever had in my entire life. The meat was perfectly juicy while the skin was crispy and dripping with a hot honey BBQ sauce that was to die for. Those wings along with waffle fries covered in blue cheese adorned each Monday night along with some cold craft beer.
Those days are long behind me and since I can no longer drink beer, or want to eat wings that have been fried in vegetable oil, I've taken to making them myself. Mondays are no longer wing night in the Lester household but we do have them about twice a month. Lucky for you I've recreated that dream of a hot honey bbq sauce and you'll see that recipe later this week. Today though you are getting these grilled cilantro lime wings just in time for the Super Bowl on Sunday. You'll definitely want to add these to your menu. Light and bright these are perfect and not as messy as wings drenched with sauce. Perfect for mingling at a party.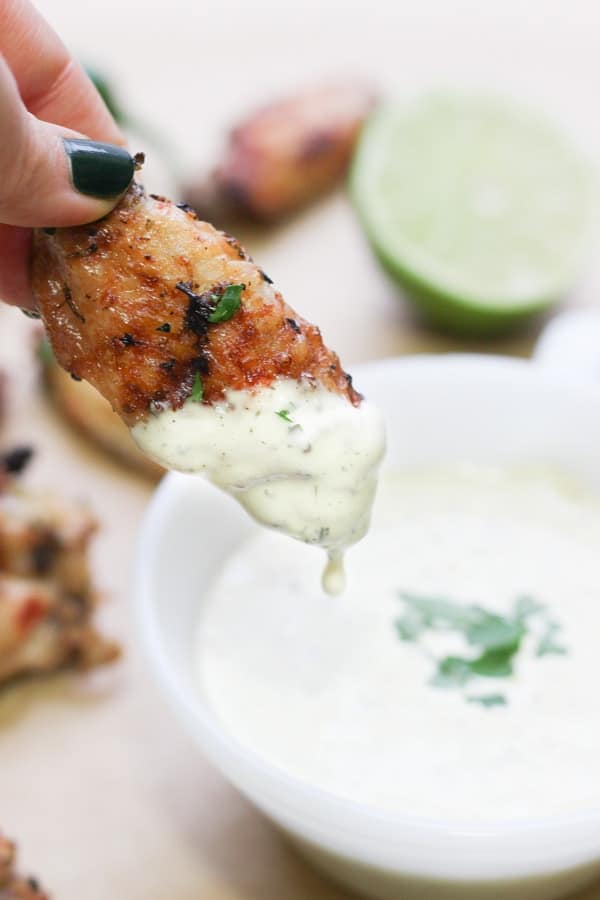 I think grilling the wings gives them such a nice crunch that you really don't get with baking. And lets face it, I'm not going to fry wings in coconut oil. It's not worth it and I can get them even more crispy on the grill or under the broiler.
Serve with a squeeze of lime and this Jalapeño Ranch Dip and you'll have yourself a killer appetizer!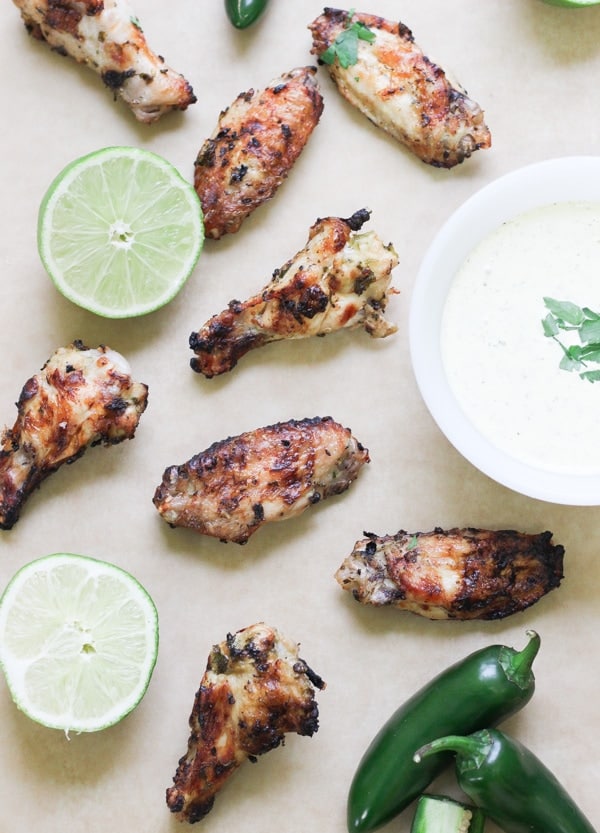 Grilled Cilantro Lime Wings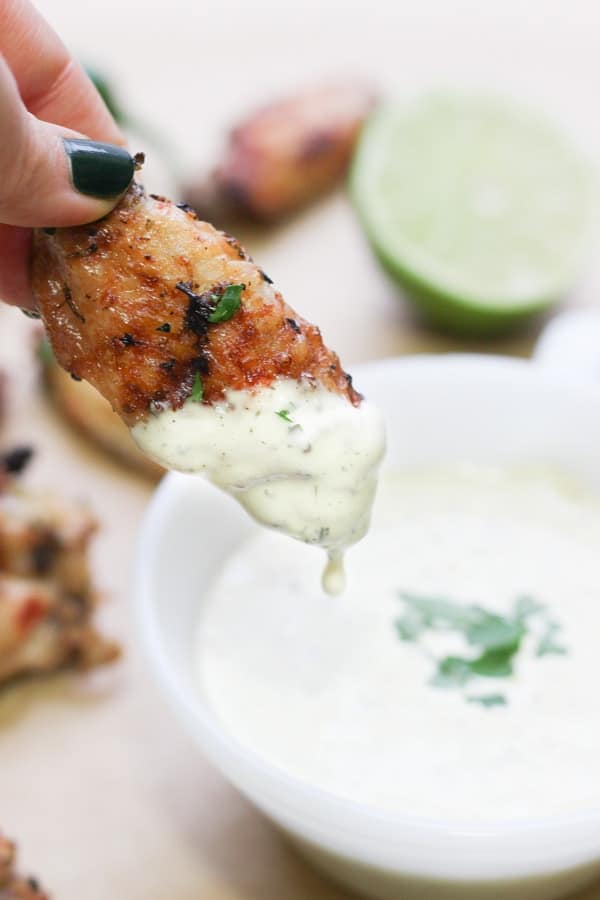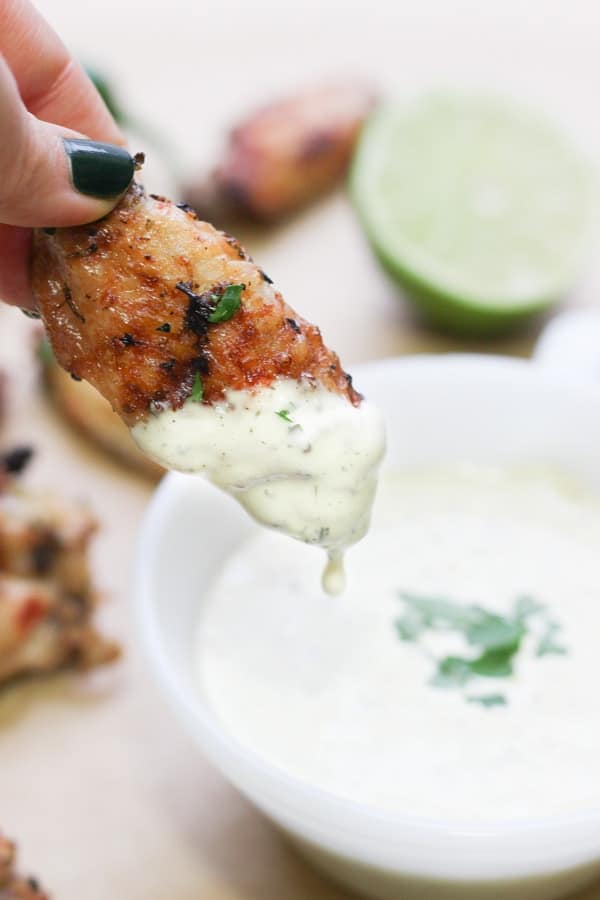 Crispy Chicken Wings that are light on mess and high on flavor.
Ingredients
2

lbs wings (about 20)

1

handful cilantro

1

lime, juiced

1

jalapeño

2

garlic cloves

3

tablespoons coconut oil

1

teaspoon salt

Lime wedges, for serving

1

batchjalapeño Ranch Dip
Instructions
Blend all of the marinade ingredients together and toss with chicken. Marinate for at least 2 hours or overnight.
Heat your grill to high and grill wings 5 - 7 minutes per side or until crisp and no longer pink in the middle.
Serve with a squeeze of lime and jalapeño Ranch Dip
by Lauren