This Grilled Chicken with a Warm Cherry Salad takes minimal time and effort but tastes and looks fabulous! Hello grilling season!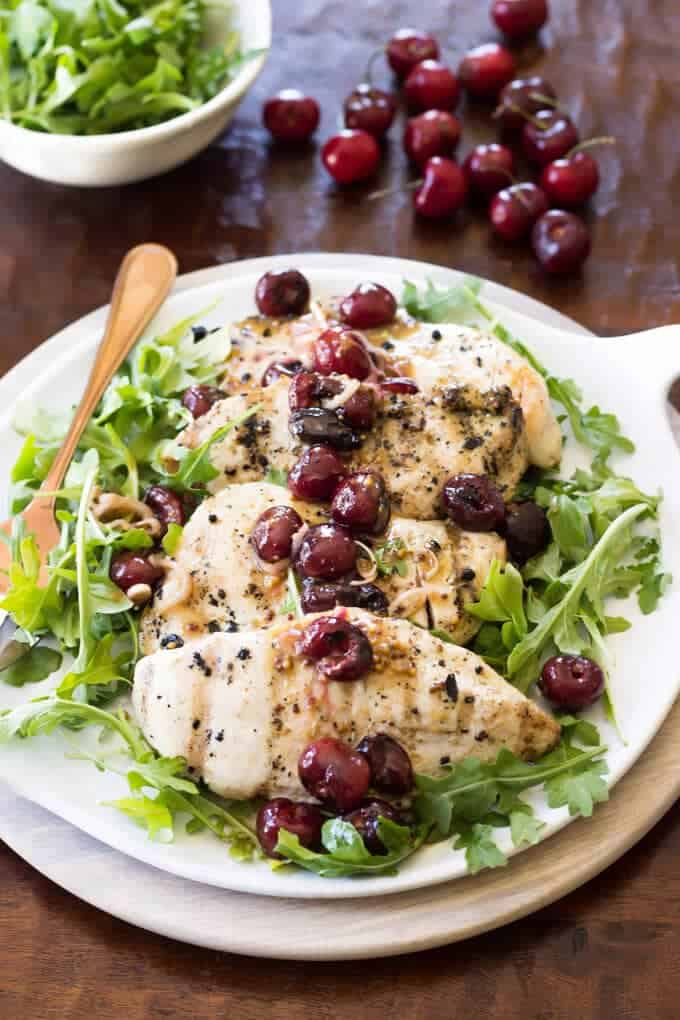 This wasn't the recipe I had planned for today. I had a nice stir fry post scheduled and ready to publish sitting and patiently waiting but when I made this chicken yesterday I knew I had to share it before Memorial Day. After all you'll probably be grilling this weekend and this is one of the best and easiest grilling recipes I've ever made. Bonus: It's super easy to increase the amount making it perfect for your BBQ!
I can guarantee that your family and friends would love this dish so much more than the standard Memorial Day fare of hot dogs and hamburgers and it's just as easy!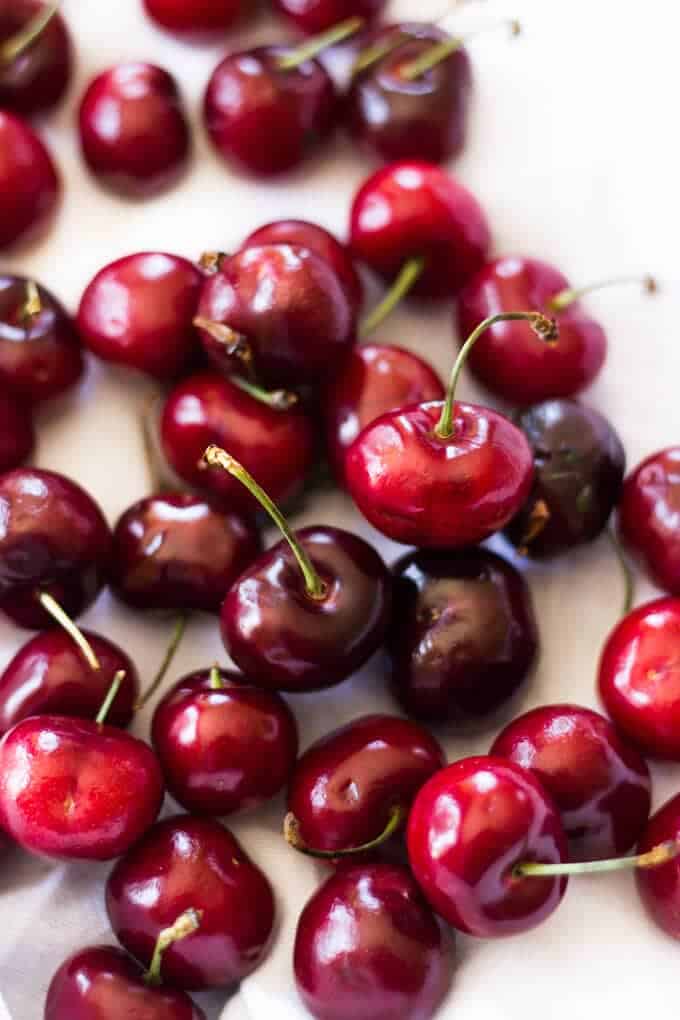 Cherries are just now coming into season. As soon as I saw them in the market last week I snatched a huge bag up. They've made their way onto this chicken as well as a Paleo flatbread pizza with jalapeños, goat cheese, red onion, and arugula. Oh! They've also been churned into my Dark Chocolate Ice Cream that we ate in one sitting last night…oops. Ice cream doesn't stick around for long in our house.
Seriously though, I adore cherries. They're tart and sweet and there's a million different uses for them. My favorite is grilling them of course mostly because they get this nice char and the sugars caramelize and get sticky and wonderful. I wish I had more cherries and more ice cream so I could top the ice cream with grilled cherries! That would be AMAZING!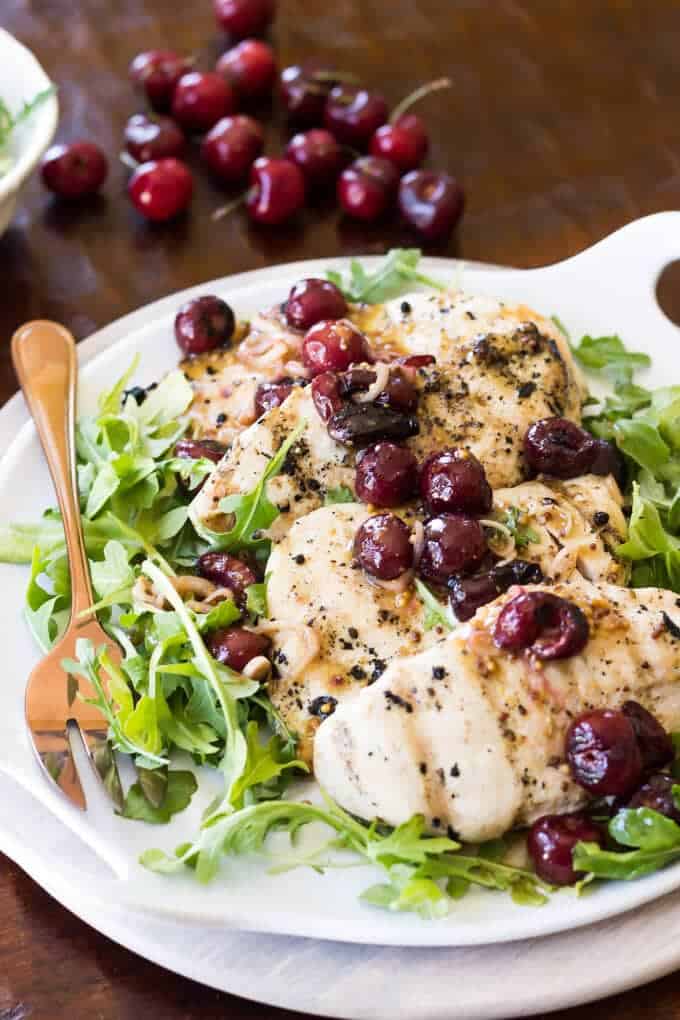 Let's talk about this sauce for a second. Sauce, salad…whichever. It's sort of both. Anyways, the shallot along with the mustard vinaigrette deepens the cherry flavor. Especially when it sits for just a bit and the sugars melt out into the sauce. Absolute perfection.
I also like to sit the chicken on top of the arugula because it gets a bit wilted and I LOVEEE wilted greens. I can't be the only one?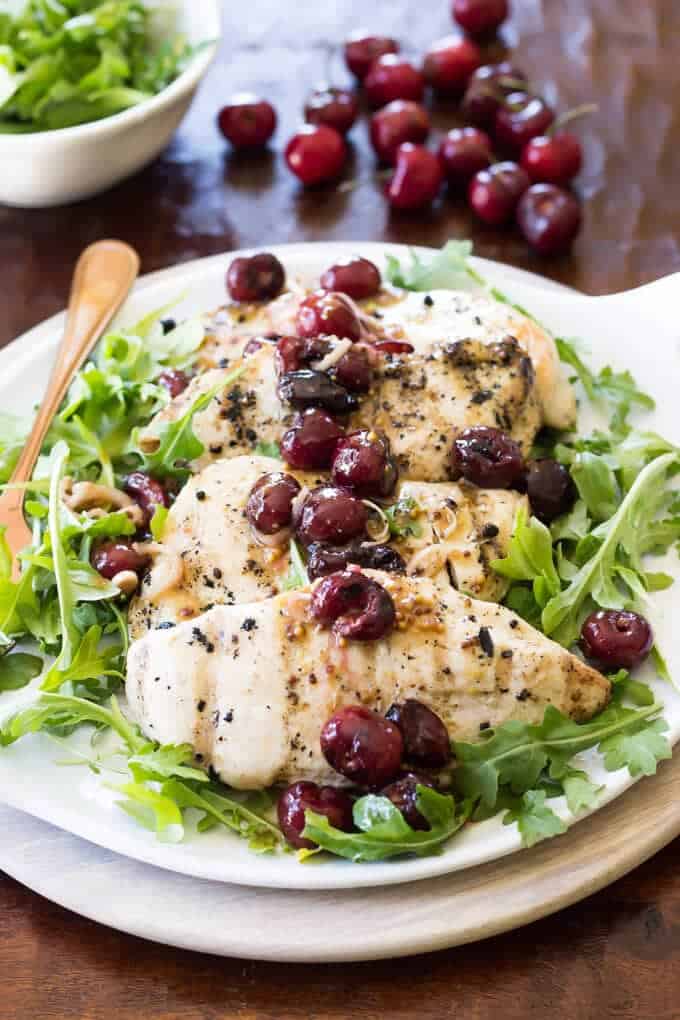 Tell me…What's your Memorial Day menu shaping up to be?
Grilled Chicken with a Warm Cherry Salad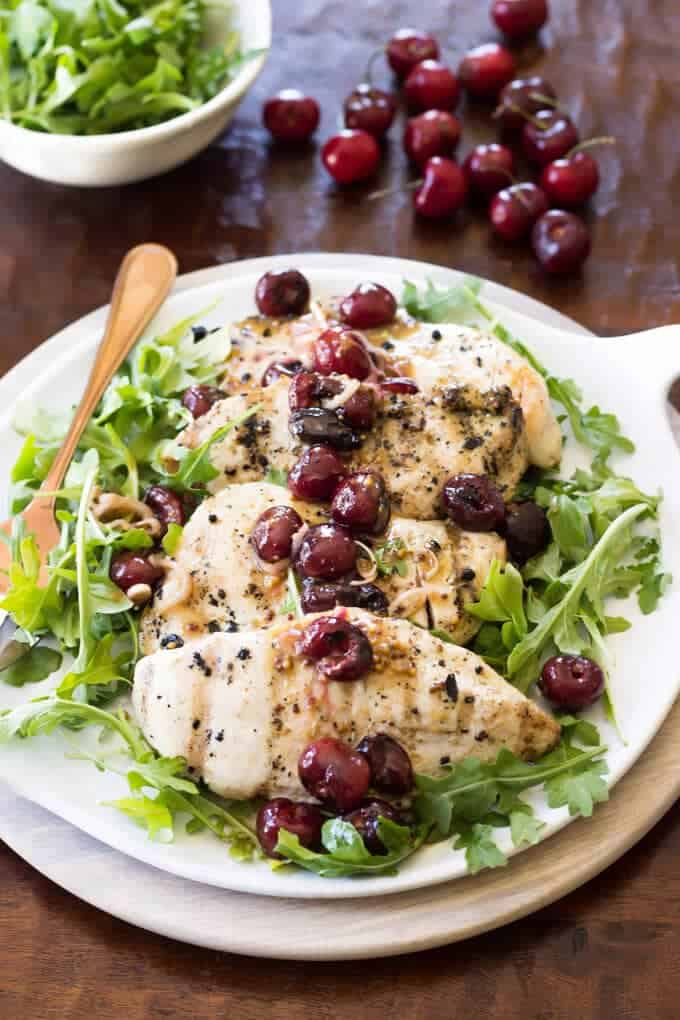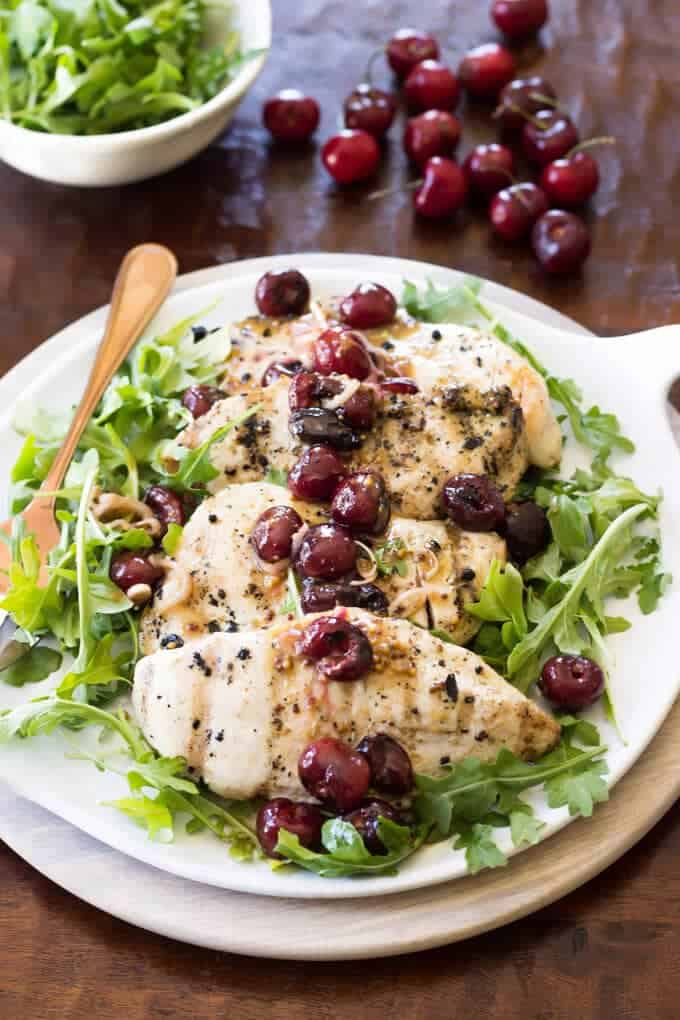 Ingredients
4

boneless, skinless chicken breasts

4

cups arugula

1

cup pitted cherries

5

tablespoons olive oil, divided

2

teaspoons white balsamic vinegar

1/4

teaspoon lemon juice

1

tablespoon whole grain mustard

1/2

medium shallot, thinly sliced

Salt and freshly cracked pepper
Instructions
Preheat grill to high.
Drizzle 2 tablespoons of olive oil over chicken and season liberally with salt and pepper.
Pit the cherries and cut some in half leaving some whole.
Place the cherries on a grill pan or aluminum foil so they don't fall through the grill grates. Place the chicken on the grill at the same time. Grill cherries just until they start to caramelize. Grill chicken 4-5 minutes per side or until the internal temperature reaches 160°F.
While the chicken and cherries are grilling in a small bowl whisk together the remaining 3 tablespoons of olive oil, white balsamic vinegar, mustard, 1/4 teaspoon lemon juice, and season with salt and pepper to taste.
To serve mix the cherries into the shallot sauce. Top the arugula with a chicken breast and pour the warm cherry sauce over the chicken.
by Lauren