This Greek Lemon Chicken is bursting with flavors from a delicious marinade, cherry tomatoes, artichokes, and a lemon cauliflower rice all made in one pan!

This week is the first ever "theme week" on WS! I'll be bringing you three EASY Weeknight Chicken Dinner recipes this week starting with this Greek Lemon Chicken all made in one pan!
Let's face it during those busy weeks where you're lucky to even make it to 5 o'clock having remembered to actually even eat lunch the last thing you want to do is go home and spend an hour or two coming up with something to eat. It's much easier to swing by your favorite takeout place (Tacos or Pad Thai for me please!) than to put an ounce of thought into dinner. That's why these EASY recipes are so valuable! You just need a few quality minutes with your kitchen to cook up a delicious and nourishing meal that's packed full of flavor without being packed full of hard to find ingredients.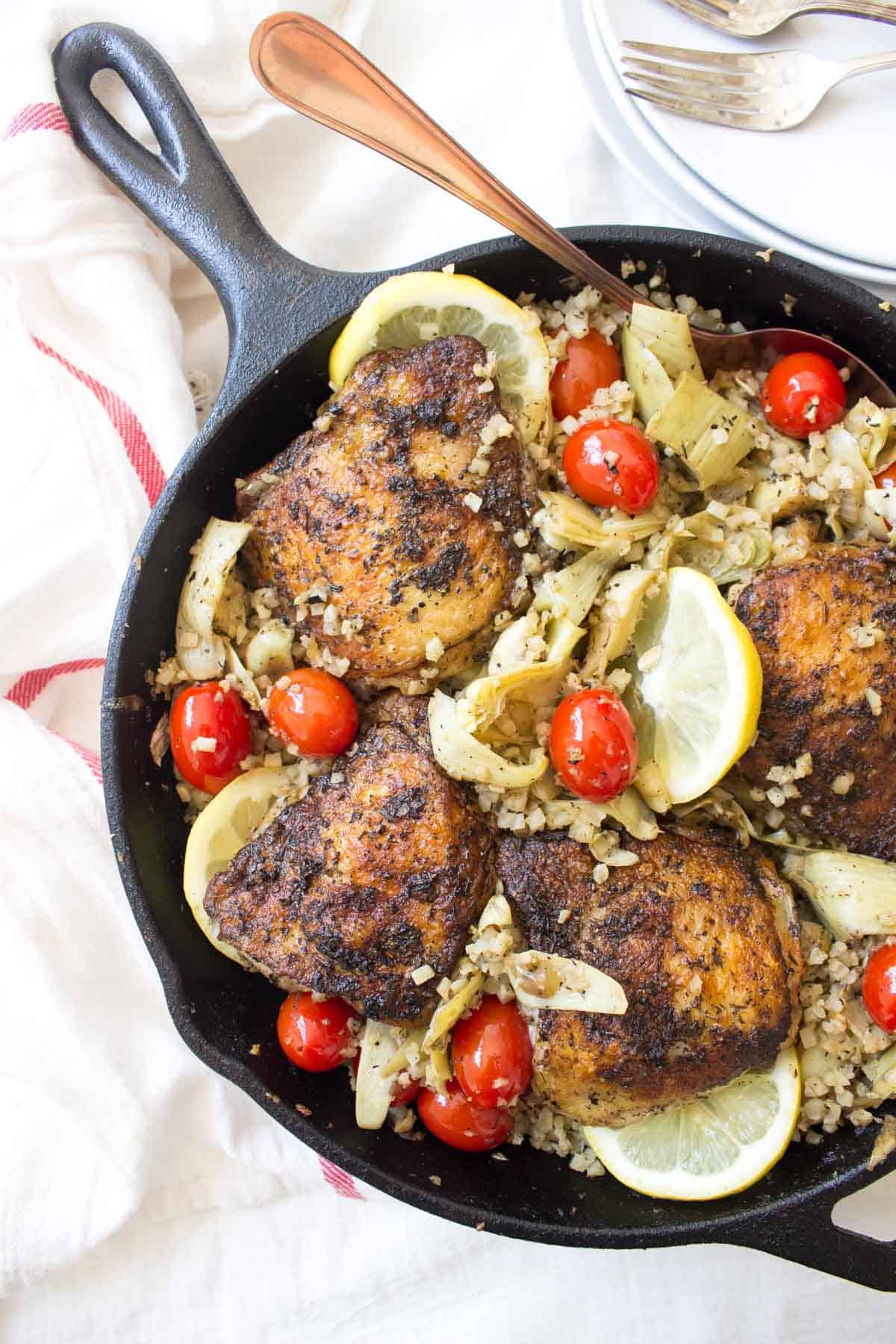 This Greek Lemon Chicken starts off with some bone-in skin-on chicken thighs. I used this variety because A. the chicken stays moist, and B. the skin gets SUPER crispy and packed full of the tangy lemon herb mixture that you marinate it in! Plus, these thighs are usually about $2 per pound for organic versus 8 dollars a pound for chicken breasts….It's a win-win-win!
You're only going to marinate the chicken for about 10 minutes while you prep the remaining ingredients, that way when you're ready to cook you can seemingly move into each step already prepared! I simply whisked up some lemon juice, olive oil, salt, and greek seasoning and poured it over the chicken. Heat that cast-iron skillet over high heat and sear skin side down for 5-6 minutes without touching! This insures a crispy crust! After flipping and cooking the chicken through I added in some diced onion and garlic, the cherry tomatoes and artichokes, and finally the lemon and cauliflower rice.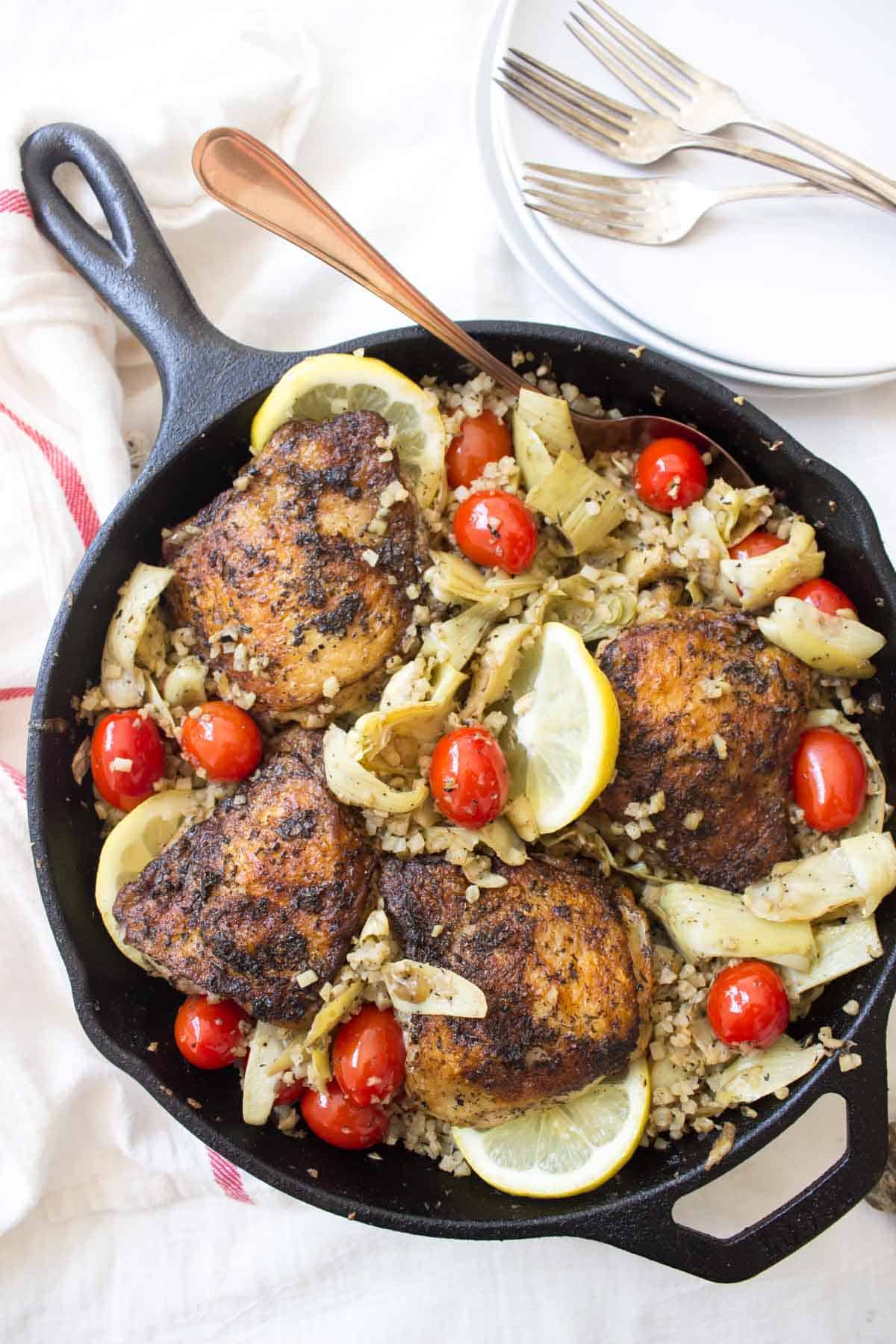 I got some help from Trader Joe's frozen cauliflower rice but you can totally make your own by simply pulsing some cauliflower in a food processor until it resembles rice! After letting that cook for a few moments I nestled the chicken back into the skillet and cooked a few more moments before serving. I have to say that this chicken is the BEST chicken I've probably ever had. It's so flavorful!
OH! If you eat dairy you should add a few crumbles of some salty goats milk feta on top! We did this with the leftovers and it was to die for!
One-Pan Greek Lemon Chicken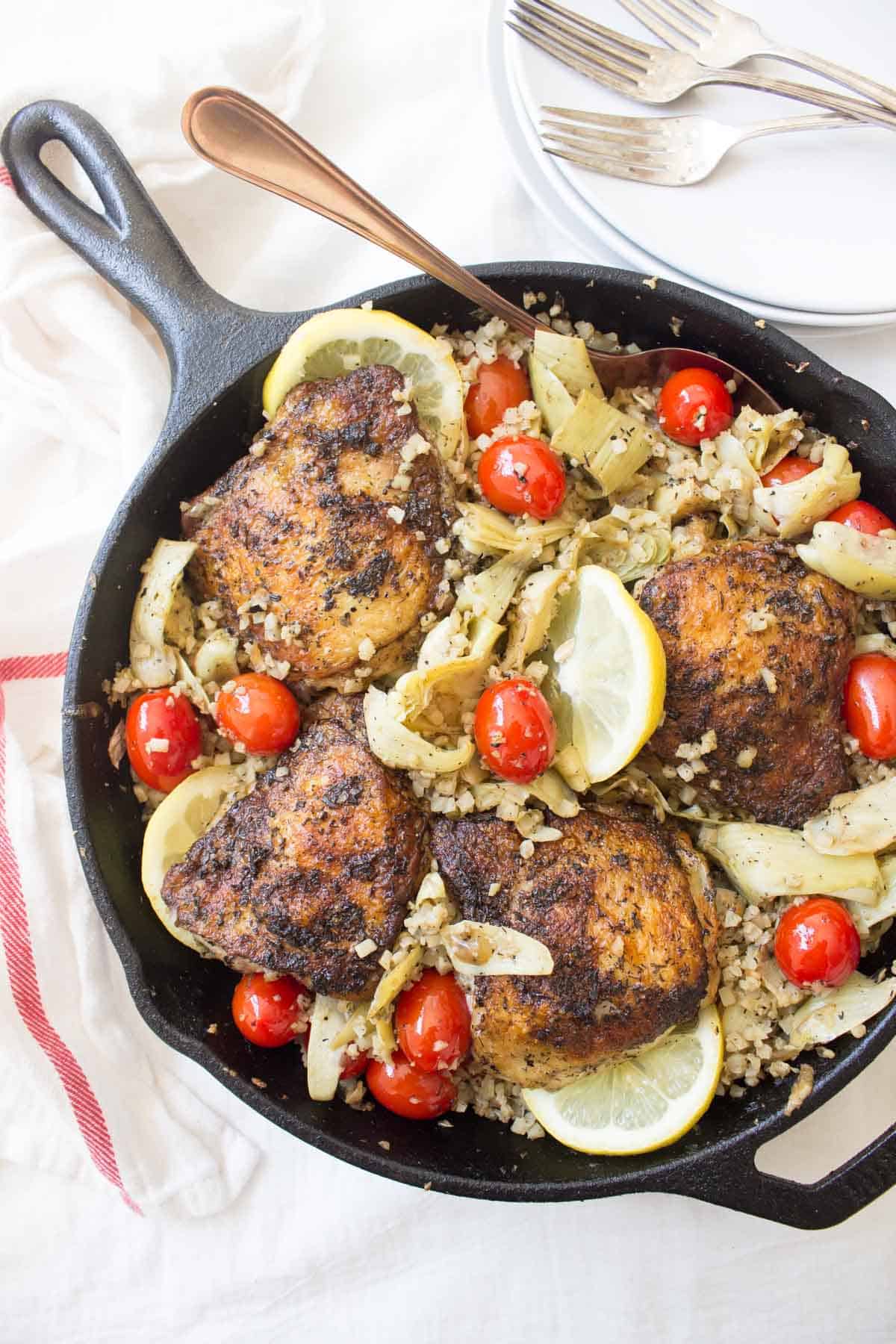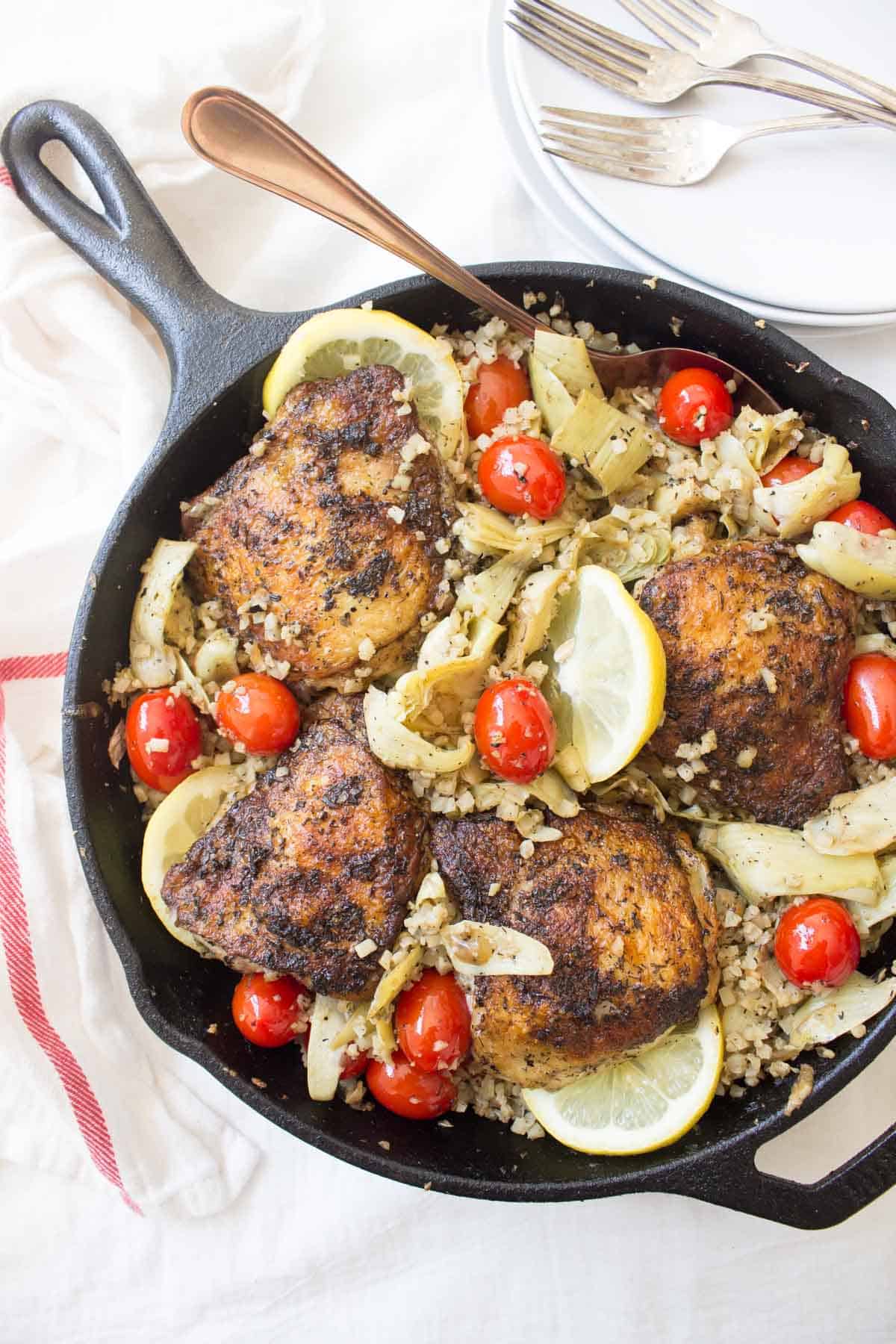 Ingredients
4

bone-in skin-on chicken thighs (about 1.5 lbs)

Juice of 1/2 lemon

2

tablespoons olive oil

1.5

tablespoons Greek Seasoning

1

teaspoon salt

4

garlic cloves, minced

1/2

cup diced white onion

1

cup cherry tomatoes

1

(14 oz) can artichoke hearts

12

ounces cauliflower rice

1/2

lemon, sliced
Instructions
In a small bowl mix together the lemon juice, olive oil, Greek seasoning, and salt. Pour over the chicken thighs and let sit for 10 minutes while preparing the remaining ingredients.
Heat a cast-iron skillet over high heat and sear the chicken skin side down for 5-6 minutes without moving! Flip and continue to cook for 10-15 minutes until the chicken is cooked through. Remove and set on a plate.
Lower the heat to low and add in the garlic and onion stirring constantly until soft about 2 minutes. Add in the tomatoes and artichokes, cook while stirring 1 minute. Add in the cauliflower rice and cook for 5 minutes until soft and dry. Add in the lemon slices, the chicken, and any juices that are on the plate. Cook for another minute or so to reheat the chicken and serve.
by Lauren