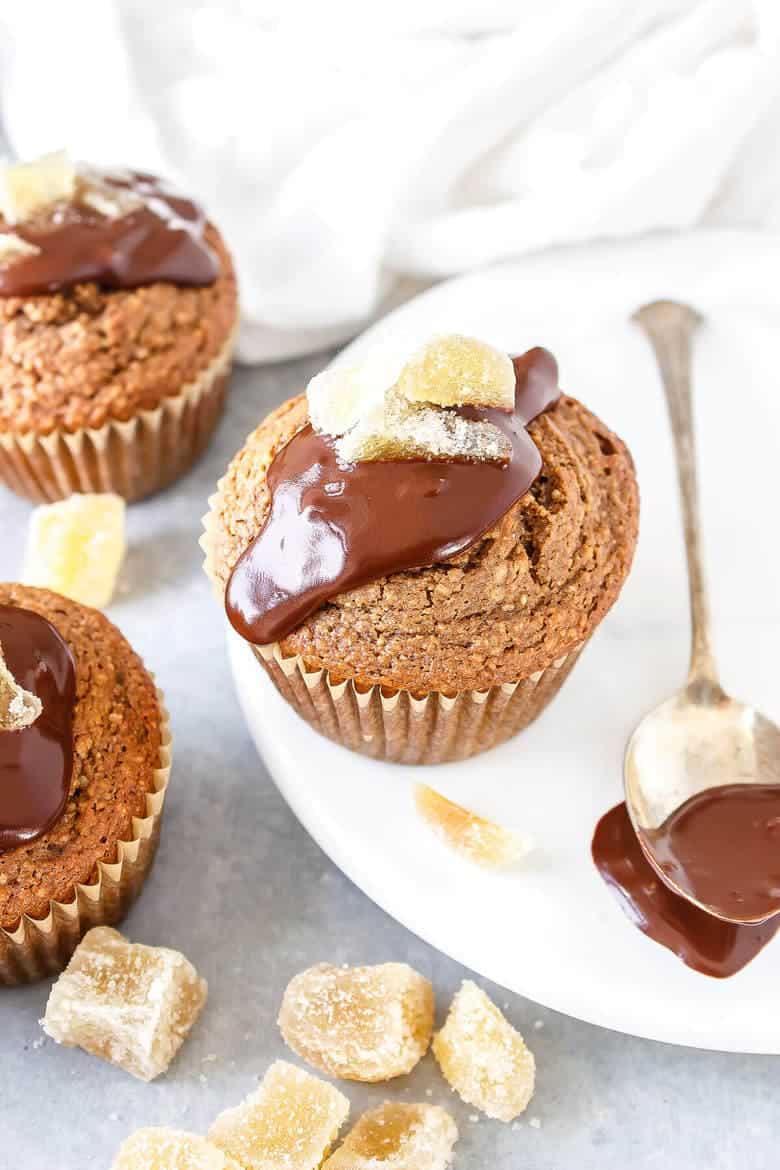 These dreamy Gluten Free Pumpkin Muffins with Chocolate Ganache and Candied Ginger will become your go-to fall breakfast, I promise.
They're perfect for holiday breakfasts as well and will make you look like a kitchen goddess (or god!) with minimal effort. Literally all you need is one bowl for the muffin base and a few simple ingredients for the smooth as silk ganache.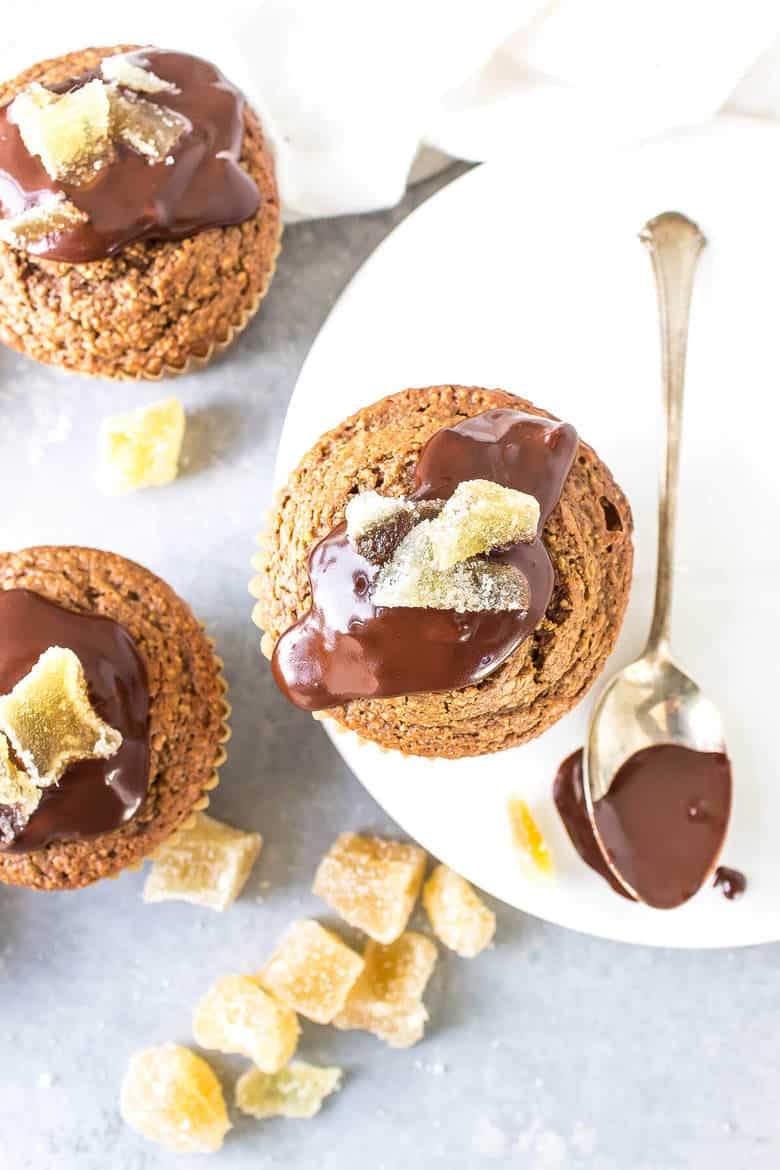 I've based this recipe off of my undying love for the chocolate + ginger combo and my crazy love for all things pumpkin come the first sign of cooler weather. The muffin base is that of my Paleo Pumpkin Chocolate Chip Muffins just without the chocolate chips. If you want to be really extravagant go ahead and throw those chocolate chips in there as well, you'll get no judgement from me!
The ganache is a simple mix of coconut milk, unsweetened quality dark chocolate, vanilla, and a little maple syrup. It's so smooth and velvety plus it's thick enough to where it stays on top of the muffin and doesn't run everywhere. Thick chocolate is good chocolate.
If you'd like you can make candied ginger yourself for the topping but no one has time for that. Pick up a bag of quality organic candied ginger that's made with just ginger and cane sugar and you'll be golden. Woodstock is my favorite brand if you can find it! It's not too hard and not too soft, just the perfect amount of chewy.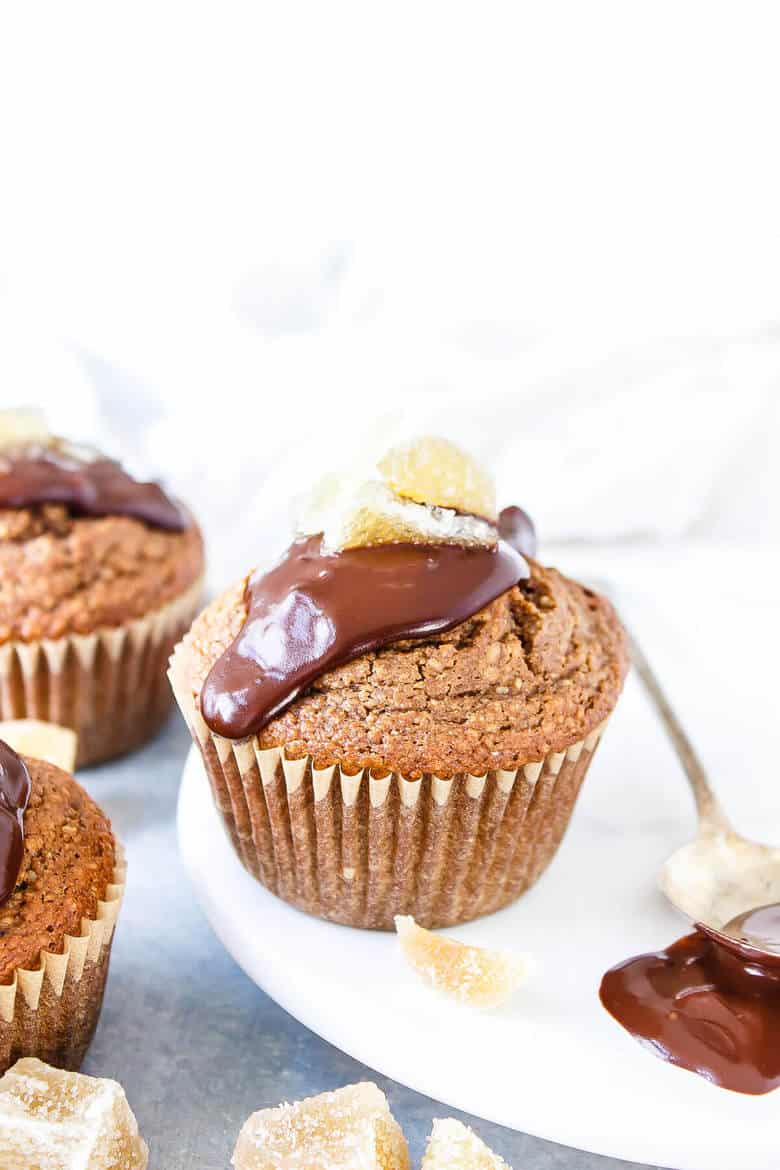 Gluten Free Pumpkin Muffins with Chocolate Ganache and Candied Ginger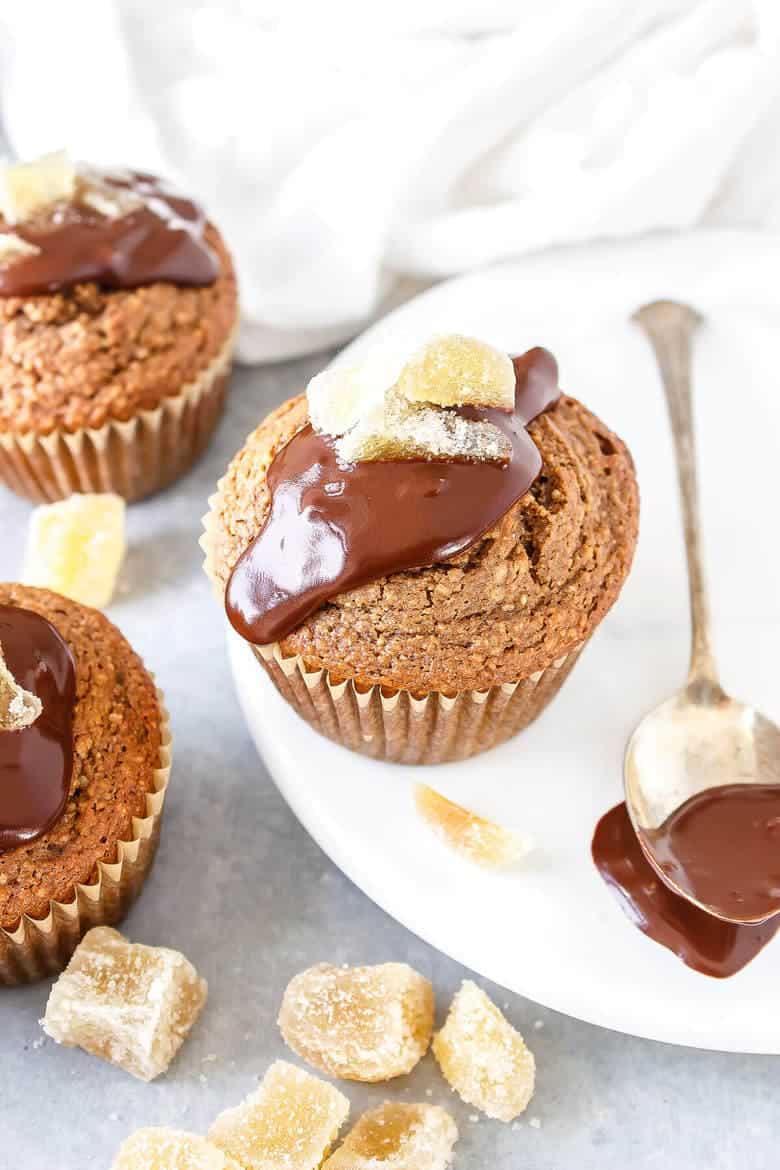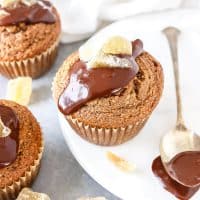 Ingredients
1

cup packed almond flour

1/4 cup arrowroot starch

1.5

tablespoons cocoa powder

1.5

teaspoons baking powder

1

teaspoon pumpkin pie spice

Pinch of salt

3

eggs

1/4 cup pumpkin puree

1/4

cup + 2 tablespoons maple syrup

1

teaspoon vanilla extract

Candied ginger, for topping
Ganache
1/4

cup coconut milk

2-3

tablespoons maple syrup

2

ounces unsweetened dark chocolate

1

teaspoon vanilla
Instructions
Preheat the oven to 425°. Place 6 muffin liners in a muffin pan.
Combine all dry ingredients in a medium bowl, stir in the wet ingredients until smooth.
Pour the batter into the prepared pan. Bake at 425° for 5 minutes. Reduce the heat to 375° and continue to bake for 20 minutes or until a toothpick inserted into the middle comes out clean. Remove from pan and let cool on a wire rack to prevent moisture from gathering in the muffins.
To make the ganache simply melt the ingredients together over low heat until smooth and thick.
Chop the candied ginger into small pieces. To serve top a muffin with a spoonful of chocolate and a sprinkle of candied ginger.
by Lauren