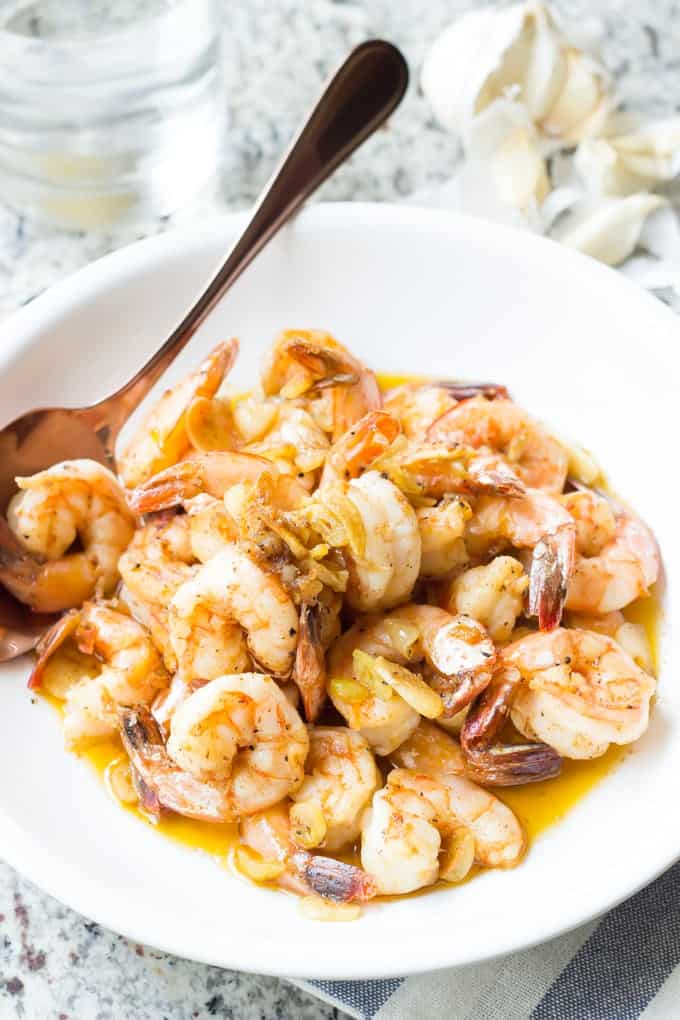 Today's recipe is super fun and finger-licking delicious! I'm sharing one of my favorite recipes from the new cookbook Paleo Planet
by Becky from the blog A Calculated Whisk. This Garlicky Shrimp, or more formally known as Gambas as Ajillo, is a Spanish tapas dish is packed full of flavor and is sure to please just about anyone.
I've been a fan of Becky's for a while now and we even swapped guest posts a few weeks ago. If you haven't check out her Chicken Apple Sausage and Kale you're totally missing out! It's an easy to prepare meal just like the recipes in her new cookbook. I'm all for easy!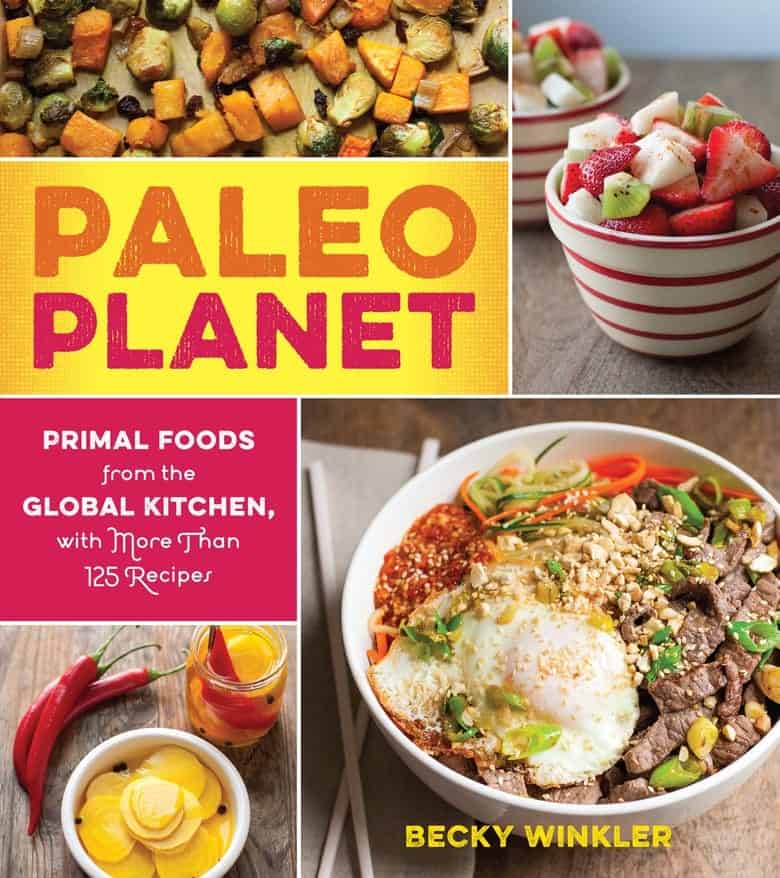 As soon as I cracked the cover I knew it was going to be one of my favorite cookbooks. You know the ones that are splattered with all sorts of mysterious stains and dirty fingerprints? That's how you know a cookbook is good and with recipes like this shrimp along with Gingerbread Blondies, Lemongrass Beef and Scallion Rolls, German Apple Pancakes, and Honey Chipotle Short Ribs how in the world could you go wrong?
Paleo Planet
contains over 125 recipes that are easy enough for the average cook but pack a TON of global flavor. I hope you'll check out the book, I guarantee you'll love it as much as I do!
Alright, let's get back to these lovely shrimp! Just a few simple ingredients and you're on your way to a great appetizer or main dish. If serving it for a main dish I would suggest some white rice or cauliflower rice to soak up all the delicious garlic infused olive oil. I didn't plan ahead so Alex and I literally ate the sauce with a spoon. We mayyy have also licked the bowl clean. I have no shame.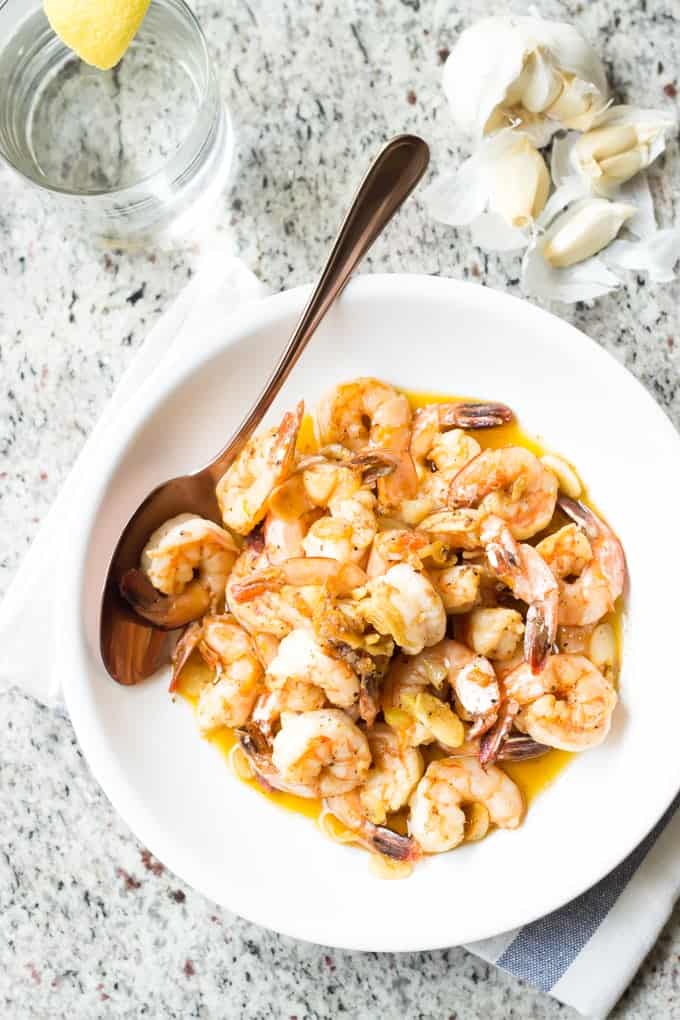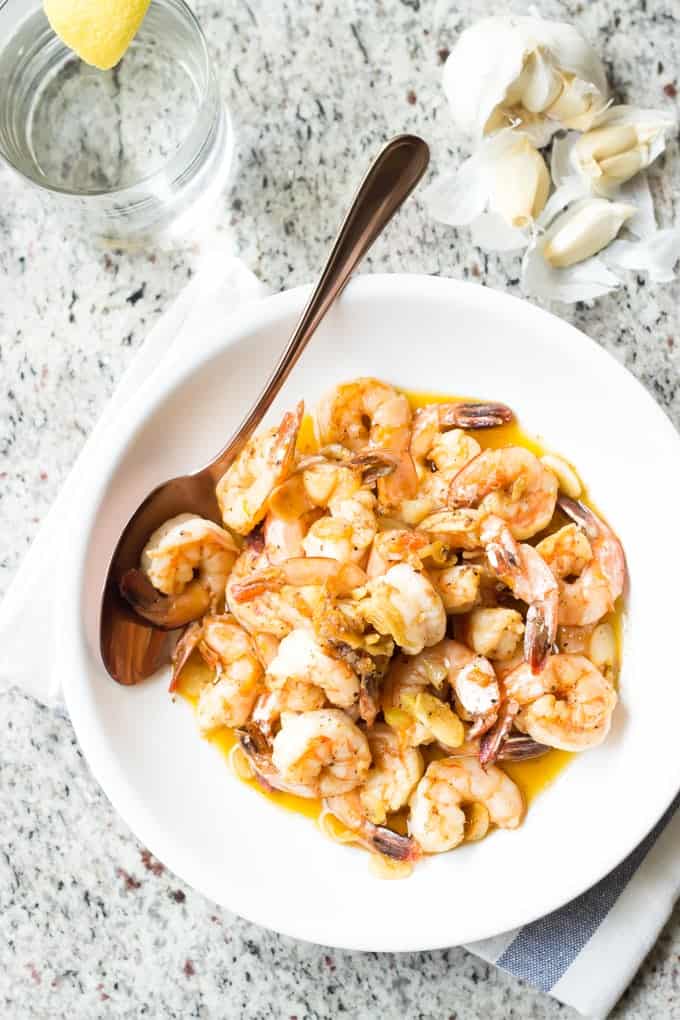 Garlicky Shrimp (Gambas al Ajillo)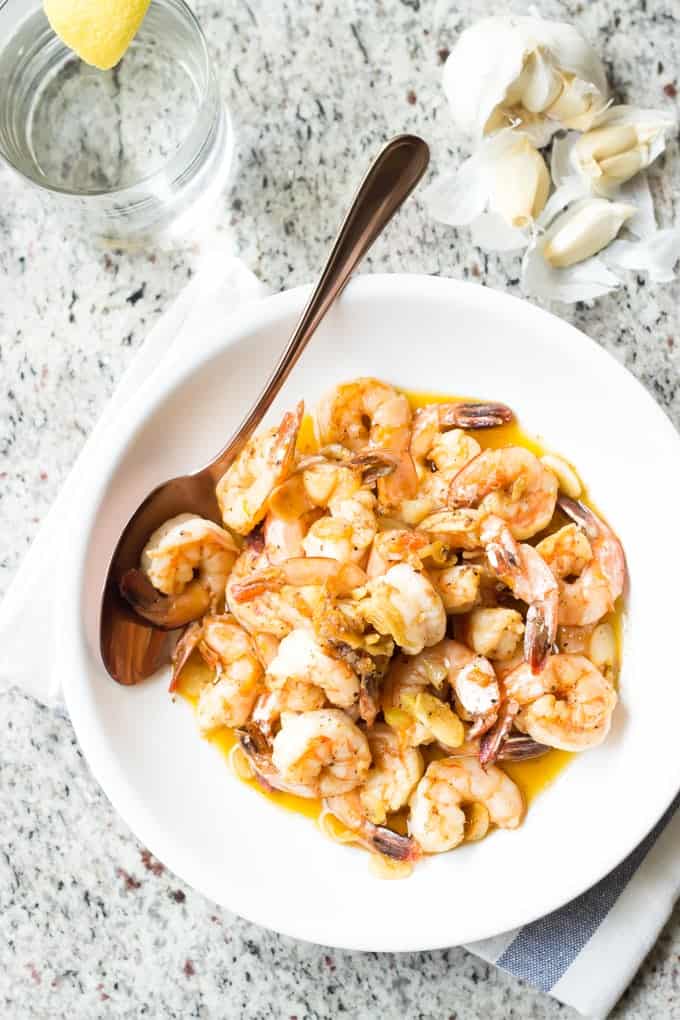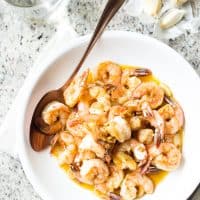 Ingredients
1/2

cup extra-virgin olive oil

10

garlic cloves, thinly sliced

1

pound large or jumbo shrimp, peeled and deveined (tails removed if desired)

3/4

teaspoon flaky sea salt

1/4

teaspoon freshly ground black pepper

1/4

teaspoon bittersweet smoked paprika

Pinch of cayenne pepper
Instructions
Heat the olive oil in a large heavy skillet over medium low heat. Add the garlic and cook, stirring frequently until fragrant and softened, about 5 minutes.
Add the shrimp to the skillet in a single layer, raise the heat to medium-high, and sprinkle on the salt, pepper, paprika, and cayenne. Cook until the shrimp turn pink on the bottom, 2 to 3 minutes. Flip and cook until the shrimp are opaque throughout, another 2 or 3 minutes. Serve Hot
by Lauren
Disclaimer: this post contains affiliate links. By purchasing through one of our links you are supporting a small business. Your price will never be higher by shopping through our links.