These Chocolate Dipped Banana Popsicles are the perfect no-guilt summertime treat!
Man, oh man these are the perfect treat for summer! I've been addicted to frozen bananas lately. I either eat them straight up or blend them with a bit of cocoa powder to make chocolate ice cream, it's so so good!I also started pouring my chocolate shell over them with toasted coconut and Alex mentioned that they would make a good popsicle and since he's usually right I decided to go with it.
These are the simplest most delicious treats. You would think you were eating a ton of sugar but there's absolutely no added sugar! Just the banana! They remind me of Brown Cows I used to eat when I was little. You know the vanilla ice cream popsicle with the chocolate shell? Crunchy on the outside, creamy in the middle perfection…except better because now they're covered in toasted coconut and stuffed with pecan or almond butter.
They're really easy to make a huge batch of as well and store in the freezer for when you need a sweet treat. You can even cut the bananas in half and get two popsicles out of one if you're making them for little ones or want a smaller treat. They're obviously super customizable as you can use whatever nut butter (just make sure it's JUST nuts and maybe salt and no added sugar. I use Justin's and they even sell packets of it which makes it super easy to spread on) Here's some topping ideas to get your creative juices flowing:
Toasted coconut (so good!)




Sliced almonds




Pistachios




Any other nut




cacao nibs




ground espresso beans




Freeze Dried Fruit (Cherries would be awesome!)




Sesame seeds




Chia Seeds (NICE CRUNCH!)
Just get creative and I promise you'll want to have these on hand all summer long!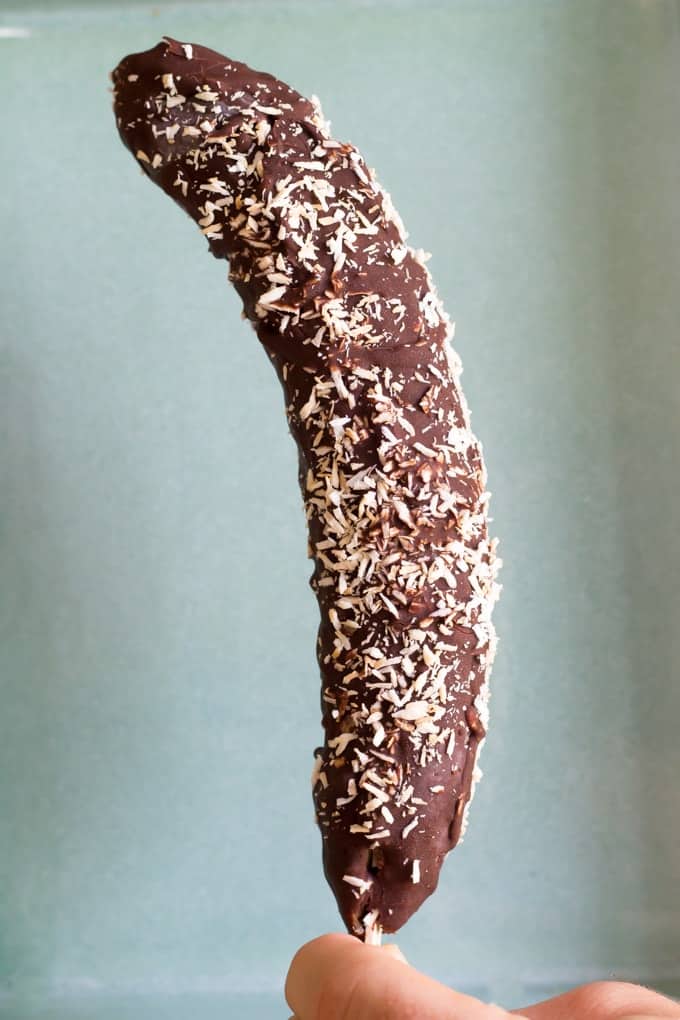 I don't believe anyone loves chocolate more than I do. It's not necessarily the sweetness factor since most of the time I want the darkest chocolate I can find. I LOVE 85% dark and still feel like it's incredibly sweet. I guess that's what happens when you don't eat sweets too often and your tastes become more sensitive.
Anyways, Alex and I have been doing a modified Whole30 for the past almost 4 weeks. In an effort to clear up some stomach issues I came up with a modified plan coupled with a low FODMAP plan and guess what…my problem seems to be the latter. I reintroduced onions yesterday and let's just say all did not go well. So it looks like I'll be staying away from higher FODMAP foods for a little bit longer. Has anyone here ever reintroduced them successfully after cutting them out for a while? I'm not sure I want to never eat onions, garlic, and avocados again! I'd love to hear your thoughts!
Chocolate Dipped Banana Popsicles
Ingredients
2

bananas, cut in half lengthwise

2

tablespoons nut butter

1/4

cup coconut oil

4

tablespoons cocoa powder

Desired toppings

Popsicle sticks
Instructions
Cut the bananas down the middle and spread the nut butter along the middle from top to bottom. Place a popsicle stick into the butter and place the other half on top squeezing to make the butter a sort of glue. Freeze
Once frozen melt the coconut oil with the cocoa powder. Once cooled use a spoon to cover the bananas in chocolate. Before it dries, and it dries really really fast, sprinkle with your desired toppings. Freeze at least another 30 minutes.
by Lauren