Welcome to Healthy Living Tuesday! Today's post is all about DIY Naturally Colored Easter Eggs! With just a few kitchen scraps you can have gorgeous and safe colored eggs in no time!

Let's talk about the WHY behind coloring your own eggs with natural ingredients. Did you know that artificial color is linked to mild to severe hypersensitivity (ADHD) reactions in a some people, especially children? How about that artificial colors are known carcinogens causing all sorts of allergies, migraines and cancer? These dyes are banned in several countries except the United States. Now, I'm not going to go into the lengthy political debate over this issue but check out this article from AARP Magazine if you're wanting to learn more.
I hope that this is reason enough to forgo the chemical food coloring for your Easter eggs this year. If you're like us you eat the eggs you color and using kitchen scraps is easy, safe, thrifty, and a great teaching moment for little ones. Here's the breakdown of what ingredients i used and what colors they make:
Yellow Onion Skins = Orange
Cubed Fresh Beets = Pink or Red
Grass = Green
Shredded Red Cabbage = Blue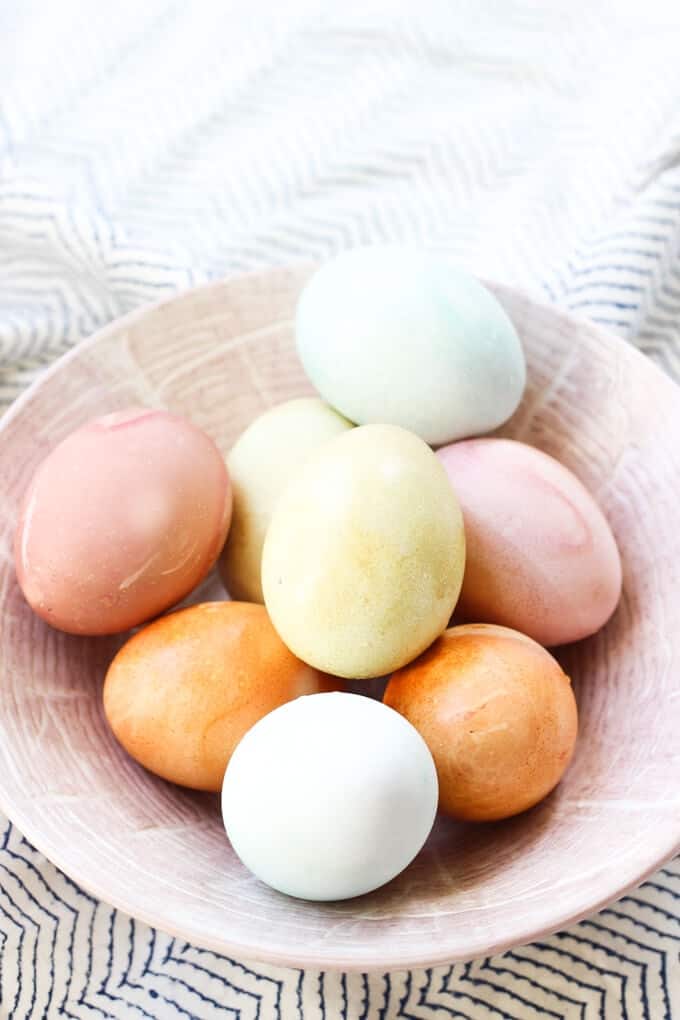 Simply boil 1.5 cups of water per cup of vegetable scraps. Once it boils you'll want to reduce the heat to a simmer. The longer you let it simmer the deeper the color will get. Once it's reached you're desired color simply strain the colored water into glass containers with a tablespoon of white vinegar. Place the hardboiled eggs in containers and refrigerate for a few hours allowing the eggs to deepen in color. When they have reached your desired color wash them off with cool water and rub a little olive or coconut oil on them to make them shine. Done!