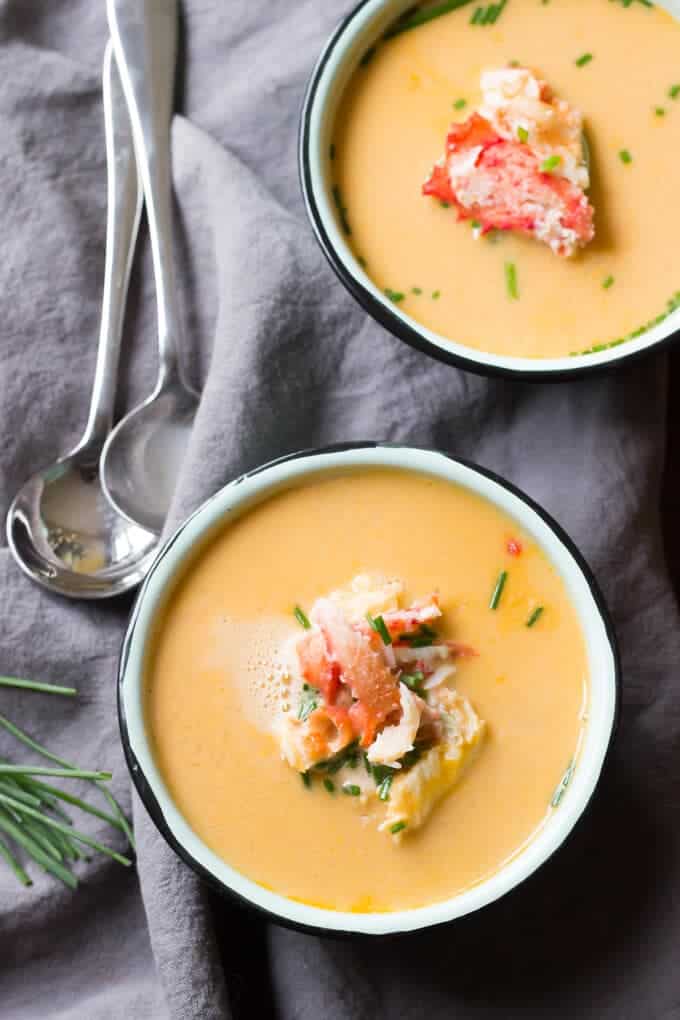 Huge thanks to the Alaska Seafood Marketing Institute for sponsoring this post!
---
The weather the past week or so has been dreary and rainy. The kind of weather that makes you want to curl up with a warm cup of soup, wool socks, a soft blanket, and a good book. I had the latter three taken care of but I needed that warm cup of soup. Enter this Dairy Free Alaska King Crab Bisque. Hello gorgeous.
I've had a few delicious bowls or crab bisque before so I decided it was time to make a Paleo/dairy free version. This soup is a mashup between a classic bisque and a curry. There's no curry powder or paste in the soup but the coconut milk gives it a hint of sweetness that we all know curry to have.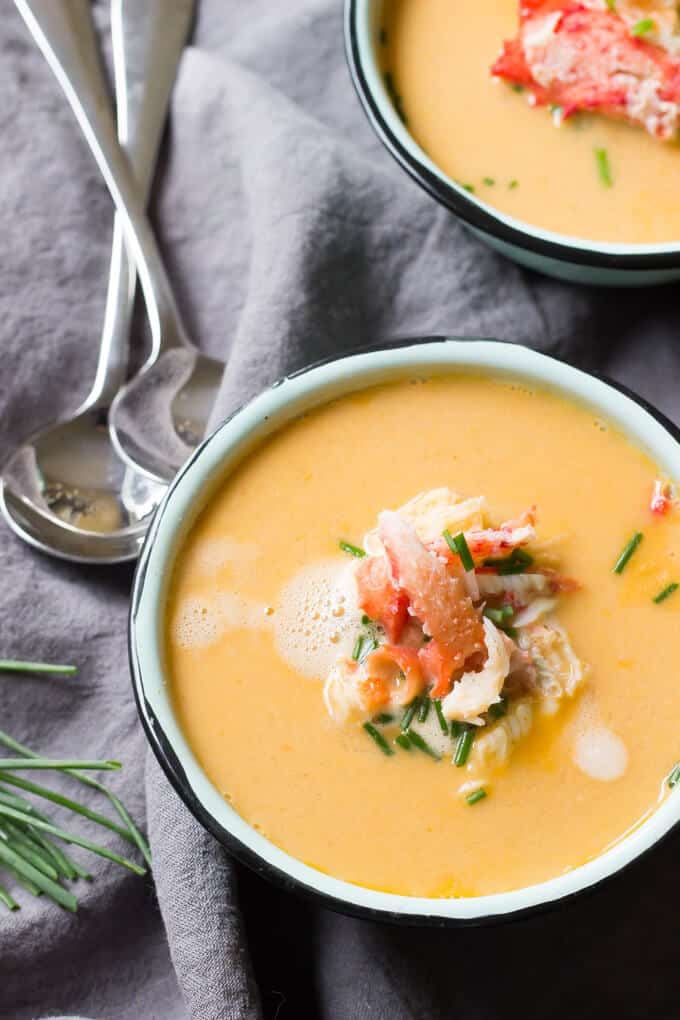 If you're wanting the taste to be more on the side of classic crab bisque then I have a little trick that I think you'll enjoy.
Simply add extra brandy to the bowl before pouring in the soup. The brandy cuts through the coconut milk and makes it taste a little more rich and less coconuty sweet. Plus who's going to argue about extra brandy in their soup? Not me.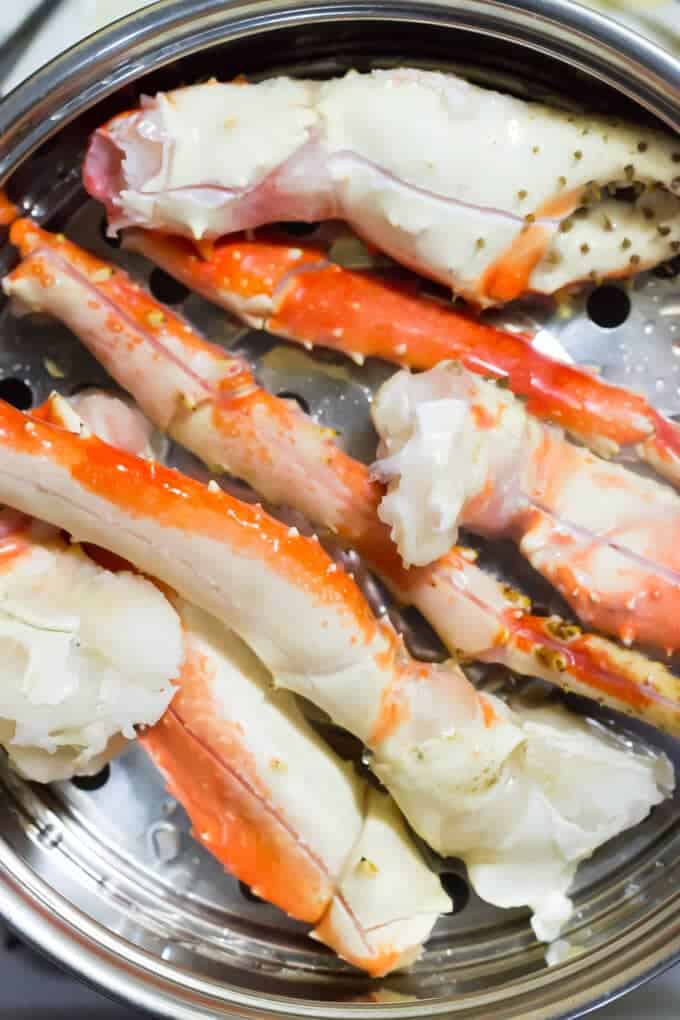 The best thing about this soup though is that it can be ready in 15-20 minutes! Classic bisque usually takes at least an hour but this simplified version is perfect for a quick dinner. We get the help from these beautiful frozen Alaska king crab legs. Simply run them under water to rinse off the icy glaze and then steam for about 10 minutes. While the crab is steaming you can already have your soup underway.
It's as easy as that! Plus I love keeping frozen seafood on hand. It's easy to stock away for a quick dinner and unlike fresh fish you don't have to worry about it spoiling if you leave it in the refrigerator for one too many days. I try to eat my fresh seafood the day I buy it and plan out the week with frozen varieties. Alaska wild caught seafood is also really easy to find in most grocery stores. From 5 different species of salmon (you all know that I ADORE salmon!), several varieties of whitefish, and numerous shellfish species, Alaska offers tons of healthy seafood options year round.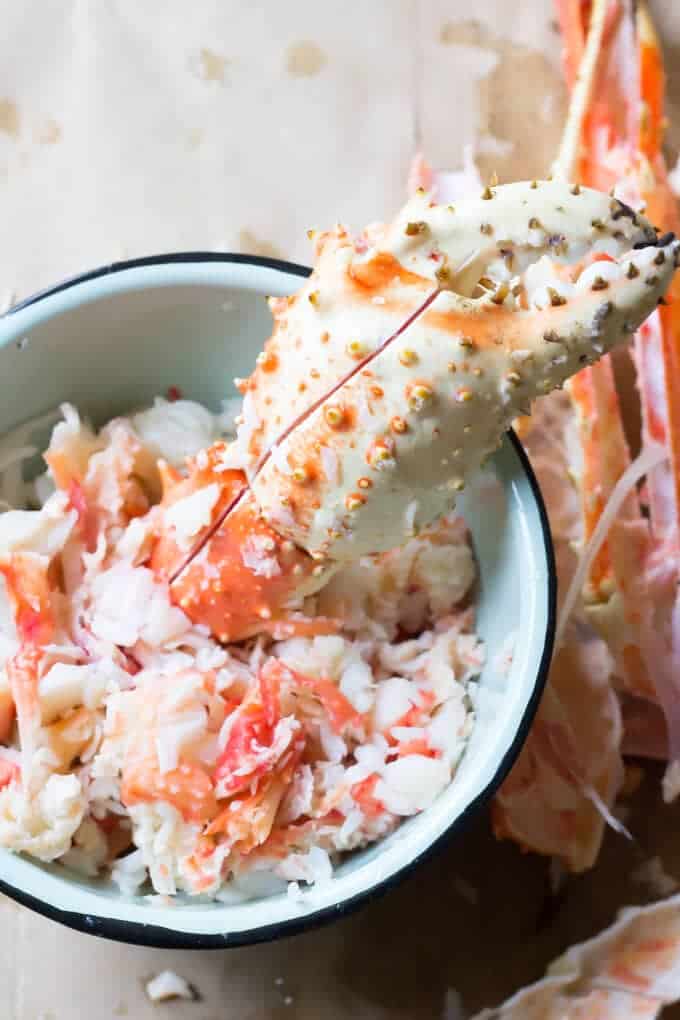 In our effort to bump up our omega 3 fatty acids and our B12 (Alex and I are both deficient like most people) we've been eating a ton of seafood.
King crab has about 15.4 mcg of B12 per serving that's 200% more than your RDA! It's also high in protein as well. Not to mention that it's just ridiculously delicious. I couldn't stop eating the meat before adding it to the soup!
So the next time you're in need of a quick and comforting meal you'll have just the soup to cozy up to. For other ideas, you can also check out Alaska Seafood's website for more COOK IT FROZEN!® recipes or cooking techniques. You can also see if they are hosting an in-store cooking demo near you here.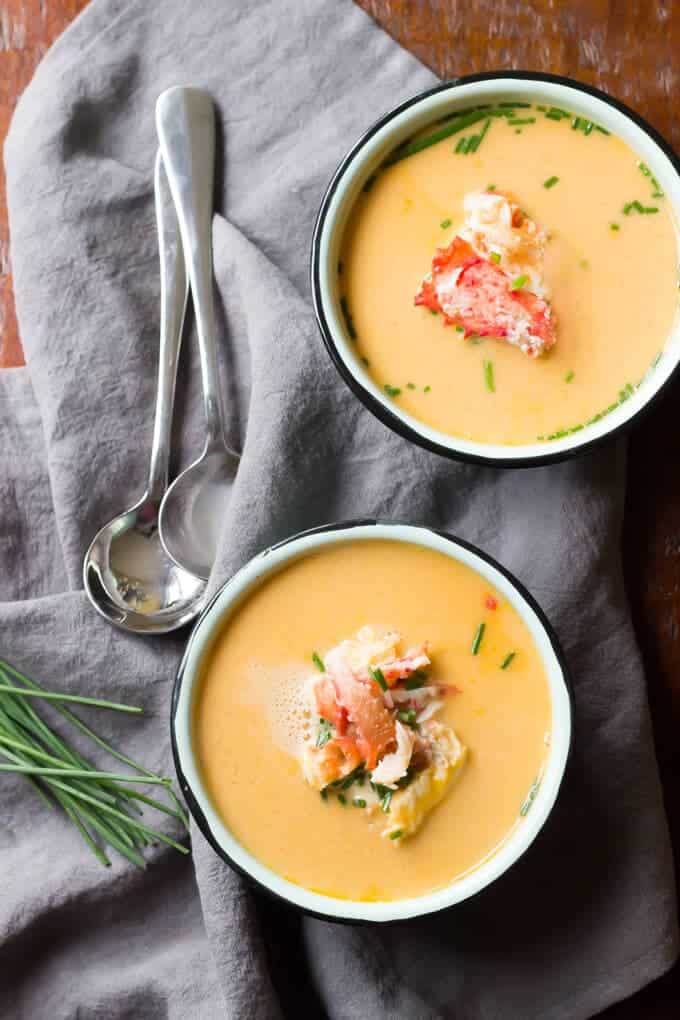 Dairy Free Alaska King Crab Bisque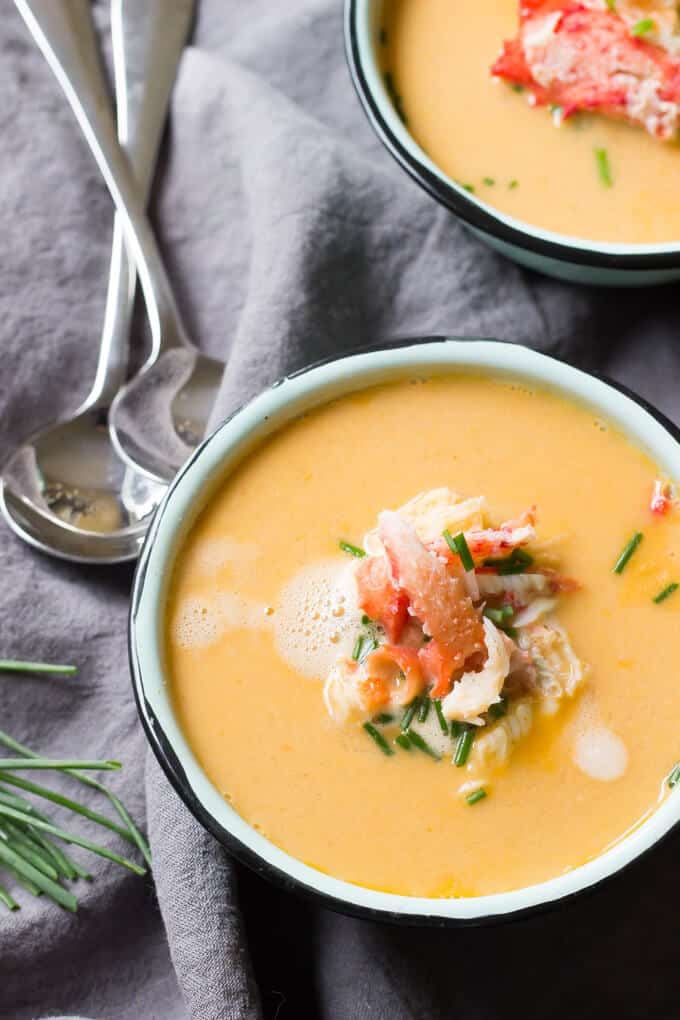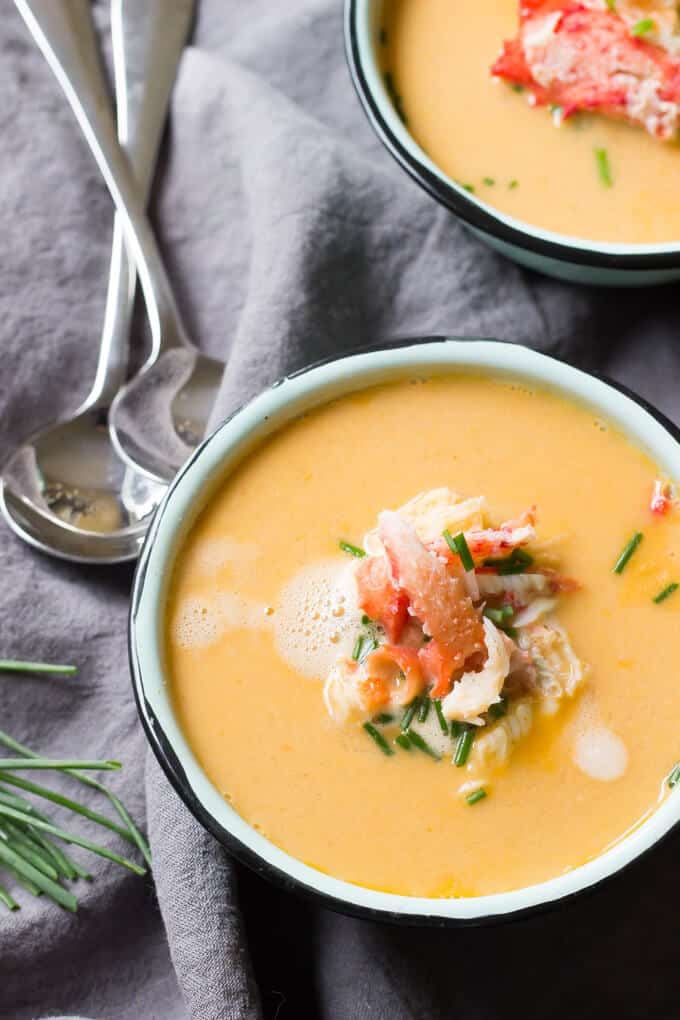 Ingredients
1

lb frozen Alaska king crab legs and claws

2

tablespoons ghee

4

shallots

1

clove garlic

1

tablespoon tomato paste

1/4

cup brandy

4

cups stock (any kind will work)

2

cups coconut milk

1/2

teaspoon salt

1/8

teaspoon cayenne pepper

Pinch white pepper

Juice of 1/2 lemon

Chives for garnish

4

teaspoons brandy for bowls (optional)
Instructions
Place about 3 inches of water in a pot fitted with a steamer basket. Bring the water to a boil and place the crab in the basket. Cover and steam for 10 minutes.
While the crab is steaming heat the ghee over medium high heat in a medium dutch oven. Toss in the sliced shallots and minced garlic. Saute for 2-3 minutes until opaque but not browned. Stir in the tomato paste and cook for 30 seconds. Pour in the brandy to deglaze the pot. Let bubble for 30 seconds then pour in the coconut milk and stock. Bring to a boil.
The crab should be cooked at this point. Remove from basket and pick clean. Toss 1/2 of the meat into the soup along with the salt, cayenne, and white pepper. Transfer to a blender and blend until smooth. You can also use an immersion blender.
Return the soup to the pot and stir in the remaining crab except for about 4 tablespoons worth for garnish and lemon juice.
To serve divide the extra 4 teaspoons of brandy between 4 bowls if using. Top with soup and garnish with chives and extra crab meat.
by Lauren
Huge thanks to the Alaska Seafood Marketing Institute
for sponsoring this post! As always, all thoughts, recipes, text, and opinions are my own. Thanks for supporting the brands that make Wicked Spatula possible!