This Chinese Almond Chicken is just like your favorite dish at your local Chinese restaurant.

Have you ever had Chinese Almond Chicken? It's called something different in each individual restaurant, Boneless BBQ Chicken, Boneless Almond Chicken. No matter what it's called though it remains one of my favorite Chinese dishes. Crunchy tempura battered chicken sets on top of wilted lettuce and then gets topped with an almond gravy, sliced almonds, green onions, and hot Chinese mustard. There's nothing better.
I've been craving this chicken for awhile and knew that I had the perfect batter recipe but just needed to master the sauce. I found a pretty good looking recipe on Food.com and made a few tweaks. It tastes EXACTLY like the dish I remember! We had a bit of leftover gravy and I'm sitting here this morning having a bowl of wilted lettuce drenched in gravy with the almonds, green onions, and hot mustard for breakfast. That's how much I LOVE it. Like I can't get enough and I'm pretty sure I'll be keeping this gravy on hand at.all.times. At least until I eat it every day for two weeks and then I'm tired of it and won't make it again for a year because that's what I do.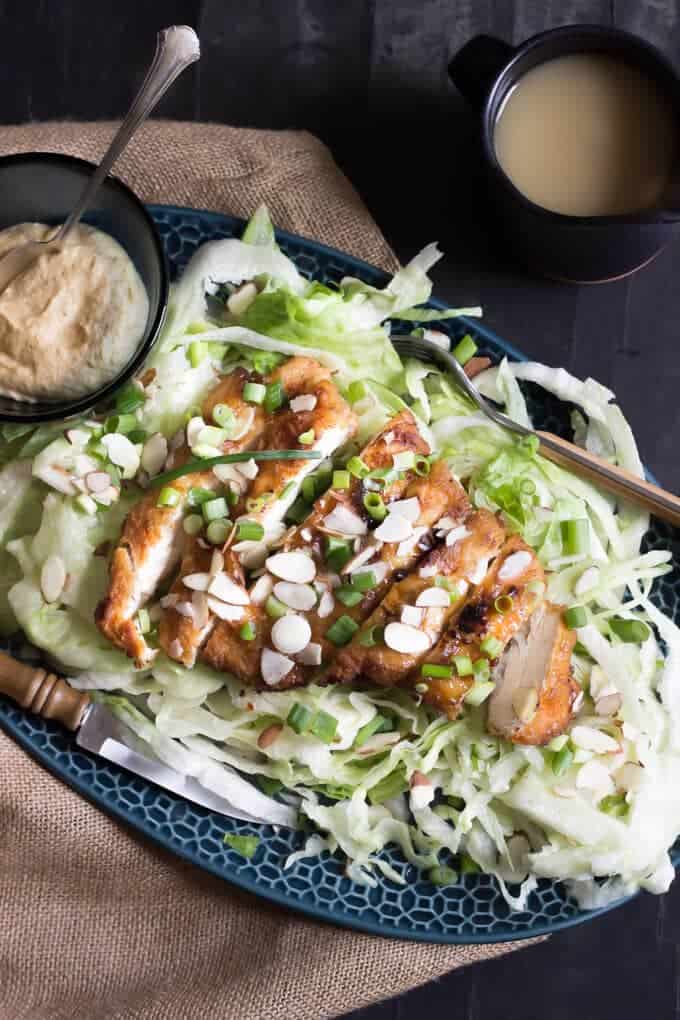 I use the same batter as with my Baja Fish Tacos except I used sparkling water instead of plain to give it more of a tempura like texture. Worked like a charm. This chicken is everything you want tempura chicken to be. Incredibly crunchy on the outside and moist and tender in the middle. I just use a bit of coconut oil to fry them in. I recommend using a wok because it's shallow and you won't need much oil. Just enough to come up half the side of the chicken. One flip and you've got perfectly fried chicken.
Chinese Almond Chicken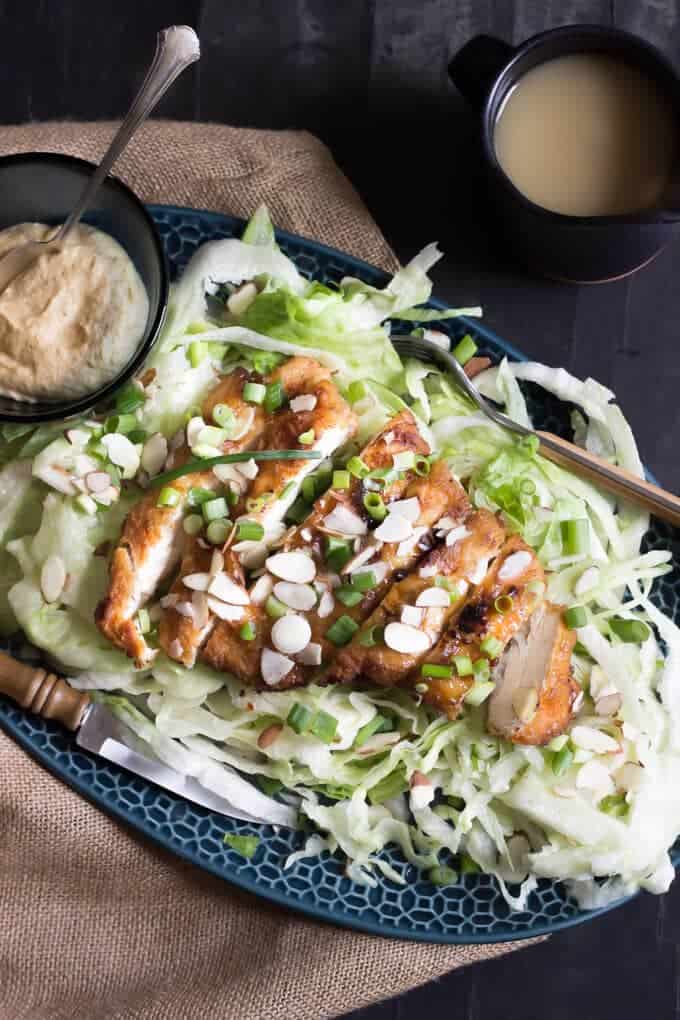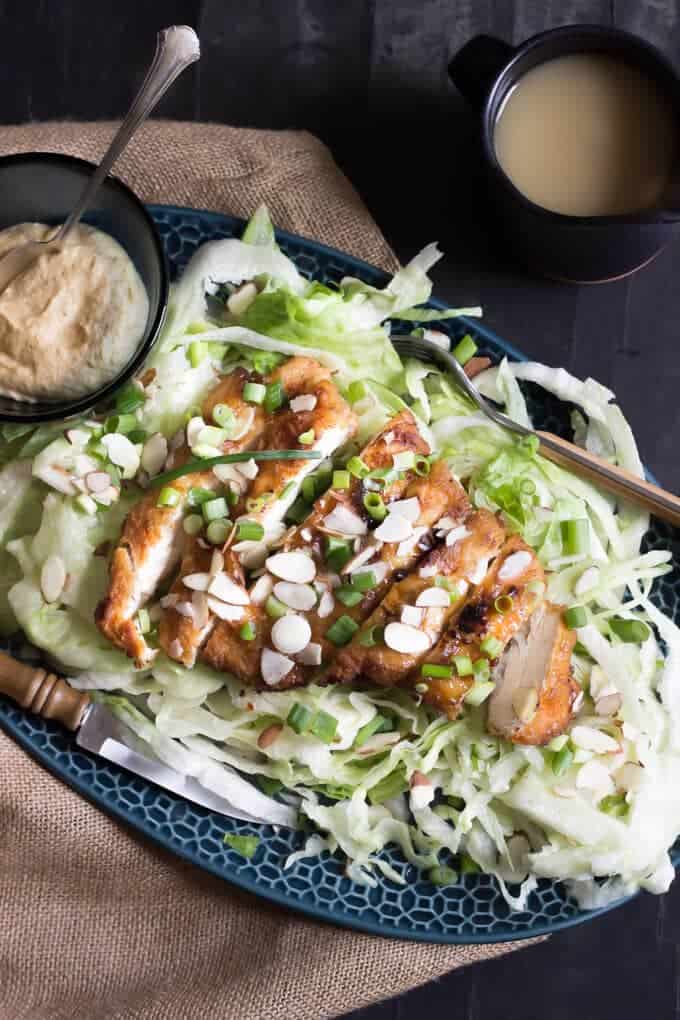 Ingredients
Tempura Chicken
4

chicken breasts, flattened to 1/4 inch thickness

1

cup tapioca starch

1/4

cup sparkling water

1

egg

Pinch of salt

Refined coconut oil, for frying (refined doesn't have a coconut flavor)
Gravy
6

tablespoons tapioca starch

3

tablespoons water

3

cups chicken broth

3

tablespoons butter

2

tablespoons coconut aminos

1/4

teaspoon pure almond extract

1

chicken bouillon cube

Salt and pepper, to taste
Toppings
Shredded iceberg lettuce

Sliced almonds

Sliced green onions

Hot Chinese mustard (this is essential for the full flavor profile)
Instructions
To make the gravy:In a large saucepot over high heat whisk the tapioca starch and water together. Stir in the remaining ingredients and bring to a boil. Once boiling reduce heat and keep warm.
Fry the chicken: Flatten the chicken breasts. Whisk together the batter ingredients until smooth. In a large wok over high heat, heat about 1/2 - 3/4 cup of refined coconut oil until very hot. Working in batches, dip the chicken into the batter and allow a bit of the excess to drip off before dropping it directly into the hot oil. Give the chicken a little nudge with a wooden spoon to loosen any bits that are stuck to the bottom of the pan. Let fry about 5 minutes per side until crispy and golden. Remove and drain on paper towels, repeat with remaining chicken.
Assemble the dish: Place a bed of shredded lettuce on a plate and top with the hot chicken, pour gravy over top and top with almonds, green onions, and mustard.
by Lauren