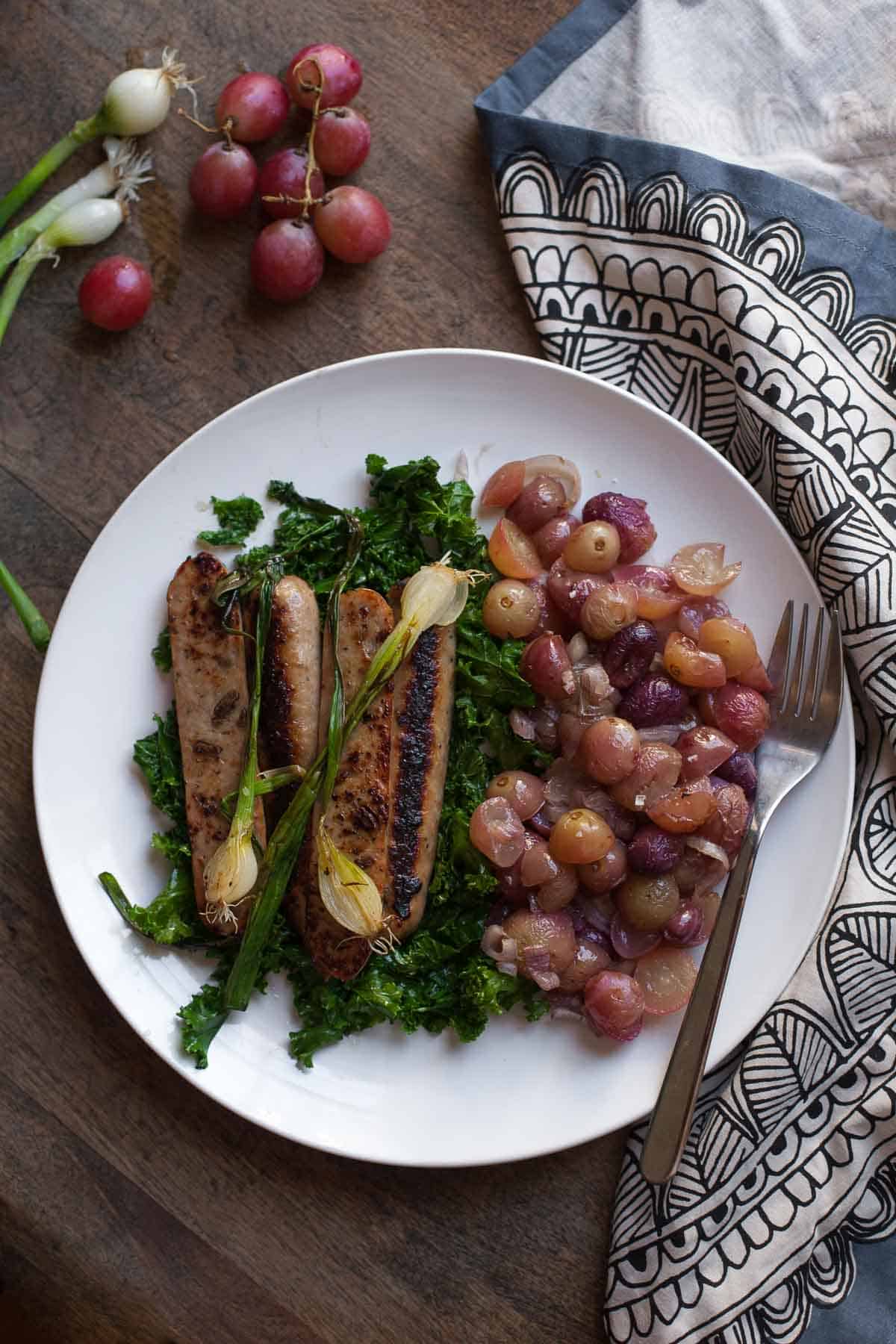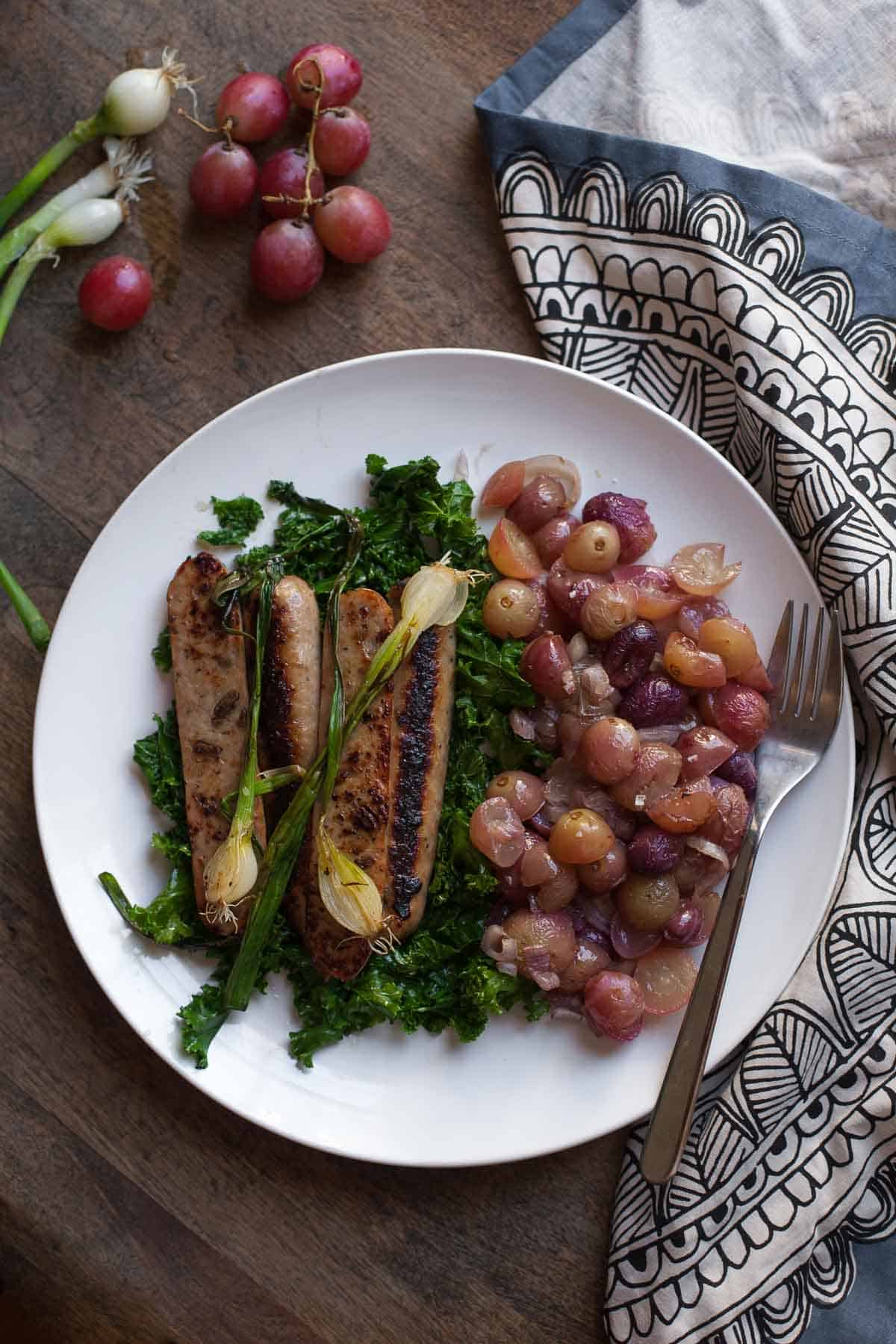 I'm thrilled to be guest posting on Wicked Spatula today, especially because I've been a fan of Lauren's innovative recipes and beautiful photographs for a long time. We're swapping guest posts today, so I'm sharing a quick and easy recipe for chicken apple sausage with kale and roasted grapes right here, and Lauren is sharing an amazing recipe for paleo chocolate chip pumpkin muffins over on my site, A Calculated Whisk.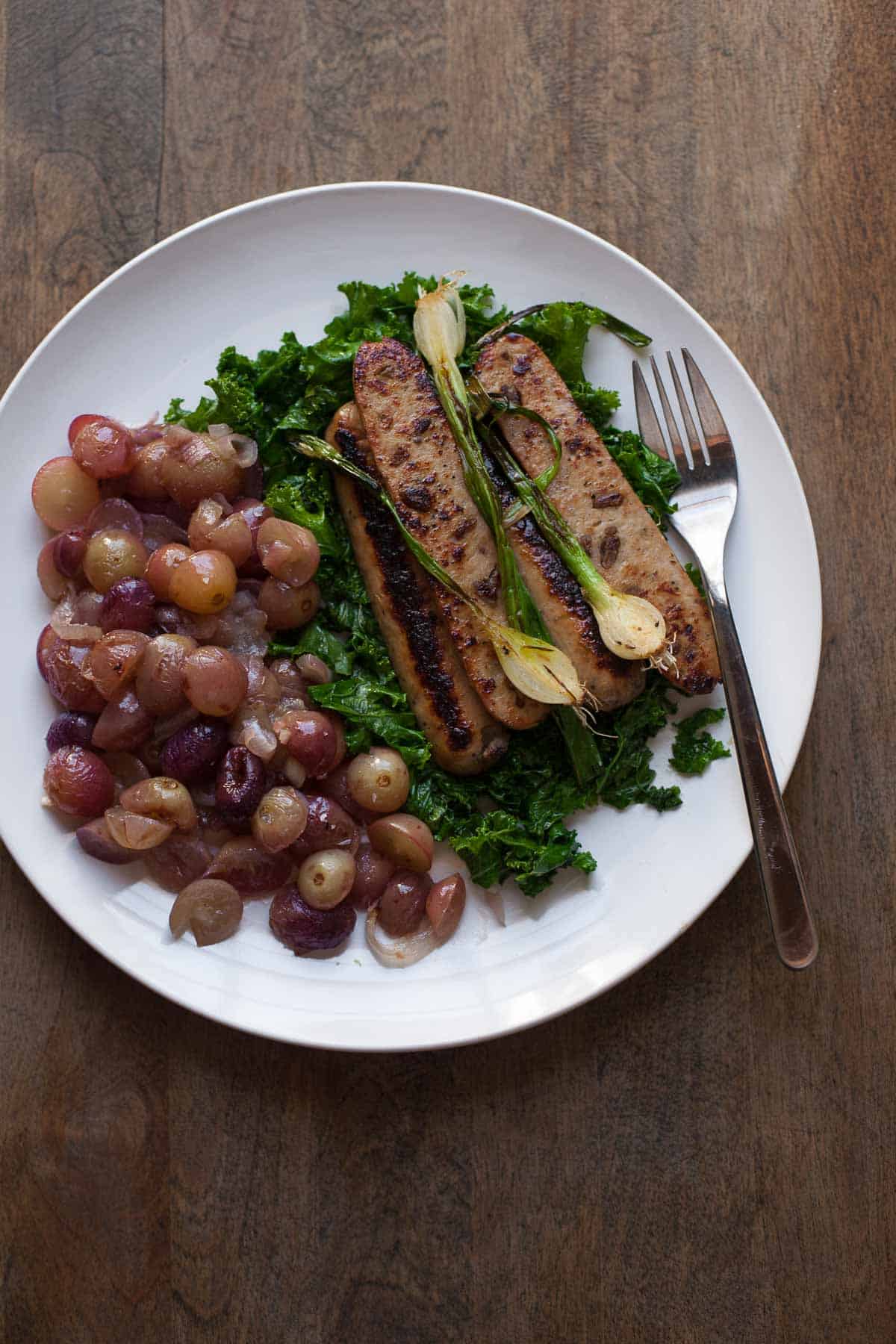 This fall, I'm extremely busy because I'm working full time at a new job in addition to working on my blog. Because of that, I am all about quick recipes that are still flavorful, beautiful, and healthy. This chicken apple sausage with kale, spring onions and roasted grapes delivers on all counts and is packed with in-season produce.Chicken apple sausage is one of my favorite quick proteins, and I always try to have it on hand, especially during autumn. If you're doing a Whole30 or another strict diet, be sure to read the ingredients carefully. I usually buy Applegate Farms Organic Chicken Apple Sausage or Bilinski's Organic Sweet Apple Chicken sausage, which are both sweetened only with apples.
Roasted grapes are new to me, and I was excited to find out how delicious and easy they are because I'm notorious for buying a lot of grapes and not being able to eat all of them before they start to get a tiny bit wrinkled. When you're roasting grapes, it doesn't matter! The ones that are a little past their prime for eating out of hand will be just as delicious as the others once they're roasted.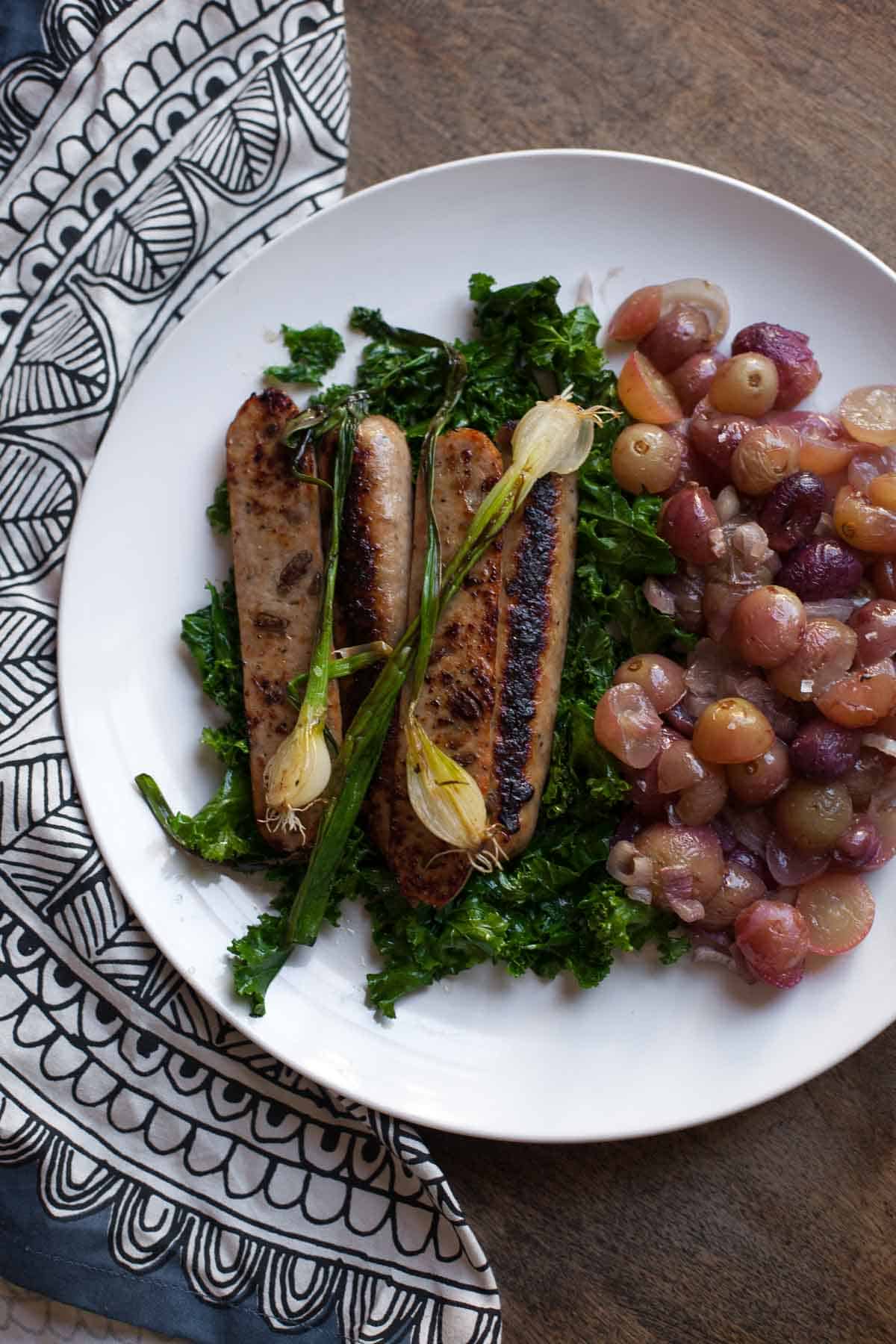 To make this recipe fast, use seedless grapes, which only need to be washed and dried to get ready for roasting. While the grapes roast, the sausage and spring onions are quickly pan-fried, and once they're done the kale is sauteed even more quickly in the very same pan. If you don't see spring onions at the market, don't worry (although I spotted them at the farmers market here in Chattanooga even though it's fall!). Scallions will work just as well, or you can just leave out the spring onions for a simpler and even easier dish. If you're looking for easy and healthy seasonal recipes like I am, I really hope you give this one a try!
Chicken and Apple Sausage with Kale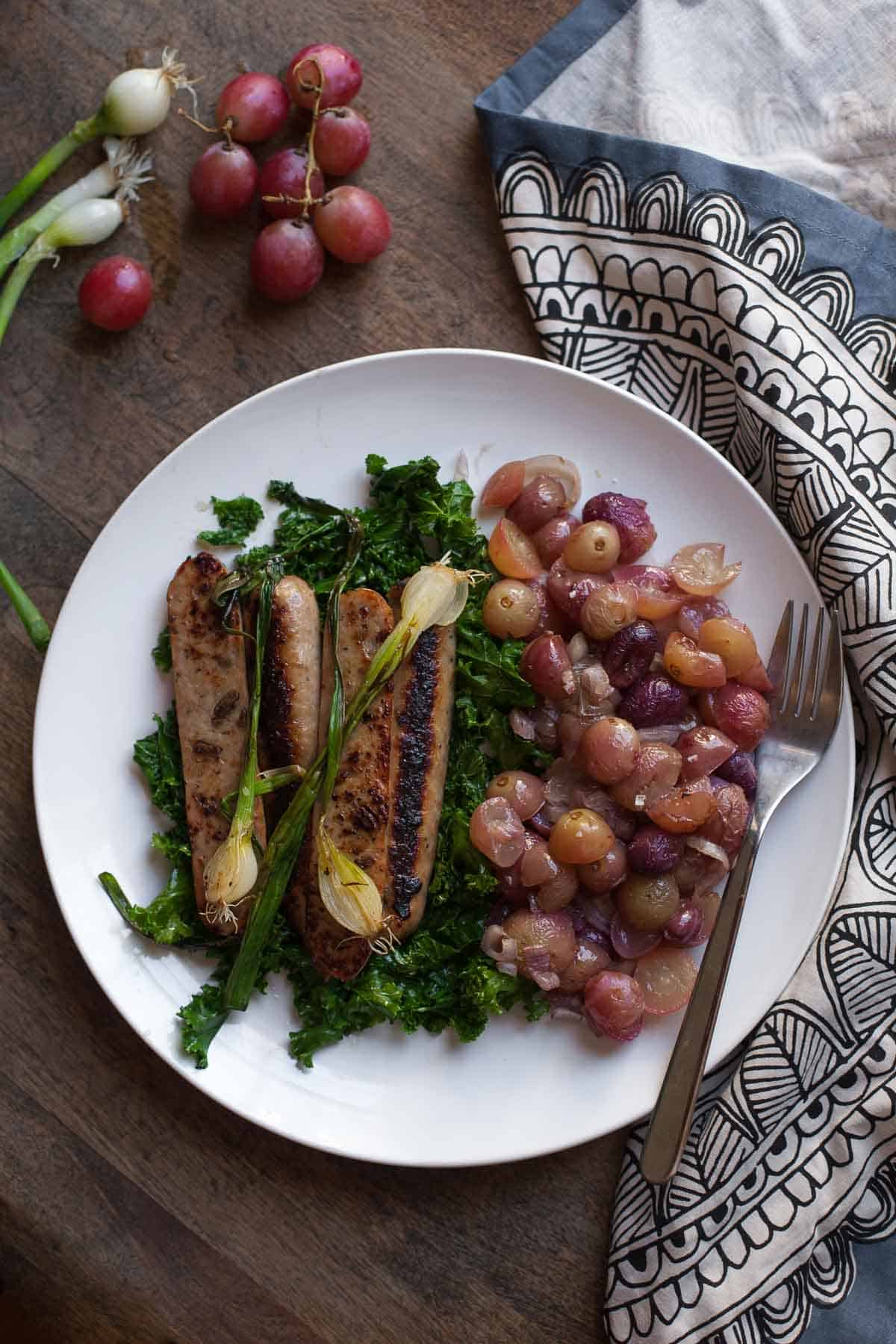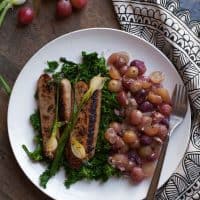 Ingredients
For the roasted grapes
1

pound seedless red grapes or red globe grapes

1

shallot

1

teaspoon olive oil

A generous pinch of sea salt, or more to taste

Freshly ground black pepper, to taste (optional)
For the chicken apple sausage with kale and spring onions
4

large leaves of curly green kale (or 6 smaller leaves)

1-2

teaspoons olive oil

4

fully cooked chicken apple sausage links

6

spring onions (or scallions in a pinch)

Sea salt and freshly ground black pepper, to taste
Instructions
Preheat the oven to 400 and line a baking sheet with parchment paper. Remove your grapes from their stems, discarding any that are moldy or really squishy (slightly wrinkled, a-bit-past-their-prime grapes are fine). Wash your grapes well and make sure they're nice and dry. If you are using seedless grapes, add them right to the baking sheet. If you are using red globe grapes with seeds in them, slice them in half crosswise, take out the seeds with your fingers, and then add the halved grapes to the baking sheet. (Since they're globe grapes, imagine that the spot where the stem used to be is the north pole. You want to cut the grapes in half through the equator. This will make the seeds easier to remove, and some will even pop right out while you're cutting them. Slicing the grapes through the prime meridian looks a little prettier, but means you'll really have to dig to get some of the seeds.)
Slice the shallot in half lengthwise, peel it, and slice it into thin rings. Add the shallot, olive oil, salt, and pepper to the baking sheet with the grapes. Toss to coat, making sure the grapes are in a single layer, and roast for 20-25 minutes, until the grapes are wrinkly and soft and the shallots arebrowned in spots.
While the grapes are roasting, tear the kale leaves into small pieces, discarding the thick center stems. Wash the leaves and spin in a salad spinner or pat dry with paper towels. Wash the spring onions well, trim the ends if desired, and halve them lengthwise. If desired, halve the sausage links lengthwise, too (I like to do this so there's more surface area to brown, but they do take up more space in the pan that way).
Heat a large, well-seasoned cast iron skillet over medium-high heat and add just enough olive oil to very lightly coat the surface of the pan. Add the sausage, cut side down, and reduce the heat to medium. Let the sausage cook undisturbed until nicely browned on the bottom, about 4 minutes. If it's sticking a lot when you try to check, it's not ready. Once the sausage releases easily when you slide a spatula underneath, flip it over. Scoot the sausage to the edge of the skillet and add the spring onions, cut side down. Cook for 3-4 more minutes, until the spring onions are browned and a little wilted, and use tongs to transfer the sausage and spring onions to a plate. Cover to keep warm. Add another teaspoon of oil to the pan, raise the heat back up to medium high, and add the kale. Cook for about two minutes, tossing almost constantly with tongs, until wilted. Season the kale with salt and pepper to taste. Divide the kale between two plates and top with the sausage and spring onions. Add roasted grapes to each plate, season the grapes and spring onions with sea salt and a little pepper, and serve hot.
by Becky Winkler

Becky is a food photographer, recipe developer, and cookbook author who shares creative paleo and gluten-free recipes on her blog, A Calculated Whisk. Becky's first cookbook, Paleo Planet, is available for preorder now and includes internationally-inspired paleo meals, desserts, sauces, spice blends, and more. Becky enjoys searing short ribs, chopping chocolate, photographing fruit, and salting desserts. She believes there is never enough bacon. Becky lives in Chattanooga with her fiancé and his cat.

Latest posts by Becky Winkler (see all)