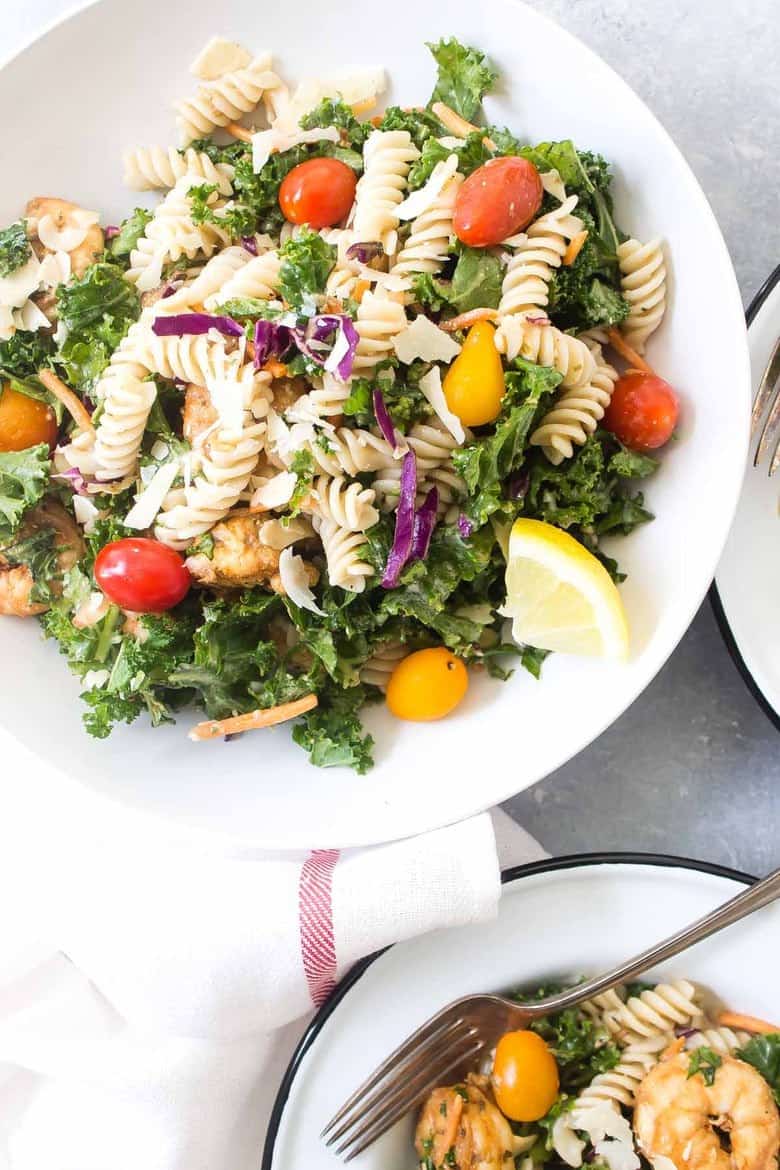 This is one of my favorite go-to batch cooking recipes, one that takes mere minutes to toss together, uses minimal ingredients, and that tastes AMAZING. Honestly, I'm not one to use store-bought ingredients in my cooking but this semi-homemade salad is perfect for busy nights, weeks, and even potlucks and cookouts.
Disclaimer: I first saw this recipe on Buzzfeed and decided that I could easily make it gluten-free and use allergen friendly ingredients as well as bulk up the protein. I haven't made THAT many tweaks so this recipe is definitely inspired and adapted from Buzzfeed. You can check out their original recipe here.
All you'll need for this recipe are the following:
shrimp (I take a shortcut and buy already peeled and deveined from my fish monger)
a box of kale salad (the kind with carrots and cabbage in the mix)
a bottle of caesar dressing (I use Annie's which is egg free for my egg intolerance but you can use whatever fits into you dietary guidelines or even make your own!)
cherry tomatoes
shaved parmesan/asiago/romano cheese
gluten free spiral pasta (I like brown rice pasta!)
and some spices!
Easy! All in all this comes together in less than 30 minutes.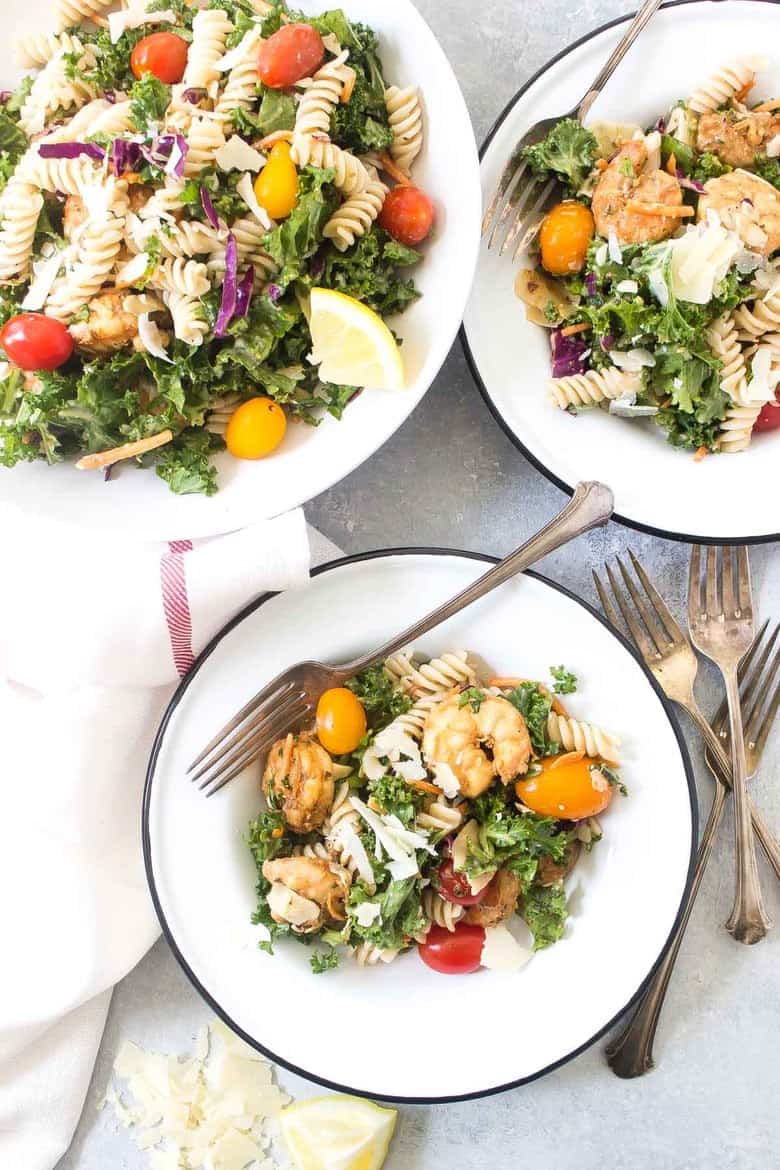 QUICK TIP: if you have an electric tea kettle pre heat your water for the pasta so it will boil faster.
While this salad is definitely delicious cold I really love it hot too. Normally, if I'm eating some right after making it, I'll rinse the pasta under cool water for just a second but add it to the kale with the hot shrimp so the cheese will melt just a tad. SO GOOD. LIKE, SO SO GOOD.
This recipe makes enough for 6 meals which is pretty good for a batch cooking recipe. Also, for me anything that makes more than that I get tired of eating by the end of the week. Each time I make this I'm always wanting more so that seems like a good sign 😉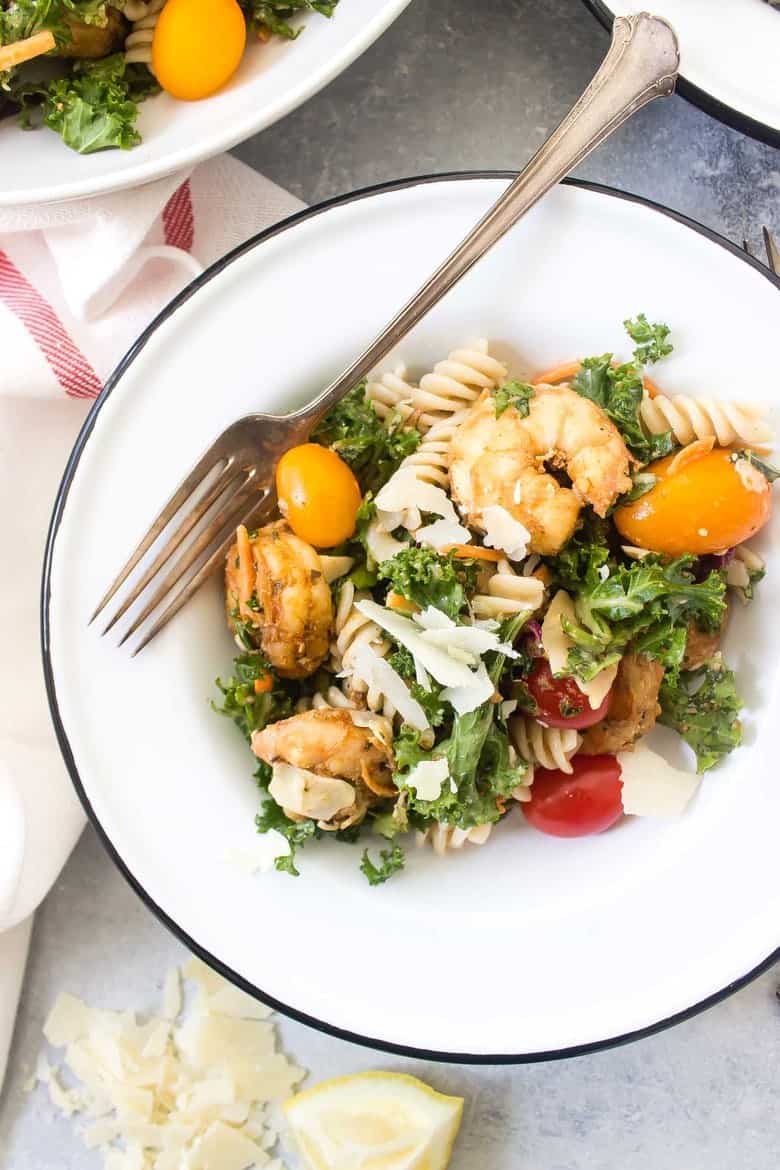 Caesar Shrimp and Kale Pasta Salad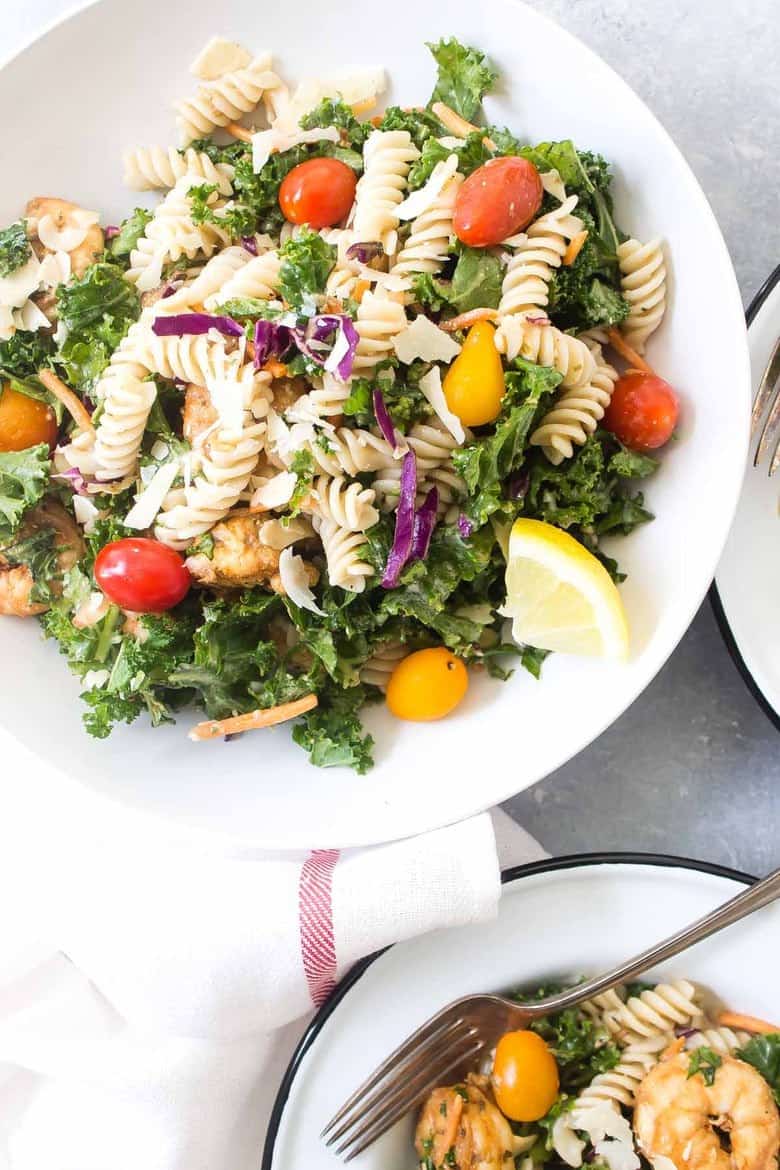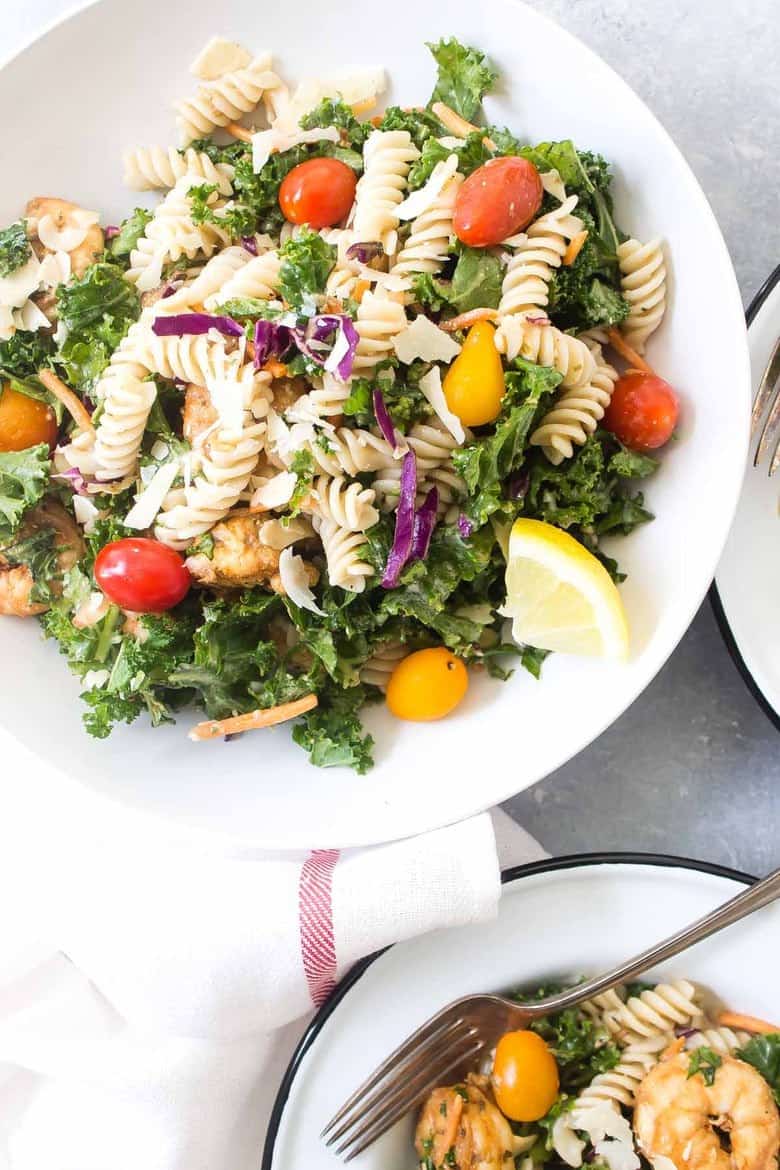 Ingredients
12

ounces spiral gluten free pasta

1

(8oz) bag kale salad mix (kale, carrot, and cabbage)

1

(8oz) bottle caesar dressing

1

pint cherry tomatoes

3/4

cup shaved cheese (parmesan, asiago)
Shrimp
1 1/2

lbs shrimp, peeled and deveined

2

tablespoons olive oil

2

teaspoons garlic powder

2

teaspoons paprika

2

teaspoon Italian herb seasoning

Pinch cayenne pepper

1/2

teaspoon salt

1/2

lemon, zested and juiced
Instructions
Cook the pasta according to its directions. Rinse with cool water and drain.
Add the kale salad, cooked pasta, caesar dressing, cherry tomatoes, and cheese to a large bowl and toss.
Heat the olive oil in a large skillet over medium high heat. Add the seasonings for the shrimp to a medium bowl and toss in the shrimp. Give it a good stir to distribute the spices. Add the shrimp to the pan in a single layer, cook 3-4 minutes per side until and pink and opaque in the center. Add in the lemon juice and zest.
Add the shrimp to the bowl with the kale and pasta and toss. Serve immediately or allow to chill to be eaten cold.
by Lauren