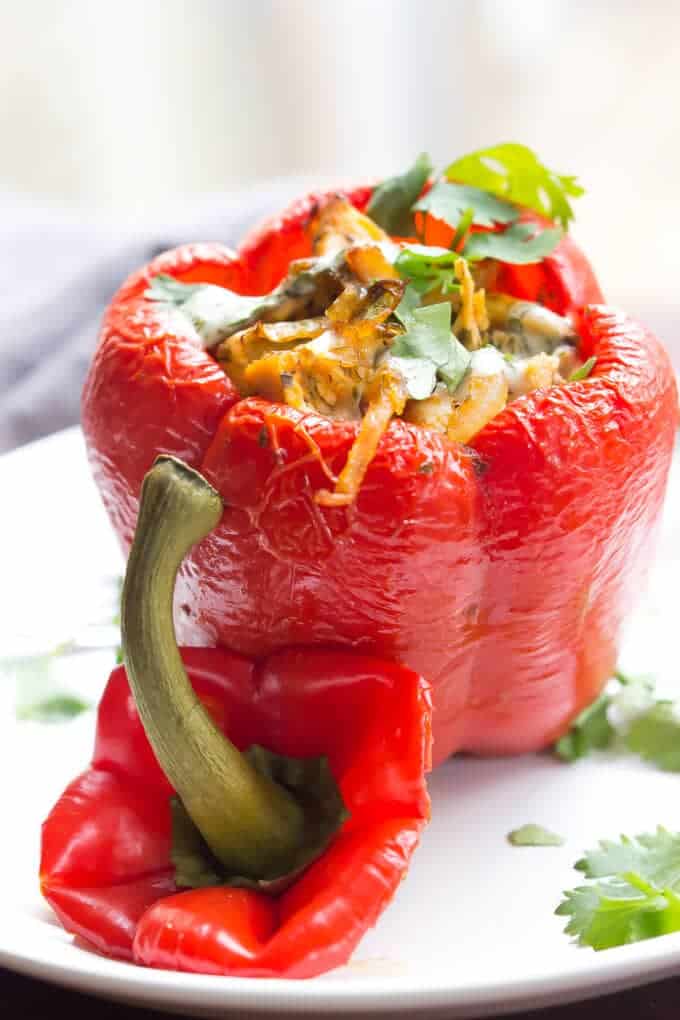 These Buffalo Ranch Chicken Stuffed Peppers are one of my favorite weeknight meals that never ever gets old. Just a few simple ingredients creates a tasty and fun dinner the entire family will love!
You can also make this meal even quicker (about 30 minutes) if you use rotisserie chicken or pre-boiled chicken. I normally don't plan ahead that far so if you boil your chicken the night of this will take around an hour.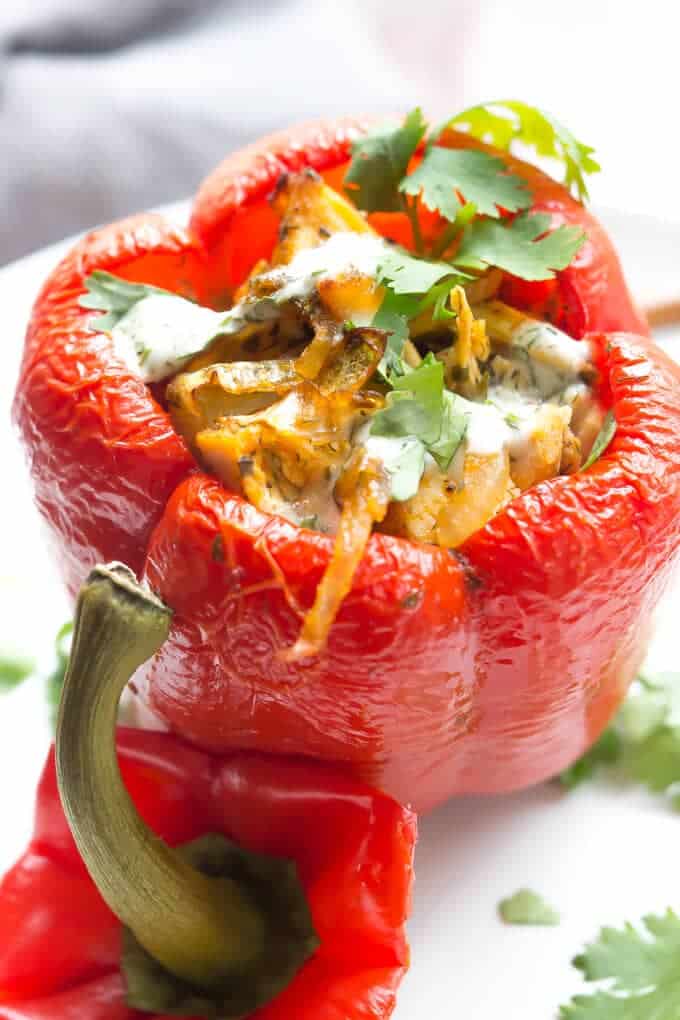 You can also throw in some mushrooms, cauliflower florets, more peppers, or celery (if that's your thing, I personally HATE celery, even so much that little fact made it into my about page!). Usually though I just do onions and chicken sautéed in a bit of ranch seasoning and ghee, toss that in buffalo sauce, stuff it into a pepper (any color will work, I just adore red peppers), and bake for 25 minutes or so.
Easy, simple, cheap, and flavorful. All the things dinner should be. Serve it with a side salad and you'll be golden.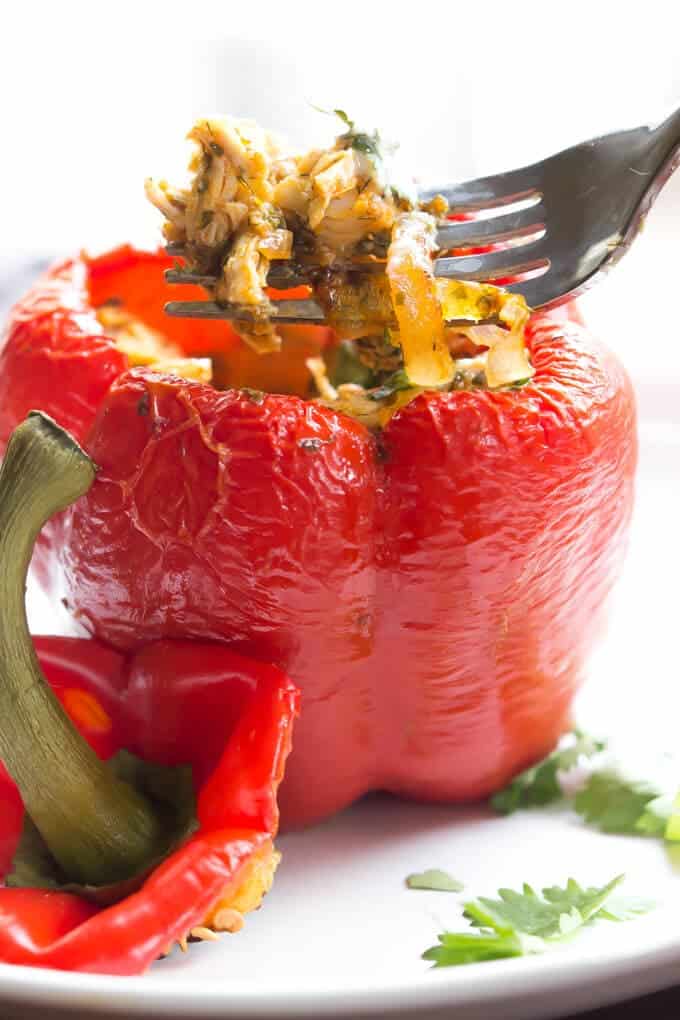 Buffalo Ranch Chicken Stuffed Peppers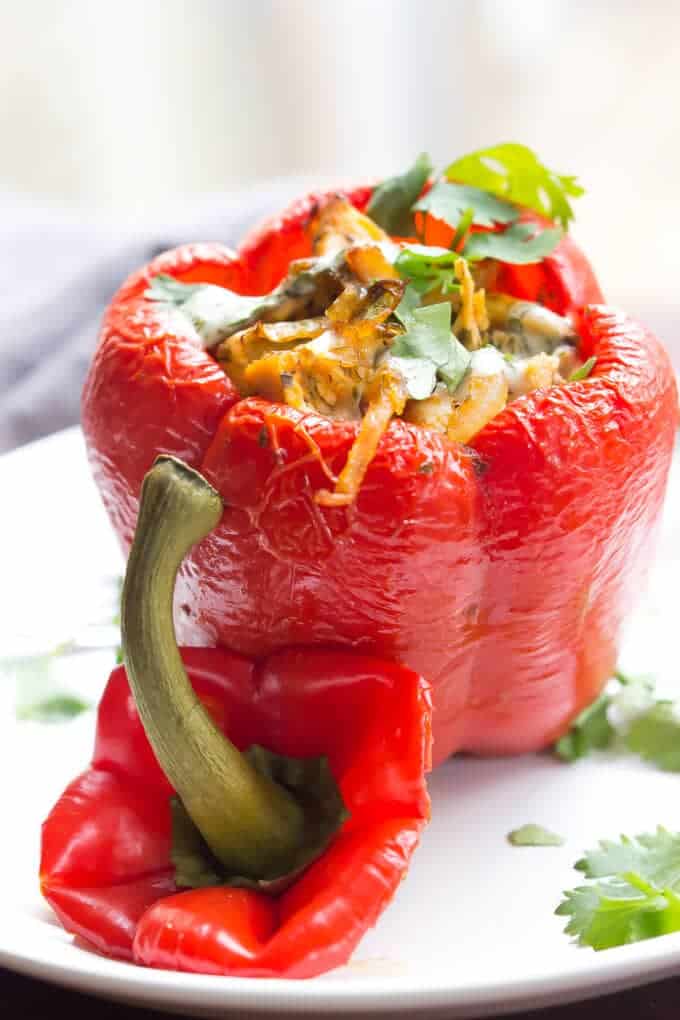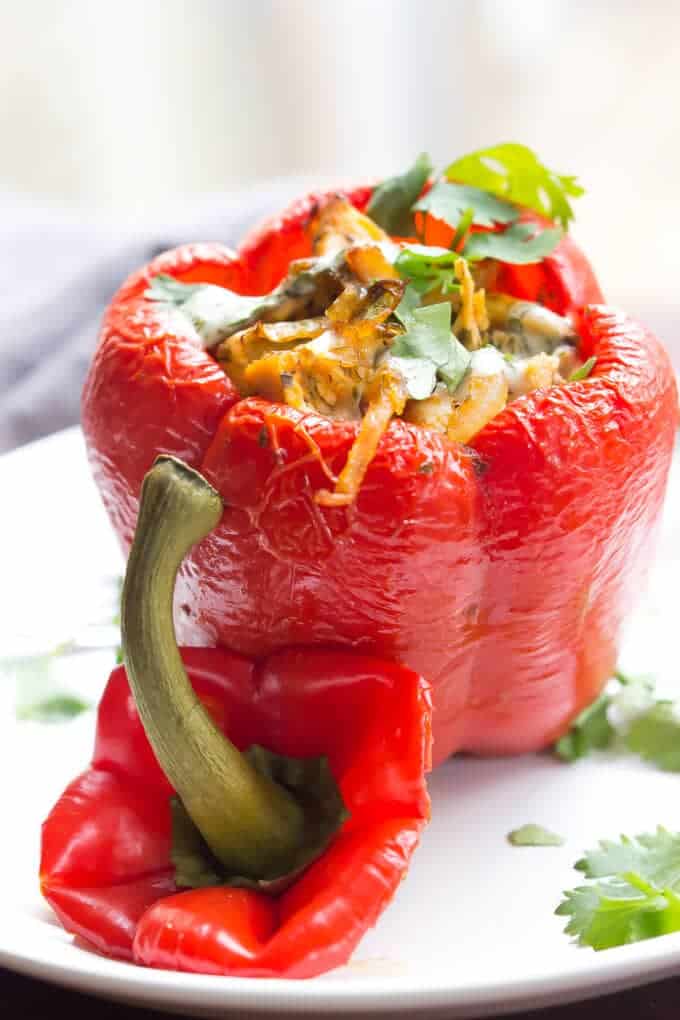 Ingredients
1

lb chicken, shredded + cooked (you can use rotisserie)

1/2

large onion (any kind)

1/8

cup + 1 tablespoon ghee, divided

1

tablespoon ranch seasoning (recipe below)

1/4

cup buffalo sauce (I use Frank's Red Hot)

2

bell peppers
Ranch Seasoning
1

tablespoon dried parsley

1

teaspoon garlic powder

1

teaspoon onion powder

1

teaspoon dried dill

1

teaspoon dried chives

1/2

teaspoon cracked black pepper

1/2

teaspoon salt
Instructions
Preheat oven to 375.
In a large pan over medium high heat add 1 tablespoon of ghee and the sliced onion. Sauté for 3-4 minutes until translucent. Add in the cooked chicken and 1 tablespoon of ranch seasoning. Cook another minute or so then add in the 1/8 cup of ghee and 1/4 cup of buffalo sauce.
Slice the tops off of the peppers and scoop out the seeds. Stuff the peppers with the chicken mixture and bake at 375 for 25-30 minutes until the peppers are tender but still crisp.
by Lauren
Recipe Notes
OPTIONAL: With the remaining ranch seasoning you can mix it with a bit of mayo, lemon juice, and water to make a ranch dressing to top the peppers with. I use about 2-3 tablespoons of mayo, 1-2 teaspoons of lemon juice, and extra cracked pepper. Add water a little at a time to find a consistency that you like.