A few weeks ago Alex and I had brunch at one of our favorite spots in Asheville, Posana. Posana is a 100% gluten-free restaurant but you would never know that if you didn't have a reason to. They don't really advertise that fact, their slogan is "where gluten-free goes unnoticed." And it does. Alex had an open-faced bison meatloaf sandwich on fresh focaccia bread and it was delicious. I knew I had to recreate the bison meatloaf at home.
This bison meatloaf with mustard hollandaise is easily one of the top 10 things I've ever made. It's seriously good. We had planned on having leftovers for dinner but we ate the entire 1 pound meatloaf for lunch…oops. And the hollandaise? Seriously the bomb. How could it not be? It's mostly butter.
I've really loved bison lately. It has such a lovely flavor, a bit lighter than beef. In my normal Italian Meatloaf I don't use breadcrumbs. Since bison is so lean you need something to keep it moist. Subbing breadcrumbs for almond meal is perfect. The meatloaf comes out perfectly juicy and tender.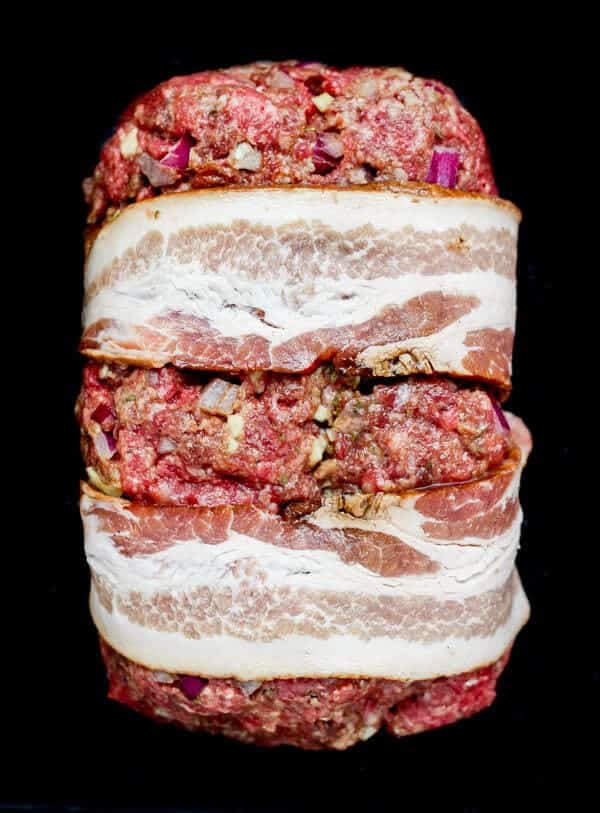 Wrapping it in bacon is just the icing on the cake. I used a Black Forest variety so it was on the sweeter side. I think it worked great so if you can find it I would buy the Black Forest. I didn't want the bacon to overpower the bison though so I only used two slices. If you're serving this to 4 people I would use 4 slices so everyone has their own.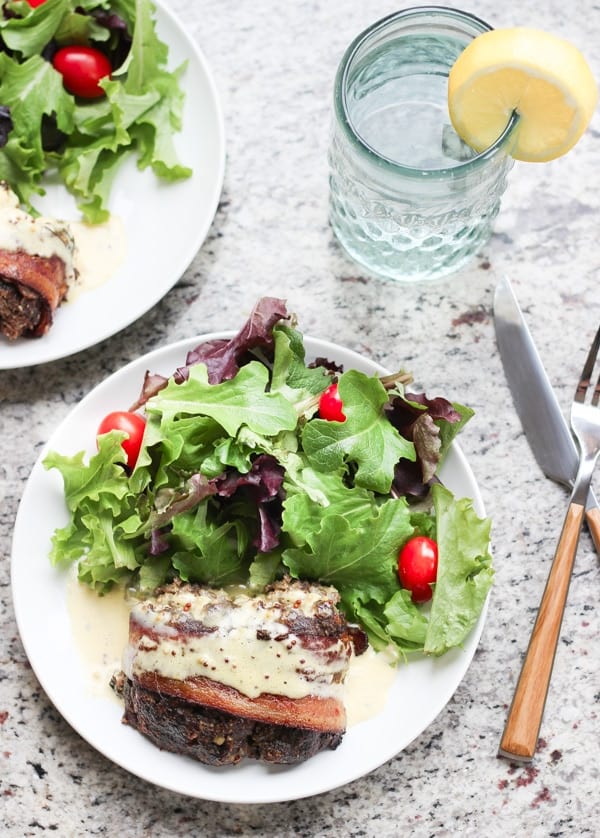 I used Lusty Monk Mustard for the hollandaise but any whole grain variety will do. I just have a love affair going on with the Lusty Monk. Best.Mustard.Ever. I put it on everything. Burgers, meatloaf, fries, any roasted veggie…eggs. It's that good. Lusty Monk is a local company out of Asheville but they also have a headquarters in New Mexico. You can check which stores carry them and purchase online on their website. Let me know if you try it out!
Bison Meatloaf with Mustard Hollandaise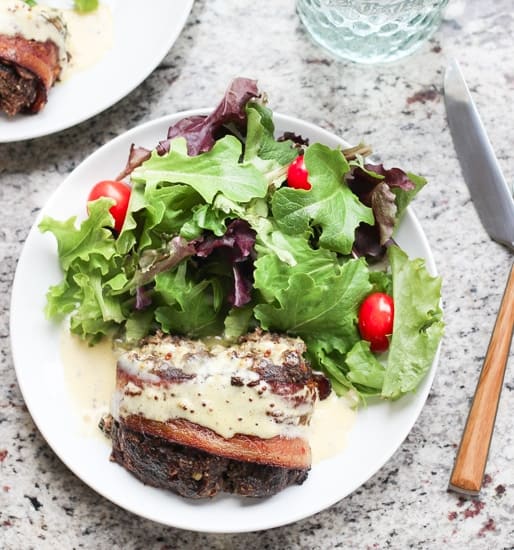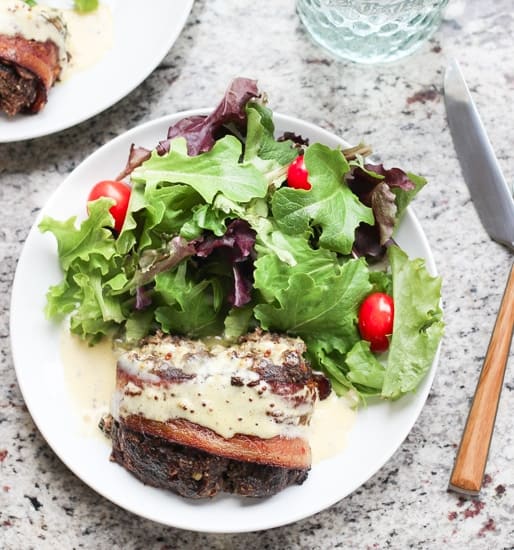 Ingredients
Ingredients for the Meatloaf
1

lb ground bison

1/4

cup almond meal/flour

1/4

cup red onion

1

egg

3

cloves garlic, minced

1

tablespoons mixed Italian seasoning

1/4

teaspoon paprika

1/8

teaspoon cayenne

Salt and pepper, to taste
Ingredients for the Hollandaise
1

egg

1

teaspoon lemon juice

8

tablespoons butter (preferably grass-fed)

1

tablespoon whole grain mustard

pinch of cayenne

salt, to taste
Instructions
Preheat oven to 375°F.
Mix the ingredients for the meatloaf together making sure to not overwork the meat.
Form bison into a loaf and wrap with bacon.
Bake for 45 minutes - 1 hour or until juices run clear.
In the last 10 minutes that the bison is cooking you'll want to start on your hollandaise.
Place an egg and the 1 teaspoon of lemon juice in a blender or cup fitted with an immersion blender.
Melt butter over medium high heat while swirling. Keep simmering until the form subsides. You don't want the butter to brown so keep a close eye on it.
Turn the blender or immersion blender on and slowly, very slowly, pour in the butter in a steady light stream.
You'll start to see the hollandaise thicken. Once all of the butter has been added blend a few seconds more and then stir in your mustard, salt, and cayenne. Use immediately. Hollandaise does not keep well and can not be reheated. Trust me...you won't have leftovers.
by Lauren