Here in my little piece of the world we woke up to about 8 inches of fresh beautiful snow! That is until they plowed the roads and our parking lot which made that perfect snow a wall of grey sludge. I always hate when they plow! I know most people don't work for awesome organizations that close when the roads and weather is bad but for those who do I'd like to keep the pristine snow laden landscape just the way it is. Fortunately it is still snowing so the road is becoming slightly covered which makes me happy! For lunch today I had planned to have a turkey sandwich but I was craving a salad but not just any salad. A couple of weeks ago Alex and I went to one of our favorite restaurants in Asheville, NC called Sunny Point Cafe, their breakfast is to die for but they have a pretty fab dinner menu as well. On this particular trip I had a living Bibb lettuce salad with a blue cheese vinaigrette. OMG it was so good! I've been meaning to make it myself since then so today was the perfect day.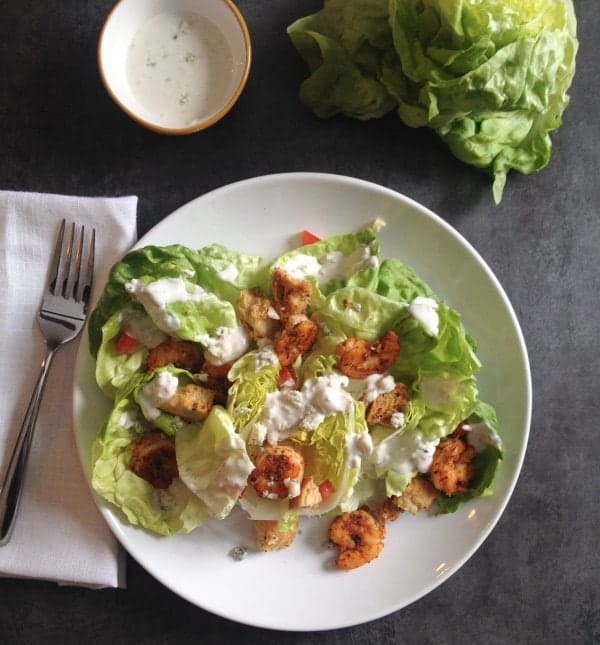 I changed it up a little though and added some blackened shrimp and homemade croutons. It was even better than the one I had at Sunny Point! If you're not a fan of blue cheese you could use ranch dressing. Personally I can eat a wedge of blue cheese like an apple. This version of dressing is made healthier by using plain greek yogurt and only 1/2 tablespoon of mayonnaise! I promise you won't be able to tell the difference! Now for the blackening spices here is the breakdown I used, each of the top spices are 1/2 teaspoon and the cayenne pepper is 1 teaspoon…
I love the texture of Bibb lettuce. So soft and buttery it's definitely in my top 10 favorite foods! I hope you try this salad and love it as much as I do! You can substitute steak for the shrimp which would be divine or go meat free and it will still be delicious. I'm off to play in the snow! Enjoy!
Living Bibb Lettuce Salad with Homemade Blue Cheese Dressing and Blackened Shrimp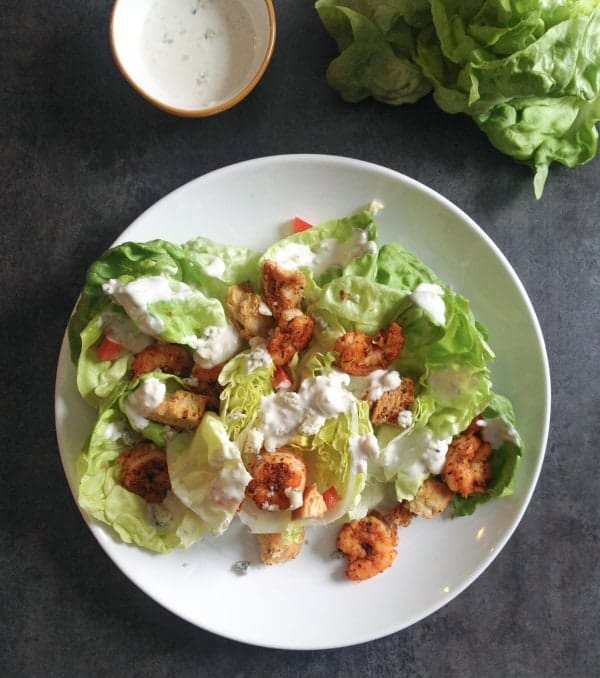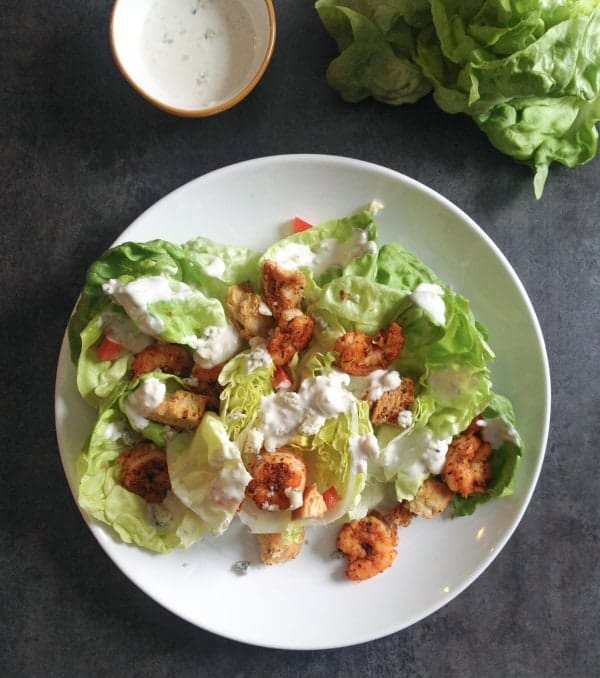 Ingredients
Ingredients for the Dressing
3

tablespoons plain Greek yogurt

1/2

tablespoon mayonnaise

1/4

tablespoon balsamic vinegar

1

small clove of garlic, minced

1/4

tsp salt

Fresh cracked black pepper

1.5

tablespoons blue cheese

1

tablespoon milk
Ingredients for the Shrimp
20

deveined shrimp

1/2

tablespoon butter

1/2

teaspoon ground basil

1/2

teaspoon ground thyme

1/2

teaspoon garlic

1/2

teaspoon white pepper

1/2

teaspoon black pepper

1/2

teaspoon salt

1/2

teaspoon onion powder

1/2

teaspoon sweet paprika
Ingredients for the Salad
1

head of living Bibb lettuce

Diced tomato

Croutons

Blue cheese for crumbling on top
Instructions
Directions for the Dressing

Mix all ingredients together and chill until ready to use

Directions for the Shrimp

In a small bowl mix together all of the spices.
In a medium pan heat butter on medium high heat.
Dredge shrimp through spice mixture.
Cook until shrimp are opaque in the middle about 4 minutes on each side.

To Assemble Salad

Divide lettuce between two plates and top with shrimp, tomato, croutons, dressing, and more blue cheese.
by Lauren