One of my favorite things about mine and Alex's honeymoon in Tulum, Mexico was trying all the different types of fish tacos. Most of the restaurants claim to have "the best fish tacos in the world" ( they even have signs out front advertising that statement ha!). I just thought they were all fantastic. I've never met a fish taco I didn't like. My favorite however will always be the Baja fish tacos. Fried and crunchy it goes perfect with fresh salsa, crisp sliced jalapeño, and creamy avocado.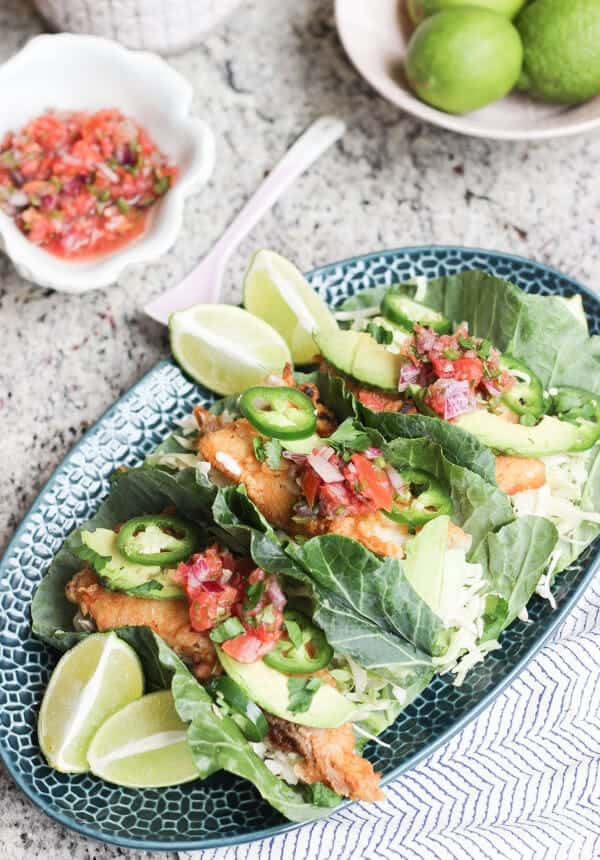 These Baja fish tacos are delicious. You'll never miss the flour in the batter. Or the vegetable oil for that matter. Coconut oil for the win, as always. We seriously go through a jar a week. I'd love to hear your favorite ways that you use coconut oil!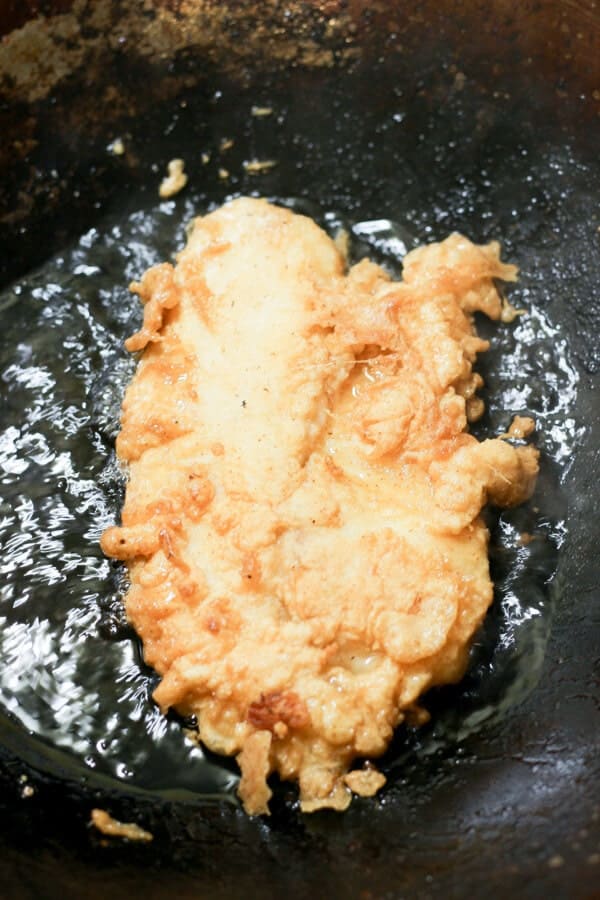 I always use my wok when I'm frying things. Since it's so well seasoned nothing sticks and the surface area is the perfect size for about a half cup of oil. I don't use enough to cover whatever I'm frying. It's easy enough to flip the fish to the other side. You won't waste too much oil this way! If you don't have a wok you can use a shallow pot or pan.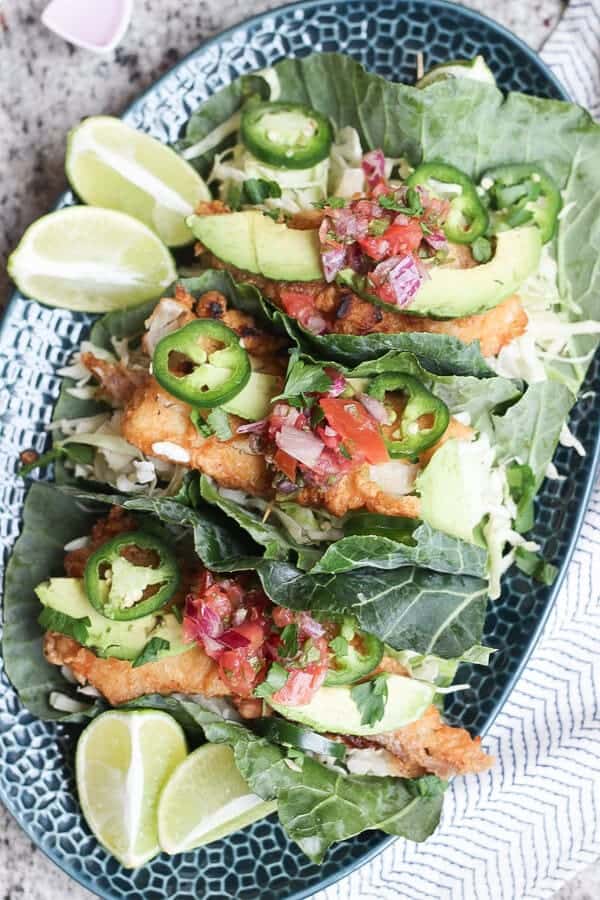 If you're not strict Paleo I would recommend substituting the water in the batter for beer. When making this batter I usually use a New Planet Gluten-Free Pale Ale and it kicks it up a notch. It's still fantastic without the beer though! The batter is so light and crispy. I used to hate dining out and the fried foods were so battered that all you tasted was the batter. No fun.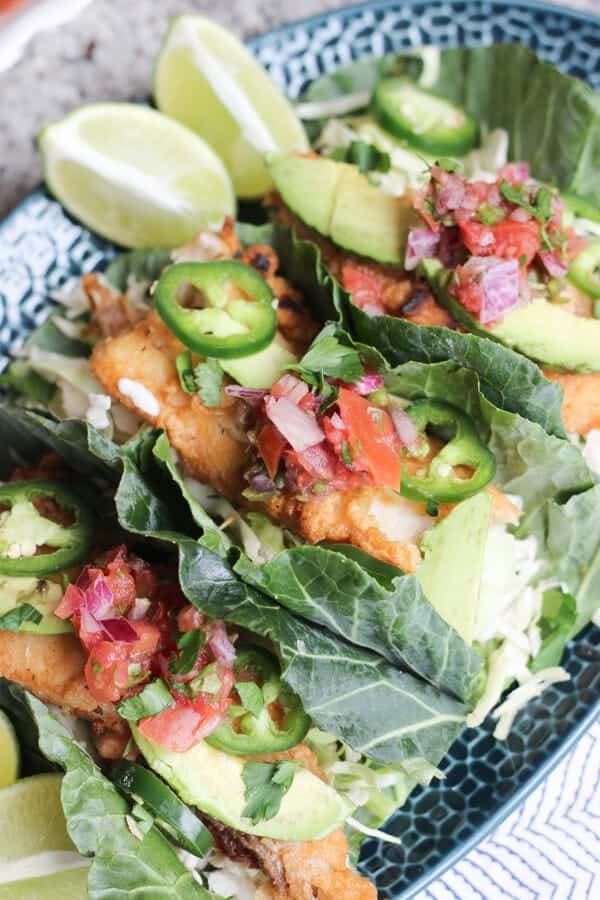 If you need a salsa recipe this one for Pico de Gallo is great! I also love this recipe from The Pioneer Women for Restaurant Style Salsa, simply leave out the sugar if you're Paleo and use her recipe!
Baja Fish Tacos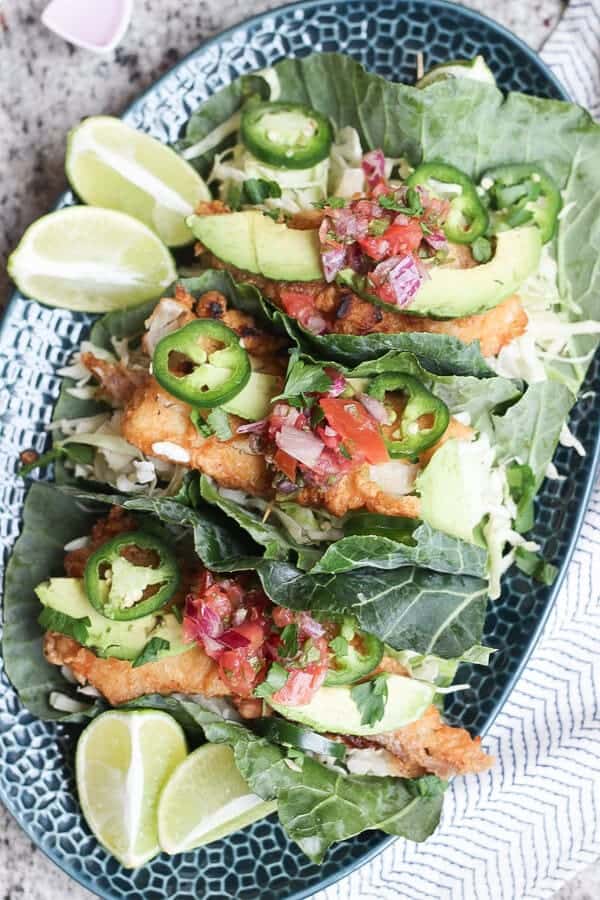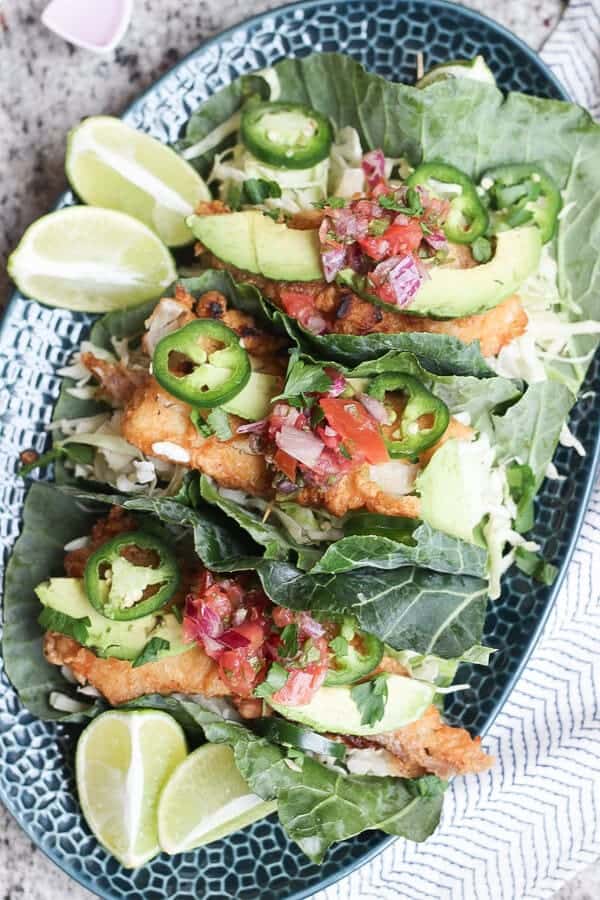 Ingredients
Ingredients for the Fish
1

lb tilapia

1

cup tapioca flour

1/4

cup water

1

egg

1/2

teaspoon paprika

Pinch of cayenne

Salt, to taste

Coconut oil, for frying
Toppings
4

Collard leaves

1

cup shredded cabbage

1

Avocado, sliced

4

tablespoons of your favorite salsa

1

Jalapeño, sliced

Lime wedges, for serving
Instructions
Heat oil in a small wok or pan over medium high heat.
Mix together the tapioca flour, water, egg, paprika, cayenne, and salt.
Dip tilapia fillets in the batter to coat.
One at a time place the fillets in the oil and fry until golden brown and cooked through, about 3-4 minutes per side. Drain on paper towels. While hot, season fillets with salt to taste.
Repeat with remaining fillets.
Using the collard leaves as taco shells place shredded cabbage in each shell and top with tilapia, sliced avocado, sliced jalapeño, and salsa.
Serve with lime wedges.
by Lauren