This Asian Salmon Zucchini Noodle Bowl is the perfect summer lunch! Light and filling it will quickly become a favorite.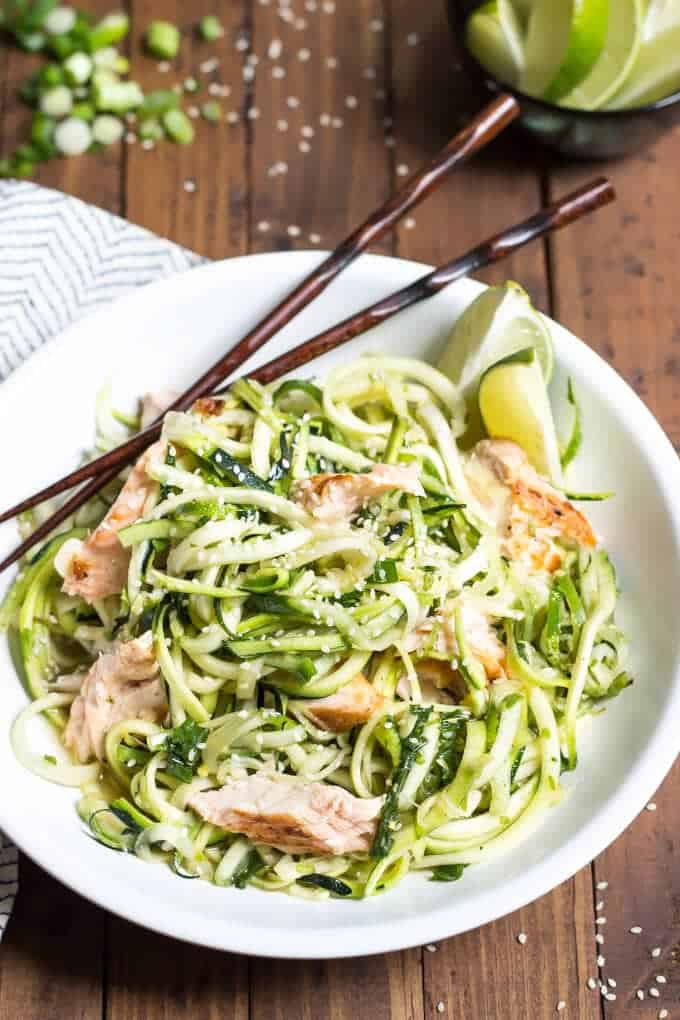 Hello bowl of deliciousness. I'm a little late to the spiralizing game but I believe this is a phenomal debut. If you're in need of an easy summertime meal this is perfect. I see many picnic baskets filled with these noodles in my future.
If salmon isn't your favorite you can substitute shrimp as well. If you do use the salmon be sure to not throw the skin away. It's absolutely divine by itself and I simply pull it off before flaking the salmon and eat it like a cracker. It has tons of nutrients including omega 3's, vitamin B, and vitamin D. If you cook it the right way it can be just as heavenly as fried chicken skin. For a perfect fillet check out the these tips from Epicurious. This is exactly how I cook my salmon if I'm wanting that crispy skin!

This dish literally takes about 10 minutes to throw together. If you are packing it for lunch or a picnic I recommend chilling it. It even helps the flavors develop but it's still just as perfect as soon as it's made.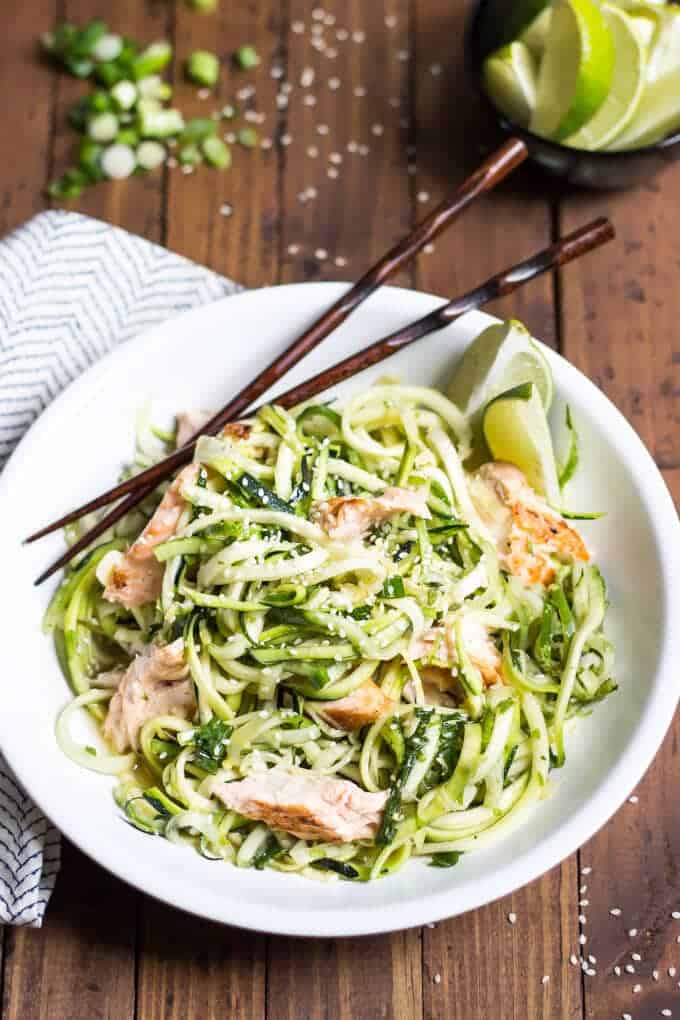 Asian Salmon Zucchini Noodle Bowl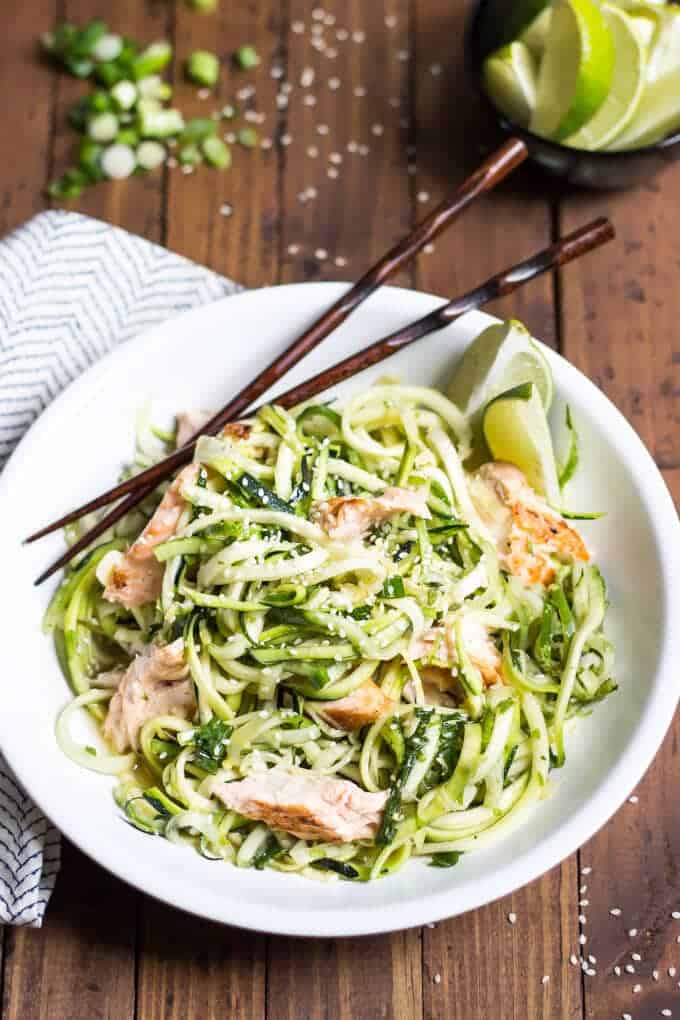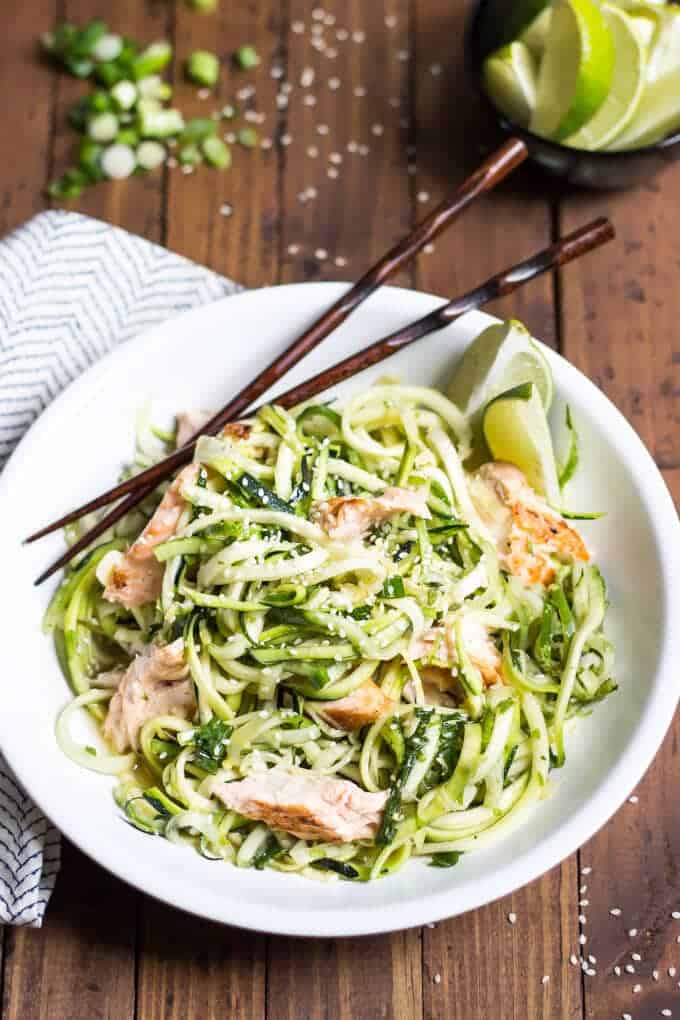 Ingredients
Salmon
12

ounces salmon

Avocado oil (or coconut oil)

Salt and pepper
Noodles
1

large zucchini

1

small cucumber

5

green onions

1/4

cup cilantro

2

tablespoons fresh minced ginger

3

tablespoons sesame oil

1

teaspoon hot chili oil

4

tablespoons coconut aminos (you can sub tamari if not Paleo)

3

tablespoons white wine vinegar (you can sub rice wine if not Paleo)

1

tablespoon honey

Pinch of salt

1

tablespoon sesame seeds for topping
Instructions
Spiralize the zucchini and cucumber into noodles. If you don't have a spiralizer you can julienne them. Place them in a large bowl.
Mix together the remaining ingredients (minus the sesame seeds) for the noodles. Pour over zucchini cucumber mixture and allow to sit while you cook the salmon.
Pat the salmon dry and season on both sides with salt and pepper. Heat a large skillet over high heat (preferably not a non stick skillet) Put about a tablespoon of oil in the pan and wait a few seconds for it to heat up. Place the salmon in the skillet skin side down. Let sear 1 minute. Turn heat down to medium-high and allow to cook 4-5 more minutes depending on the thickness of your fillets. Flip the fillet and sear 1-2 minutes.
Flake the salmon and toss with the noodles. Sprinkle with sesame seeds and serve.
by Lauren
Recipe Notes
*You can also chill the salad before serving! This is great if you plan to pack it for lunch or a picnic.