Today's Healthy Living Tuesday post is all about natural beauty products that are easy on the wallet and that accomplish their intended purpose. Read on for my favorites!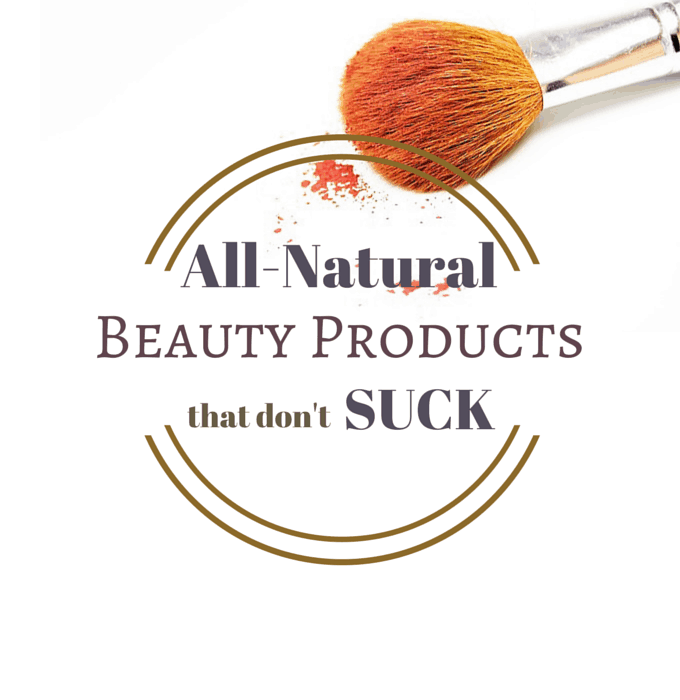 When I first started eating an organic diet I knew that the products I was putting on my skin were probably doing more harm than good. After all our skin is our largest organ and it absorbs more than 60% of what you put on it in mere minutes and in places like your underarms that absorption rate is 100%. If you're using natural products this isn't alarming but when you're using the standard makeup from your local drug store of makeup counter things start to get alarming. The FDA hasn't passed a law regarding cosmetic ingredients since 1938…1938! Since then the European Union has banned over 1,400 ingredients while the United States has banned only 11. Things like lead, BHA and BHT (preservatives), parabens, formaldehyde, and phthalates, artificial fragrances (not required to disclose ingredients), PEG compounds, and Trisclosan among tons of other nasty chemicals. Most of these ingredients have been liked to cancer, antibiotic resistance, reproductive problems, allergies, and more. I don't know about you but I want none of that on my skin.
When I decided to start using natural beauty products I started to realize that there weren't a ton of great options. Through trial and error I've found some awesome and wallet friendly options that I love. Below you'll find the products I use on a daily basis. If you have any natural favorites I'd love to hear about them in the comments!
*This post contains affiliate links, which means that if you click on one of the product links, I'll receive a small commission. You're price will never be higher by buying through one of my links.
Makeup:
Andalou Naturals 1000 Roses Color + Correct Sheer

I LOVE this foundation. It's light and airy and doesn't leave my skin feeling like its smothered in paint. It's silky smooth and great for those times when you just need a bit of coverage. If I'm looking to do more of a full coverage I'll put the first layer on, wait a few minutes, then apply a second layer. For the price ($15) you honestly can't beat it and one bottle lasts me about 3-4 months and that's wearing it about 5 days a week. They have a nude and a tan color. I'm fair skinned but I use the tan for a bit more coverage. It's sheer so it's not as dark as your normal foundation.
Physicians Formula Organic Wear 100% Natural Mascara

This is the only natural mascara I've found that doesn't clump and isn't watery. As far as mascara goes it's pretty straight forward and easy on the wallet, around $9.
Mineral Fusion Eye Shadow

Nice and sparkly I love this eyeshadow! A little goes a long way so you're not replacing it constantly. I've seen this brand at Whole Foods but I usually buy from Amazon. They also have a few different color palates to choose from. A little on the pricier side coming in at $22.
Organic Beet Root Powder

Hang with me for a second. I know you're probably thinking I'm crazy but out of all the chemical filled blushes AND natural blushes this is what works the best. Plus it's CHEAP. You can buy it on Amazon through the link above or check out the bulk herb section of your local health food store. Simply dip a blush brush into the powder, dust off and sweep across cheek bones for a lovely pink pop of color. It's very buildable too so you can find that perfect shade.
Burts Bees Lip Shimmer
This pretty lip stick is easy to find at your local drugstore or health food store and for $5 you can't beat it. There's tons of different colors to choose from. I'm always looking for pretty lipsticks so if you have one you love I'd love it if you left a comment so I can check it out!
Honeybee Gardens Eye Liner

This liner glides on easily and doesn't smudge throughout the day. Free of parabens and other harmful ingredients you definitely don't want near your eyes.
SKIN
Deodorant – So this is a hot topic but I'm sure you're aware of the dangers from aluminum deodorants. Let me give you a few options for natural alternatives:
On a daily basis I use any of the first three options just depending on what I feel like. Sometimes I don't wear anything at all and you know what? I rarely smell. When you switch from eating a processed diet full of nasty chemicals something wonderful happen inside your body. You sweat less overall and when you do sweat it doesn't smell quite like it used to. I've also read that drinking Spirulina powder can cut down on odor causing bacteria as well. I'm one of those few people that loves the taste of seaweed so it doesn't bother be to add a tablespoon or so to my water each day. If that's not your thing you could try tablets instead!
Lotion – I simply use a mix of organic coconut oil and shea butter that I buy in the bulk section of our health food store. You can also purchase shea butter through Mountain Rose Herbs.
Makeup Remover – Branch Basics comes in super handy all over the house! A simply squirt of Branch onto a cotton pad and my makeup is gone without the need of any chemicals that strip your natural oils. You can read more about Branch in this article from a few weeks ago!
Tooth Paste – There's all sorts of chemicals in your everyday toothpaste that you'll want to avoid. The easiest way is to make your own or opt for a natural brand like Tom's of Maine .
Andalou Naturals Hair Spray
– The same brand as my makeup. It works great and doesn't leave hair stiff of sticky or leave any residue behind. It brushes out easily as well!
Sunscreen – NONE. Over 75% of sunscreens are toxic and with the rise in skin cancer rates it leads me to believe that it has less to do with the sun and more to do with the crap you're putting on your skin to block the sun. In my opinion the best way to protect yourself from a burn is to cover up, wear a hat, and slather on some coconut oil. Coconut oil has a natural SPF of between 5-10.
Shampoo – The best? ACV and baking soda but let's be real. Sometimes my hair needs a good wash. I love the Alaffia Everyday Coconut
. It doesn't strip your hair of natural oils and it doesn't weigh it down. Plus it smells wonderful!
That's about it! Do you have anything to add to this list?